Blog > No Fee Credit Card Processing
No Fee Credit Card Processing
As the common phrase goes, nothing in life is free, and the same can be said about no-fee payment processing.
While some fees are inevitable regarding credit card processing, no-fee payment processing can be a great way to catch a merchant's attention. Despite it not actually being free, small businesses still gravitate toward the promise of zero processing fees.
Before committing to no-fee credit card processing, there are a few things merchants should know first…
What is no-fee credit card processing?
No-fee credit card processing for small businesses sounds amazing but you may be wondering what's the catch and what does it entail?
Zero-cost credit card processing goes by many names such as no-fee, free, or zero-fee processing but don't be fooled, it's all the same. In fact, they're all just different names for surcharging.
Surcharges are additional fees used to cover the costs of services that allow merchants to accept credit card payments. Surcharges are common for major credit card processors and are often advertised as no-fee solutions since they're used by merchants to pass processing fees onto their customers.
What's the difference between no-fee credit card processing and surcharging?
There's essentially no difference between surcharging and no-fee credit card processing but some companies will disguise their business as a no-fee processing program to entice merchants. These companies will typically advertise no-fee processing as a package that consists of surcharging options.
How does no-fee credit card processing work?
When a merchant sets up a credit card processing solution, physical and online terminals need to be programmed to process these payments. No-fee payment processing requires these terminals to be programmed to add a markup on the purchase which covers the credit card processing fees for that particular transaction.
However, there's a limit to how much the surcharge markup can consist of which typically varies by state — most states will set a limit of roughly 4%. Merchants should first check local laws to verify if no-fee payment processing is permitted in their state before implementing.
Here's an example to show you how this all works…
Let's say a customer is buying a $100 snow jacket from a retailer using a credit card. The cashier inputs the payment type as a credit card purchase which adds an additional fee to the overall transaction to cover the credit card processing fees. If the markup to cover the processing fee is 4%, then an extra $4 would be added to the transaction.
While no-fee credit card processing may sound simple, it can come with its own set of complications.
The legality of no-fee processing
No-fee payment processing can be a controversial topic depending on which party you ask. Banks typically don't agree with the idea of passing processing fees onto customers and as a result, multiple legal cases have arisen regarding the matter.
Banks are typically against no-cost credit card processing because of the implications it has for credit card payments. If merchants add additional fees to customers' credit card transactions, they'll be less inclined to pay with a card.
Although banks want to promote the use of credit cards, merchants often want the opposite to avoid high credit card processing fees. This dispute has even led to the prohibition of no-fee payment processing in some states.
No-fee credit card processors
No-fee payment processing is a great option for businesses with lower sales volumes. Credit card processing fees can add up quickly, so saving money is crucial, especially for smaller businesses.
No-fee credit card processors are also a great option because they automate various processes that would otherwise be left to the merchant. All the merchant needs to do is notify their customers of the surcharge for credit card transactions.
Despite saving merchants money, there are still some costs involved with no-fee payment processing.
The reality of no-fee processing fees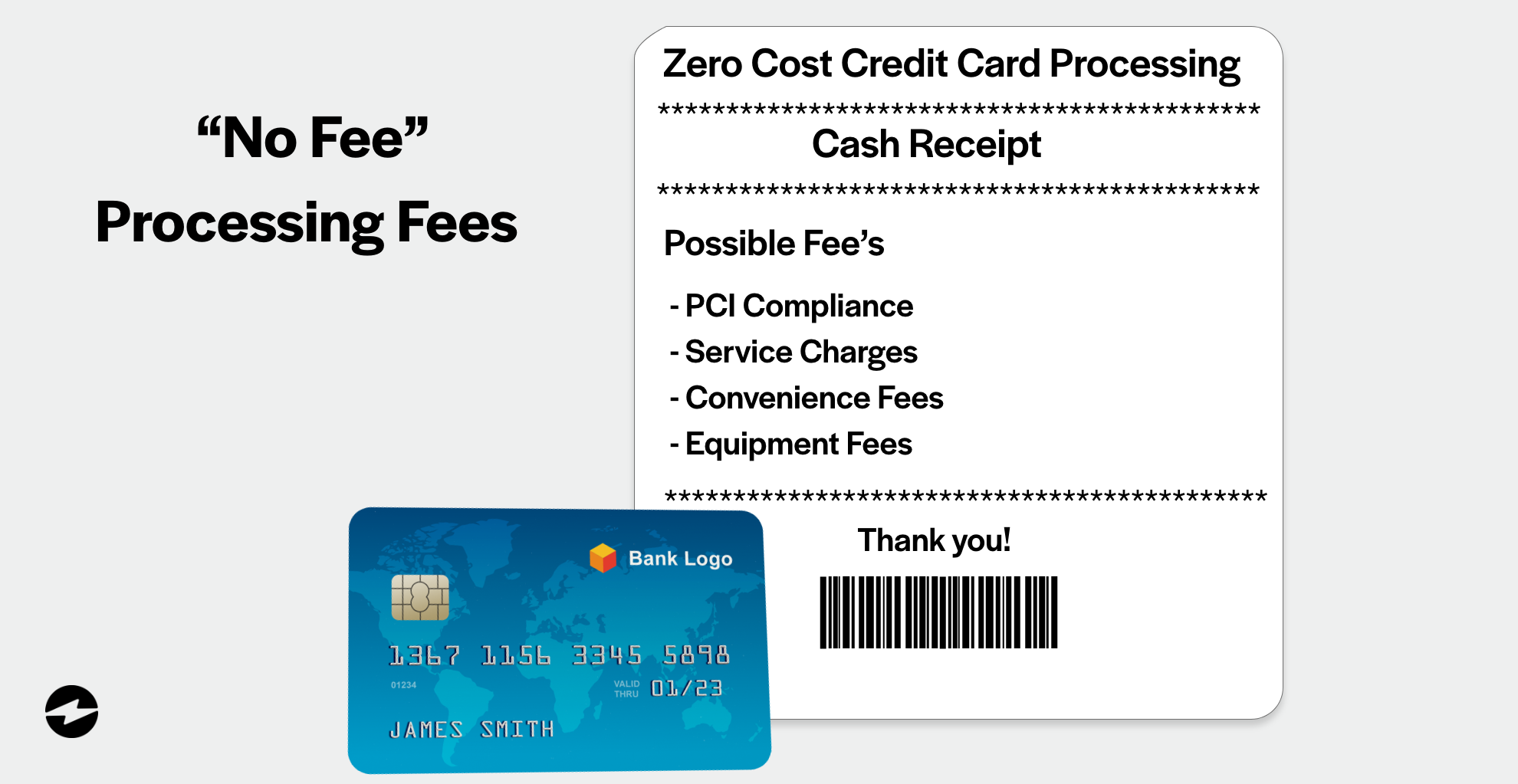 There's no denying that no-fee credit card processing allows merchants to reduce their operational costs by passing processing fees to their customers, but there are other fees they may not be able to avoid.
It's important to check the fine print to verify which fees are included in your credit card processing contract. Some of the most common fees to look out for include:
Point of sale (POS)
In addition to extra fees, no-fee payment processing services often require hardware like Point of Sale (POS) systems to be installed and set up. Some payment processors may even require merchants to lease this equipment.
Some service providers will offer preprogrammed POS equipment but may not require leasing this equipment to use their services. Although reprogramming your current POS equipment can be a hassle, it's far more convenient in the long run.
Leasing pre-programmed equipment could result in a long-term contract which can be problematic if a merchant decides to switch providers. A long-term contract could prevent merchants from switching providers and even land the merchant in a lawsuit should they try to make the switch.
Setting up credit card surcharging
To set up surcharging, merchants can work with their credit card processors to update their payment terminals with the necessary software.
Virtual terminals must be programmed to list surcharges on a separate item line on the customer's receipt. The terminal must also be programmed to charge no more than the state's maximum surcharge amount which varies by state.
The terminal will also need to be able to differentiate between debit and credit cards to ensure surcharges are only added for credit card transactions.
Which businesses can use no-fee processing?
Some business types can benefit from no-fee payment processing more than others. Although it's not entirely free, saving money on processing fees can be imperative to certain types of businesses. Here are some business types that can benefit from it:
Take advantage of no-fee processing to reduce operational costs
After learning about all the components involved in zero-cost credit card processing, merchants can make more informed decisions when deciding if surcharging options are right for their business.
While no-fee payment processing still includes some costs, it can serve as a great option for merchants hoping to save money and avoid credit card processing fees that can quickly add up. For more ways to save money on processing costs, visit EBizCharge and start saving today!