Blog > It's Time to Rethink Payments in QuickBooks
It's Time to Rethink Payments in QuickBooks
QuickBooks Payments provides an easy option for merchants to accept payments directly within QuickBooks, but many of its features and pricing fail to compete with other providers in the credit card processing world.
QB Payments Drawbacks
While QuickBooks Payments offers a simple solution for merchants to accept customer payments, there are several drawbacks that can deter your business from using this payment processor.
QB payments is convenient for its customers because the software is directly integrated into the QuickBooks system. However, this software doesn't integrate into any other accounting or ERP systems, limiting its features and capabilities to QuickBooks only.
There are major drawbacks to using QB payments compared to other software which include:
Higher fees
Lack of support
Slow servers and processing
Frequent updates and downtime  
1. High fees
Despite QuickBooks Payments being transparent about its processing and subscription costs, its fees are a lot steeper than most in the industry. Since QuickBooks makes it easy to use its payment processing software, customers pay the price for this convenience.
Here are the fees for processing payments with QuickBooks Payments:
Processing rates:

2.4% plus 25 cents for in-person transactions
2.9% plus 25 cents for online and invoiced transactions
3.4% plus 25 cents for manually-keyed transactions

Monthly fee:

Hardware costs:

$49 for QuickBooks card reader
$79 for QuickBooks card reader with charging stand
$389 for black pin pad card reader
$900 for hardware bundle (cash drawer, receipt printer barcode scanner, pin pad card reader)
Luckily, there are plenty of other payment processing solutions if these fees aren't feasible for your business.
2. Lack of support
One of the main drawbacks of QuickBooks Payments is its inconsistent customer support, according to Forbes and NerdWallet.
QuickBooks fails to offer support for businesses accepting payments outside normal business hours — no live customer support on the weekends or after 6:00 p.m. (PST). This makes it very difficult for companies to conduct business normally.
To make things even worse, QB Payments doesn't offer over-the-phone support which means if you're running into issues, your only option is a live chat option. Customers also often complain about response times and inconsistent quality of support.
3. Slow servers and processing
QuickBooks is one of the most competitive and popular accounting software in the United States which means thousands of users are constantly using the software and fighting for bandwidth priority. Therefore, the website speed decreases which causes QB Payments to process payments at a much slower rate than other payment processing companies.
Slower servers and processing times can limit your ability to accept and process payments in QuickBooks in an efficient manner which can affect your customers' overall experience and lead them to take their business elsewhere.
4. Frequent updates and downtime
On top of slow servers and processing times, QuickBooks also conducts frequent updates, giving merchants a considerable amount of downtime.
While updates are necessary, especially considering the level of security needed for accepting payments, many users are frustrated by the amount of downtime. As an accountant or other finance professional, your time is extremely valuable which is why waiting for software to update can be frustrating and unproductive.
EBizCharge — A better alternative
EBizCharge is an excellent alternative to QuickBooks Payments with 100+ different integrations including Salesforce, Adobe Commerce, Acumatica, and many others.
When considering payment processing and AR automation, reviewers on G2 found that EBizCharge is better in all categories compared to QuickBooks Payments.
Below is the G2 comparison between EBizCharge and QuickBooks Payments:
G2 Ratings: EBizCharge vs. QB Payments

Meets Requirements: EBizCharge 9.5 vs. QB Payments 8.6
Ease of Use: EBizCharge 9.5 vs. QB Payments 8.8
Ease of Setup: EBizCharge 9.0 vs. QB Payments 8.3
Quality of Support: EBizCharge 9.4 vs. QB Payments 8.5
Ease of Admin: EBizCharge 9.3 vs. QB Payments 8.8
Product Direction (% Positive): EBizCharge 9.7 vs. QB Payments 7.5
Ease of Doing Business With: EBizCharge 9.5 vs. QB Payments 9.3
Overall, G2 reviewers prefer using EBizCharge over QuickBooks Payments.
EBizCharge features and integrations
While it's clear EBizCharge has the upper hand in all G2 categories compared to QB Payments and other payment processing companies, it also offers many more integrations and diverse features.
Here are seven features that EBizCharge offers to improve merchants' payment collections:
Customer Payment Portal:

The customer payment portal simplifies your payment collections within a fully branded, secure online payment portal for your customers to easily pay invoices and view invoice history.

Email Pay:

Email pay offers a native plugin that allows you to send a secure payment link to your customers while working directly inside your invoicing system.

Hosted Checkouts:

Hosted checkouts integrate into your eCommerce platform, with no development needed, to allow your customers to make online payments.

EMV Payments:

EMV payments allow merchants to run in-person transactions with powerful terminals.

Recurring Billing:

Recurring billing enables your business to collect repeat invoices on a set schedule which can speed up the reconciliation process and eliminate manual accounting work.

Mobile Payments:

Mobile payments allow merchants to take payments on the go, straight from a mobile device.

Virtual Terminal:

The cloud-based virtual terminal enables merchants to process transactions anytime, anywhere, and from any web browser.
EBizCharge Reviews
EBizCharge has a perfect 5-star rating on G2 (out of 63 reviews), with the majority of these reviews coming from small businesses.
Below are a few reviews from EBizCharge customers: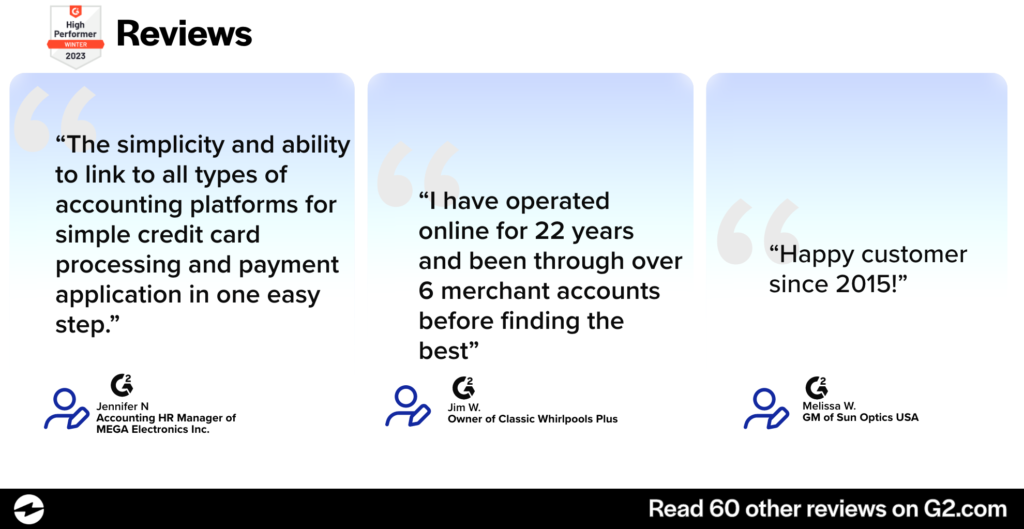 Make the change from QuickBooks Payments
If you want to accept payments in QuickBooks while avoiding hefty credit card processing fees, choosing EBizCharge as your credit card processor is a no-brainer. EBizCharge has a 5-star rating on G2 and has 100+ integrations into ERP, CRM, and eCommerce software, making it a perfect payment solution for your business.