Blog > What is AR Automation and How Can it Help My Business?
What is AR Automation and How Can it Help My Business?
In a world where time is increasingly more valuable, it's critical to save time where you can and invest the rest of your valuable time into other beneficial endeavors. AR automation is the software that will help excel your business's productivity and save you tons of time.
What is AR automation?
AR automation – or accounts receivable automation – is the process of automating the manual, time-consuming, and repetitive nature of the accounts receivable activity accountants have the burden of completing. Not only does AR automation make the lives of your company's accountants much easier, but it also increases the probability of getting paid more quickly by your customers. AR automation allows you to get paid more quickly by automatically sending invoices to your customers displaying a multitude of different payment methods your customers can choose from.
How does AR automation work?
The accounts receivable process manages sales outstanding that customers have not yet paid. The process of the accounts receivable function may vary by business, but the general AR process includes these three steps:
Billing – the initial invoices are sent to customers.
Payment collection – customers pay outstanding invoices.
Reconciliation – the payments are matched to invoices and bank statements are updated.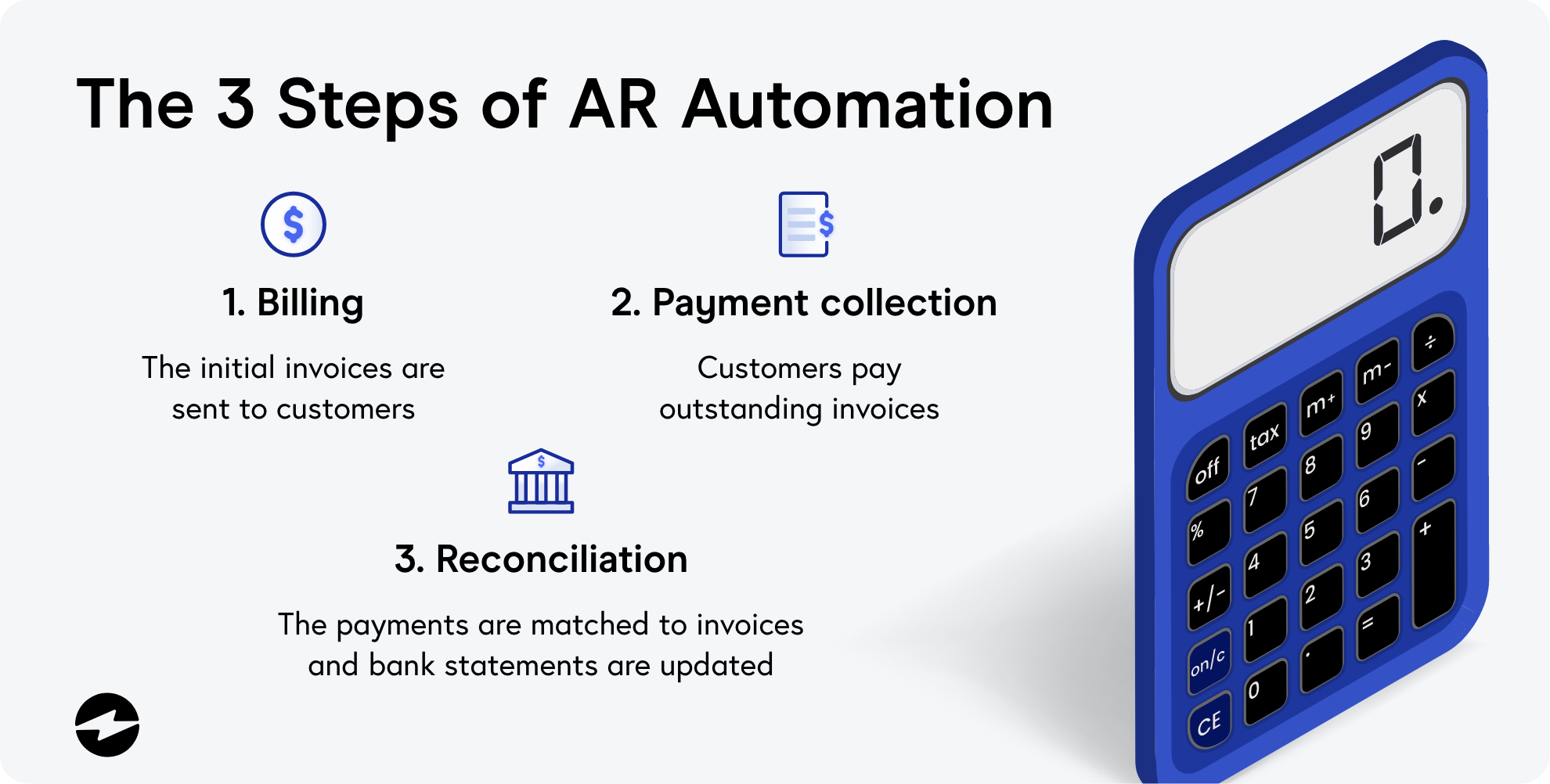 These standard AR tasks involve a heavy amount of manual effort from accountants which is time-consuming and tedious. AR automation software allows you to automate these processes to save your company time and provide you with many other benefits which will be discussed in the next section.
AR automation works by simplifying invoice processing and issuance through a software that automates the accounts receivable process for your company. The AR automation software integrates with your accounting ERP software to allow the payments you process to automatically update in the accounting software.
Benefits of AR Automation
AR automation transforms the manual entering of customer data, payment terms, and invoicing requirements into an intuitive software that automatically updates all the details of accounts receivable. This allows your accountants to move on from manually entering in customer data, payment terms, and invoicing requirements into a spreadsheet software like excel. The accounts receivable automation software just requires users to enter in the data once and the system manages itself. For example, if your customer is billed at the end of each month, the AR automation software will automatically send an invoice to them every month without any manual labor.
Benefits in summary
Saves your company time
Reduce DSO and improve cash flow
Faster payments from customers
Greater security
Increased accuracy
Better customer relationships
One of the major benefits of moving your manual accounts receivable process to a fully automated system is that it saves your company tons of time. By cutting down on the many steps it takes accountants to complete the accounts receivable workflow, your company will save an abundance of time.
Reduced DSO and an improved cash flow is another major benefit of automating your accounts receivable function of the business. Innovative AR software comes packed with an abundance of payment methods for your customers which leads to faster invoice turnaround.
The overall reduction in DSO means that your company is getting paid faster from your customers. Reducing DSO is a necessity when it comes to optimizing profts. High DSOs can lead to doubtful accounts, also known as a doubtful debt, which refers to an account receivable or invoice with the potential to become a bad debt in the future. The faster payments from customers is another major advantage of AR automation and is crucial for reducing DSO and improving cash flow for your company.
AR automation software also comes packed with a high level of security, being that a majority of the AR automation software companies are PCI compliant and practice secure payment processing solutions that integrate with accounting software.
Reducing the manual labor performed by accountants increases the accuracy of the accounts receivable process while also saving an abundance of time. The less manual effort expended on everyday accounts receivable processes the less chance there is for errors.
When the manual labor of the accounts receivable process is reduced and there are less mistakes, customers are bound to be happier with your company. Customer satisfaction is crucial for the longevity of a firm so updating your accounts receivable process to prevent mistakes and increase customer satisfaction should be key.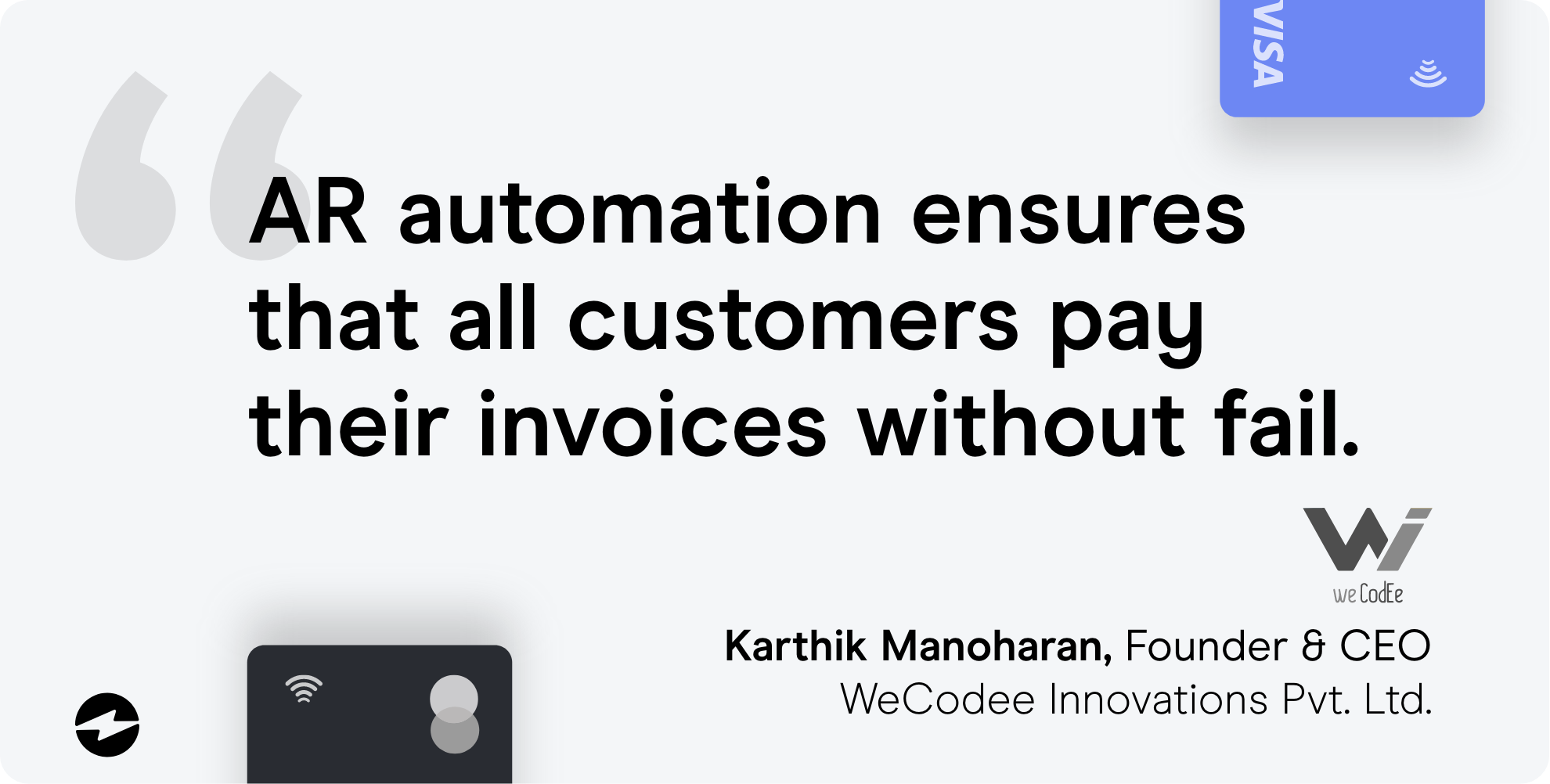 Examples of AR automation
Utilizing AR automation is an innovative way to enhance a business's accounts receivable process and strengthen a company's relationships with its customers. Below is an excellent example of AR automation's beneficial capabilities.
Karthik Manoharan, the co-founder of WeCodee Innovations Pvt. Ltd., described how AR automation helped maintain his company's financial discipline in a multitude of ways. His AR automation software sends constant reminders to decrease the amount of delays and it ensures the availability of capital for all business functions. Karthik states, "AR automation ensures that all customers pay their invoices without fail". Overall, AR automation has helped strengthen the financial condition of WeCodee Innovations Pvt. Ltd. and process payments significantly faster than before.
How to get started with AR automation
EBizCharge is a payment processing company that integrates with accounting ERP software to help fully automate the accounts receivable function of your business. This payment processor integrates with the top accounting ERP software as well as many other types of software such as eCommerce and CRM software. With nine different payment solutions, EBizCharge helps your company reduce your DSO and improve your overall cash flow.
AR automation will help enhance your business
AR automation software is simple to implement and has incredible innovative features that will significantly enhance your business. These features will save your company an abundance of time while also building better customer relationships. Setting up AR automation for your company is a no-brainer and will enhance your company's accounts receivable process.