Blog > What Does PCI Compliance Mean? and the 12 Requirements of PCI DSS
What Does PCI Compliance Mean? and the 12 Requirements of PCI DSS
What is PCI compliance?
If your business accepts credit cards, you've probably heard the term "PCI compliance" more than once and might be wondering what it means.
Payment Card Industry (PCI) compliance is a set of standards developed to ensure that the credit card industry is securing customer data uniformly throughout the industry.
In 2006, Visa, MasterCard, Discover, JCB International, and American Express established the PCI Security Standards Council to help regulate the credit card industry and manage PCI standards in an effort to improve payment security throughout the industry.
Here are the basics of PCI compliance to help you get started and understand how it can affect your small business.
Key takeaways:
Companies that follow and achieve the Data Security Standards set by the Payment Card Industry (PCI DSS) are considered to be PCI compliant.
PCI DSS is maintained and developed by the PCI Security Standards Council.
To ensure organizations are PCI compliant, the PCI DSS has 12 key requirements, 78 base requirements, and 400 test procedures.
PCI-compliant businesses experience fewer data breaches, the protection of cardholder data, avoid fines, and improve brand reputation.
Watch the video below to learn more about PCI compliance.
The 12 requirements of PCI Compliance DSS
The PCI Security Standards Council develops the requirements known as the Payment Card Industry Security Standards (PCI DSS). PCI DSS has 12 requirements that businesses must follow in order to maintain compliance. These guidelines are often considered best practices in payment security. The 12 key requirements include the following: 
Add firewalls to protect sensitive data
Use strong password protection
Protect cardholder data
Encryption of transmitted cardholder data across networks
Use and regularly update antivirus software
Update, patch, and maintain security systems
Restrict access to sensitive cardholder data
Assign unique IDs to those with access to data
Restrict physical access to cardholder data
Create and manage access logs
Test system vulnerability on a regular basis
Create documentation and risk assessments
Click here to learn more about the 12 key requirements of PCI compliance.
Why is PCI compliance important for your business?
PCI compliance applies to any business, regardless of size or transaction volume, that accepts credit cards. Any company that processes, stores, or transmits credit card information must be PCI compliant.
In the event of a data breach, a lack of PCI compliance could result in steep fines by the PCI Security Standards Council. In addition to avoiding expensive fines, small businesses that are PCI compliant can reduce their liability when a data breach occurs.
Your business should not only focus on PCI compliance solely based on the standard requirements but because being PCI compliant has an abundance of other benefits. One major benefit is that being PCI compliant and having a higher level of payment security builds trust with your customers and attracts potential new customers.
How do you become PCI compliant?
In order to become PCI compliant, you must complete a yearly Self-Assessment Questionnaire (SAQ) and/or pass a quarterly PCI Security Scan.
The SAQ includes a series of questions to help assess PCI-compliant security levels and is divided into categories based on how a business processes credit cards.
Finding a payment processor that provides PCI-compliant credit card processing solutions will also ensure more secure card transactions for your business.
Use the chart below to learn more about the different SAQ types.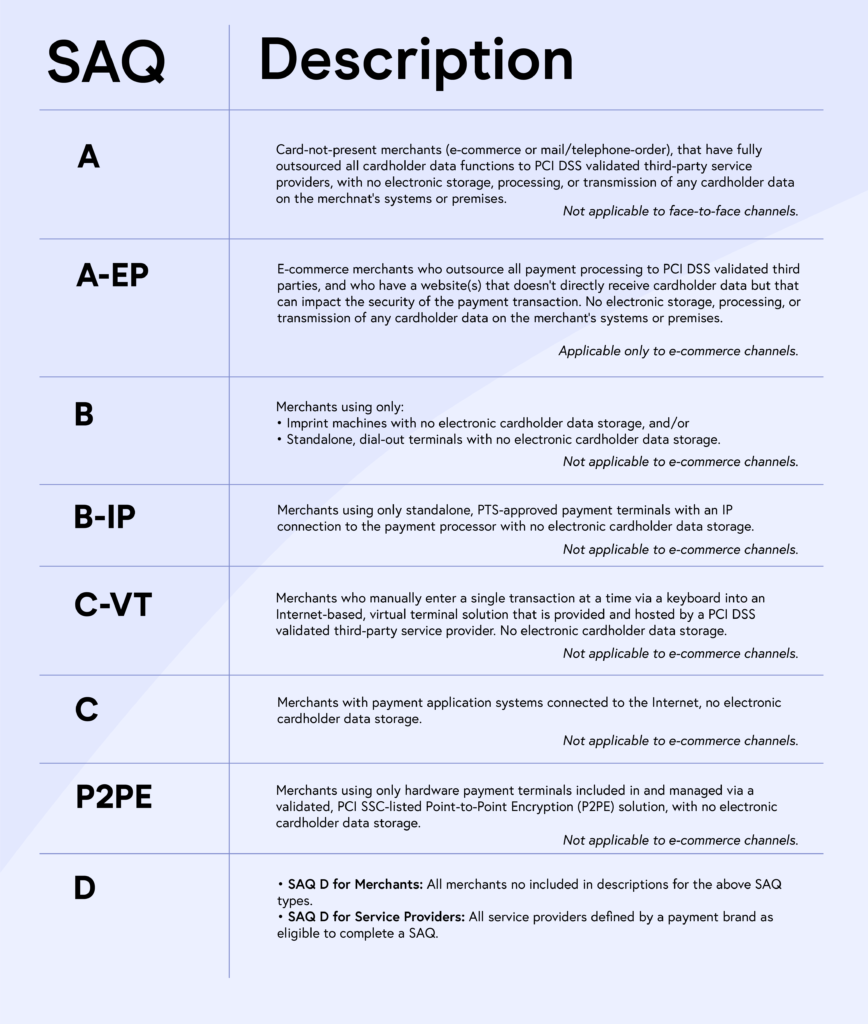 What happens if you are not PCI compliant?
According to the Verizon Payment Security Report, only about 28% of organizations were fully PCI compliant in 2020.
It's important to be PCI compliant to enhance your security and secure credit card transactions for your business and its customers. Without this level of protection, you're much more vulnerable to increased attacks, massive fines, lawsuits, and even potential closure.
With IBM and the Ponemon Institute estimating the average data breach to cost over $4 million, your business could face huge consequences for not implementing PCI compliance measures.
If your business is not PCI compliant, you could pay up to $100,000 a month in fees, and your bank may end your relationship or raise the cost of transaction fees.
How do you remain PCI compliant?
To ensure your business adheres to all PCI compliance guidelines, find a payment processor that uses data encryption and tokenization technology to secure credit card payments throughout every stage of the transaction process.
This extra layer of security ensures PCI compliance and prevents card information from being stored in its original format, drastically reducing legal and financial responsibilities for your business.
Tokenization is an important part of maintaining PCI compliance for small businesses because it replaces credit card information with a unique token, so the original card data is no longer used for future transactions. This makes it impossible to hack or decipher and ensures sensitive card information is protected at all times.
It's also important to find a payment processor that uses a cloud-based payment gateway to store sensitive credit card data offsite on PCI-compliant servers for maximum security.
These tools will help your business adhere to all PCI requirements set by the Payment Card Industry and reduce security threats while processing or transmitting credit card information.
What does PCI compliance mean for your business?
If you accept credit cards online, you should have a general idea of how to maintain PCI compliance for small businesses.
Ensuring that your business adheres to all of the PCI DSS security standards is the best way to avoid a data breach and secure credit card transactions. You'll also avoid paying steep fines to the Payment Card Industry which will help protect the longevity of your business.
Although PCI compliance can seem like an overwhelming topic, it doesn't have to be. For the most enhanced data and payment security, your business should adhere to PCI standards, implement the proper security tools, and find a fully compliant payment processor that provides advanced protection for you and your customers.
PCI Compliance FAQs
Is PCI Compliance required by law?
PCI DSS is simply a security standard, not a law. Compliance is mandated by the contracts that merchants sign with the card brands (Visa, MasterCard, etc.)
Who must be PCI Compliant?
Any business or organization that accepts, manages, transmits, or stores cardholder data must be PCI compliant.