Blog > 9 Best Square Alternatives for Payment Processing in 2023
9 Best Square Alternatives for Payment Processing in 2023
In today's digital age, having a reliable payment processing system is vital for any business. While Square has been a popular choice for many small businesses, other payment processing options offer similar or even better features.
This article will explore the top payment processing alternatives to Square payments in 2023.
The benefits of selecting a reliable payment processor
A credit card processor like Square can provide the basics for your company to process payments. Still, it can be more beneficial to find a cost-effective payment processor that can significantly enhance your cash flow and security.
Optimize your payment processing operations to increase cash flow
Choosing a suitable payment processor can drastically impact your company's cash flow since payment processing fees can increase quickly, especially if you process a high volume of transactions. By selecting a payment processor with lower transaction fees, you can save money and increase your profits.
Processing times can also affect your cash flow. Therefore, payment processors with faster processing times can help you receive payments faster by reducing your Days Sales Outstanding (DSO). This allows businesses to access their funds on time to maintain operations.
Implement proper safety protocols to enhance your payment security
Payment security is essential to protect sensitive cardholder data when processing payments for your customers.
Consumers trust businesses with their payment information, so merchants are responsible for keeping this information safe from cyberattacks and fraud. Therefore, finding a reputable payment processor that improves security and protects this data is crucial.
Businesses should look to trustworthy payment processors that maintain full PCI compliance and offer robust security measures.
Security measures to consider when choosing a payment provider include:
End-to-end encryption and tokenization to safeguard sensitive payment data.
Security monitoring and tracking features to identify and eliminate suspicious activity.
Fraud prevention and dispute resolution services that combat malicious transactions and fraudulent chargebacks.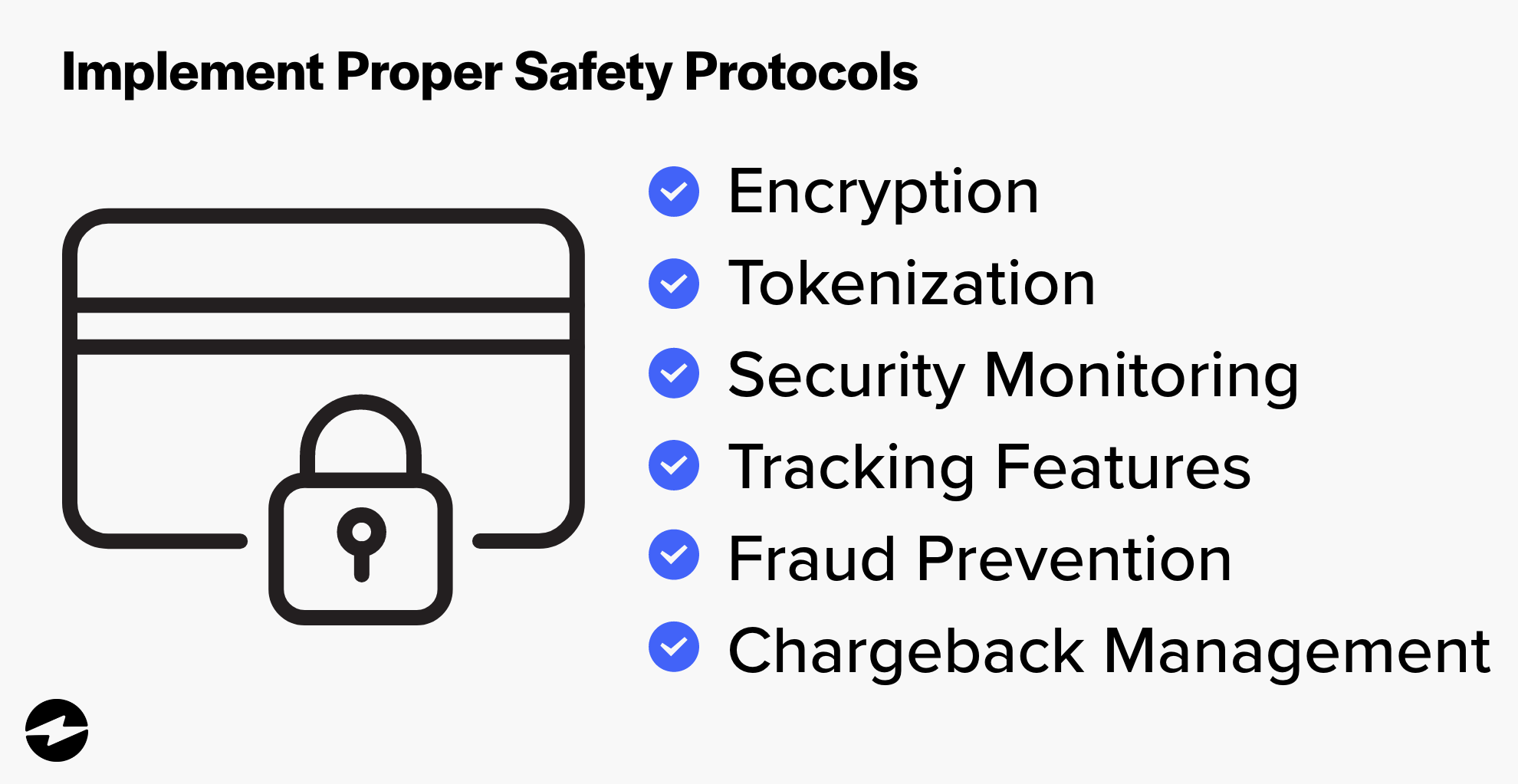 Payment service providers with these security features are considered to be more secure than others on the market.
Enhancing your payment security and cash flow are not the only benefits your business should look for when deciding between payment processors. This next section will highlight the top payment processing alternatives to Square, as well as various features and functionality to look for when comparing these providers.
The top 9 payment processing alternatives for Square
Despite the hundreds of payment processing companies like Square to choose from, it's important for your business should do its due diligence to find the most reliable, efficient, and cost-effective option for your business.
Here are the top 9 Square payment alternatives to consider:
EBizCharge
PayPal
Stripe
Braintree
Dwolla
Vital
Clover
Payment Depot
Authorize.Net
1. EBizCharge
EBizCharge is an all-in-one payment processor that provides high-quality payment collection tools, payment integrations to popular accounting, ERP, CRM, and eCommerce software, customized pricing plans, and 24/7, in-house support.
Here's a quick breakdown of the main features and benefits EBizCharge offers:
100+ payment integrations: EBizCharge has over 100 integrations to popular accounting, ERP, shopping carts, and CRM software systems like QuickBooks, Salesforce, and Magento. EBizChare offers high-quality payment tools and features like a branded customer payment portal, email pay, and more, so businesses can easily automate the invoicing process for their customers.
Advanced payment security: EBizCharge is a fully certified PCI-compliant payment platform that provides security measures like encryption, tokenization, fraud prevention and detection, and more, to encourage more trust from companies to handle their customers' sensitive card information.
Direct support: While many companies outsource their support, EBizCharge prides itself on having an in-house support team that offers 24/7, complimentary support to valued customers.
Customized pricing: With its customized pricing model aimed to produce the lowest rates for merchants, EBizCharge guarantees savings of up to 43%. With $0 setup costs, $0 cancellation costs, and $0 hidden fees, EBizCharge is an affordable alternative to using Square.
With its wide range of integrations, competitive pricing plans, and focus on security and customer support, EBizCharge is a solid alternative to Square.
2. PayPal
PayPal is a Square alternative that offers businesses widespread acceptance to process transactions across more than 200 countries and offering features like invoicing, recurring payments, and online checkout options. It also integrates with popular accounting and business management software.
Here's a quick breakdown of the main features and benefits PayPal offers:
Integrations: While PayPal has integrations with many platforms, it focuses more on eCommerce. Popular eCommerce platforms such as Shopify, WooCommerce, and Magento are some of its notable integrations.
Pricing: For U.S. payments, PayPal attaches a 2.9% fee per transaction plus $0.30. International transactions have a fee of 4.4% of the transaction amount plus a fixed fee based on the currency received. PayPal may also charge additional fees for services such as chargebacks, refunds, and currency conversions.
Support: PayPal offers customer support through multiple channels, including phone, email, and live chat. While its support is typically good, some PayPal users have reported longer than average phone support wait times and occasional difficulty resolving issues promptly.
Security: PayPal is certified as PCI-compliant, and its adherence to strict compliance regulations ensures the safety of users' transactions and sensitive information. It also employs industry-standard encryption to protect users' data.
While its fees for U.S. and international transactions can be high, PayPal is a widely accepted Square alternative that offers various features like invoicing, recurring payments, and online checkout options.
3. Stripe
Stripe is another viable option for companies looking for similar providers to Square. Like PayPal, Stripe also has an extensive global presence processing hundreds of billions of dollars in transactions annually across 40 countries.
Here's a quick breakdown of the main features and benefits Stripe offers:
Integrations: Stripe's primary integrations include eCommerce platforms like Shopify, BigCommerce, and WooCommerce. It also works with other software like accounting ERP, CRM, and marketing platforms.
Pricing: Stripe charges a flat rate of 2.9% plus 30 cents per transaction, which applies to all transactions, regardless of the card type or location of the customer. There are no setup fees, monthly fees, or hidden costs, making it easy for businesses to understand and manage their expenses.
Support: Although Stripe offers 24/7 customer support, some customers complain about the availability of agents. With that said, Stripe has abundant resources that include guides and a knowledge base for customers to understand any technical issues.
Security: Stripe is PCI-compliant and uses advanced encryption techniques to prevent and combat cyber threats. It also offers fraud detection and prevention services to help businesses avoid financial losses.
Stripe provides businesses with a reliable payment processing option with a vast global presence and transparent pricing and works with popular eCommerce platforms to allow your company to accept payments easily.
4. Braintree
Braintree is another provider that handles credit card processing like Square, with a full-stack platform that enables businesses to accept online payments seamlessly.
With its focus on simplicity, flexibility, and security, Braintree offers a range of features and integrations to help enterprises manage their payment processing needs. The platform supports a variety of payment methods, including credit and debit cards, PayPal, Apple Pay, and Google Pay.
With its global presence and commitment to innovation, Braintree is a reliable and trusted choice for companies looking to streamline their payment processing needs.
Here's a quick breakdown of the main features and benefits Braintree offers:
Integrations: Braintree has a significant presence in eCommerce, with solutions to well-known systems like Magento and WooCommerce and smaller shopping carts like Cartfunnel and X-Cart PHP.
Pricing: Braintree is upfront about its pricing, charging a flat rate of 2.59% + $.49 per transaction and an additional 1% for customers using a card outside the U.S.
Support: Braintree provides 24/7 support via phone, email, and live chat and has a comprehensive knowledge base with helpful articles and guides. It also offers a community forum where merchants can ask questions and share information.
Security: Because PayPal owns Braintree, Braintree has exceptional payment processing security. Braintree also offers advanced fraud detection and prevention services to help protect businesses from financial losses.
Braintree's full-stack platform offers a simple, flexible, and secure solution for businesses looking to accept online payments.
5. Dwolla
Dwolla is an exceptional payment processing platform for businesses seeking an alternative for Square and differs from other payment processors thanks to its customizable API.
Dwolla allows businesses to integrate their payment processing capabilities into their existing systems, streamlining payment processes and reducing time and resources spent managing payments. It also offers developer tools and resources to customize payment processing systems and improve efficiency.
Here's a quick breakdown of the main features and benefits Dwolla offers:
Integrations: Dwolla has many of the same integrations as the other alternatives to Square but also has an integration with Slack. This integration lets businesses receive payment notifications and updates directly in their Slack channels.
Pricing: Dwolla has four pricing models, the most popular being the pay-as-you-go option that costs 0.5% per transfer with no setup fees. One of Dwolla's advantages is its flat fee pricing structure, making it perfect for firms processing large transactions.
Support: Dwolla offers 24/7 help centers for all users, but a more technical support team is available for customers with annual contracts. It also has a knowledge base with resources to help companies solve common issues.
Security: Dwolla prioritizes safety and compliance, adhering to industry-standard encryption, regularly monitoring accounts for suspicious activity, and providing fraud protection and dispute resolution services to protect against malicious transactions and chargebacks. Dwolla is also SOC 2 Type II certified to ensure high-level security for its sensitive cardholder data.
Dwolla offers a unique and customizable payment processing solution that differentiates itself from other alternatives to Square.

6. Vital
If you're looking for a point-of-sale (POS) terminal to process payments, Vital is an excellent option similar to Square which offers three individual systems for businesses to find the right terminal for their needs. These three POS terminals include Vital Plus for simple payments, Vital Mobile for on-the-go payments, and Vital Select for advanced features.
Vital Plus has a compact design and a color touchscreen display. Vital Mobile is portable and connects via Bluetooth. Vital Select offers advanced features such as end-to-end encryption and supports multiple merchant accounts.
Here's a quick breakdown of the other main features and benefits Vital offers:
Pricing: Vital's hardware costs range from $35 for the Vital Mobile to $899 (starting price) for the Vital Plus POS system. Vital offers different pricing models for processing fees, including interchange-plus pricing, flat-rate pricing, and subscription options.
Support: To utilize Vital's customer service features, you must be a merchant. Once logged in to Vital's support portal, you can access their phone, email, and live chat customer support.
Security: Vital prioritizes payment security by adhering to the PCI standards, with encryption, tokenization, and secure servers to protect sensitive data and minimize data breaches. It also offers fraud protection and chargeback assistance to safeguard businesses against fraudulent transactions and disputes.
Vital is an excellent option for businesses seeking a point-of-sale terminal to process payments.
7. Clover
Considering how similar their products and services are, Clover is one of Square's main competitors. However, Clover differentiates itself from Square with a few key advantages.
One of the main advantages of Clover is its versatility. Clover's POS systems accept various payment types, including credit and debit cards, gift cards, and mobile payments. This makes it easy and convenient for businesses to process customer payments.
Clover's POS systems offer a range of features to help businesses improve their operational management. For example, companies can use Clover to track inventory, manage customer information, and generate detailed reports on sales and revenue. This can be particularly helpful for businesses that want to gain valuable insights and make data-driven decisions.
Here's a quick breakdown of the main features and benefits Clover offers:
Integrations: Clover integrates with many top eCommerce platforms like Shopify. However, it also integrates with unique systems like Yelp, allowing merchants to manage their online reputation, respond to customer reviews, and attract new customers directly inside their POS system.
Pricing: Most of Clover's costs are for its POS systems which range from $1,199 to $4,000 and require additional monthly fees for software access, transaction processing, and other features.
Support: Clover's support appears to be sufficient, as it offers phone, email, and chat options and an extensive help center with resources to help merchants solve common issues.
Security: Clover offers advanced payment security for its software and hardware. Clover's hardware is PCI PTS-certified to meet the highest security standards set by the Payment Card Industry Security Standards Council.
Clover is a solid alternative to Square. Its versatility in accepting various payment types and its robust features make it an attractive option for businesses seeking a comprehensive POS solution.
8. Payment Depot
Payment Depot is a payment processing solution that offers more advanced security measures and tools than Square.
Payment Depot also offers transparent pricing with no hidden fees. Merchants pay a monthly fee for access to the payment processing platform and all its features and services. This makes it easier for businesses to predict payment processing costs and budget accordingly.
Here's a quick breakdown of the main features and benefits Payment Depot offers:
Integrations: Payment Depot has many popular software integrations like Magento, QuickBooks, and Shopify. It also offers POS integrations such as Clover, Poynt, and more, allowing merchants to accept payments using various methods.
Pricing: Payment Depot's transparent pricing model starts at $79/month and grants merchants unlimited access to its all-in-one software.
Support: Payment Depot has an excellent 24/7 customer support team with a phone number readily available for anyone, including non-merchants, to ask a support question.
Security: Payment Depot complies with PCI standards and ensures Level 1 compliance to ensure all transactions are securely processed and sensitive payment data is protected. Payment Depot also provides a proprietary gateway with end-to-end encryption and tokenization features to protect sensitive cardholder information against unauthorized access.
Payment Depot is an excellent option for businesses that want advanced security measures, transparent pricing, and reliable customer support. Its payment processing platform offers integrations with various software and POS systems, making it easy for businesses to accept payments using their preferred method.
9. Authorize.net
Authorize.net is a more customizable payment processing solution when compared to Square, as it can be tailored to fit each business's unique needs.
With Authorize.net, companies can choose the payment features and tools that best suit their needs rather than being limited to a one-size-fits-all solution.
Here's a quick breakdown of the main features and benefits Authorize.net offers:
Integrations: Authorize.net offers integrations with hundreds of platforms, including shopping carts, CRM software, and invoicing tools. Some of their most popular integrations include QuickBooks, Shopify, WooCommerce, Magento, and Salesforce.
Pricing: Authorize.net's pricing depends on transaction volumes, with rates starting at 2.9% + $0.30 per transaction for the standard plan.
Support: Authorize.net is known for providing excellent 24/7 customer support, with phone, email, and live chat support channels available.
Security: Authorize.net is PCI-compliant and offers advanced security features such as fraud detection and prevention tools, Address Verification Service (AVS), and Card Code Verification (CCV) to protect merchants against fraudulent transactions.
With hundreds of integrations available and the ability to choose from various payment features, Authorize.net can help businesses tailor their solution to their unique needs.
Streamline your accounts receivable process with a top-rated payment processor
When searching for an alternative to Square, it's essential to assess your business's needs to know which features and benefits to look for.
Comparing integrations, hardware, security, and other notable features will help your business select an award-winning payment processor like EBizCharge to streamline its accounts receivable operations, promote growth and dominance in the marketplace, and avoid paying hefty credit card processing fees.