Blog > 4 Tips for Effectively Managing Small Business Accounts Receivable
4 Tips for Effectively Managing Small Business Accounts Receivable
As a business owner, you want to save time wherever possible. However, ineffective accounts receivable management can lead to wasted time, unpaid or misplaced invoices, and disrupted cash flow. Ultimately, when you neglect billing, you can stunt the growth of your business—which is the opposite of what you want to do.
Thankfully, effective accounts receivable management isn't as hard as you might think. When you incorporate the proper systems and processes, you'll be able to streamline your billing and free up valuable time.
Here are four simple ways to refine your accounts receivable management.
Easy Payment System
We all enjoy convenience.
So when it's convenient for your customers to make a payment, you're more likely to get paid.
That's the beauty of electronic payments. If you have an e-payment system in place, then your customers can pay their invoices online at their convenience. Also make sure your payment page has a simple and effective design as this can be essential for the completion of a customer transaction
Although there are several ways to set up e-payments for your business, the easiest solution is to find a payment provider that provides an online customer payment portal. Some payment providers, such as EBizCharge, provide accounts receivable features that make payments easier, such as allowing customers to pay with credit cards, debit cards, and e-checks online and through a mobile app.
Many electronic payment systems also offer your customers the ability to set up recurring payments, which greatly decrease the likelihood of missed payments.
No matter how you choose to set up online payments, e-payment solutions will continue to be relevant as long as the internet is around. If you haven't already, seriously consider setting up an online payment system. Your investment will be worth it in the long run.
Resolve Late Payments
Unfortunately, late payments are all too common. A study conducted by Sage reveals that 13% of invoice payments to small and midsize businesses (SMBs) are made late. The study also shows small and medium-sized enterprises (SMEs) spend an average of 16 days and $5,700 a year chasing late payments.
As a business owner, you need to take late payments seriously, as they can cost you valuable resources.
There's no magic spell to keep you safe from unpaid invoices, but there are ways you can increase your chances of getting paid on time. You should:
Be extremely clear on payment deadlines.
Send out reminders for upcoming payments.
Implement late payment fees.
If you execute all these steps and still face a customer who is late on making their payment, consider offering them a payment plan. It might not be what you originally agreed to, but it's better than writing the invoice off as bad debt.
Send Reminders
Life moves fast.
Chances are, you've had clients who are so distracted by their hectic schedule that they forget to pay you.
Make it easy for your customers to remember their upcoming invoice by sending out payment reminders. A payment reminder is a simple way to inform customers that their payment is expected soon.
Develop an email template for customers with upcoming payments and decide when you want to send them out (one week before payment is due, three days before, etc.). A standardized payment reminder email will be easy for you to send out without taking up a lot of time.
For larger invoices, consider giving your customers a reminder call. Talking to them on the phone and building rapport will increase the chance that they pay on time.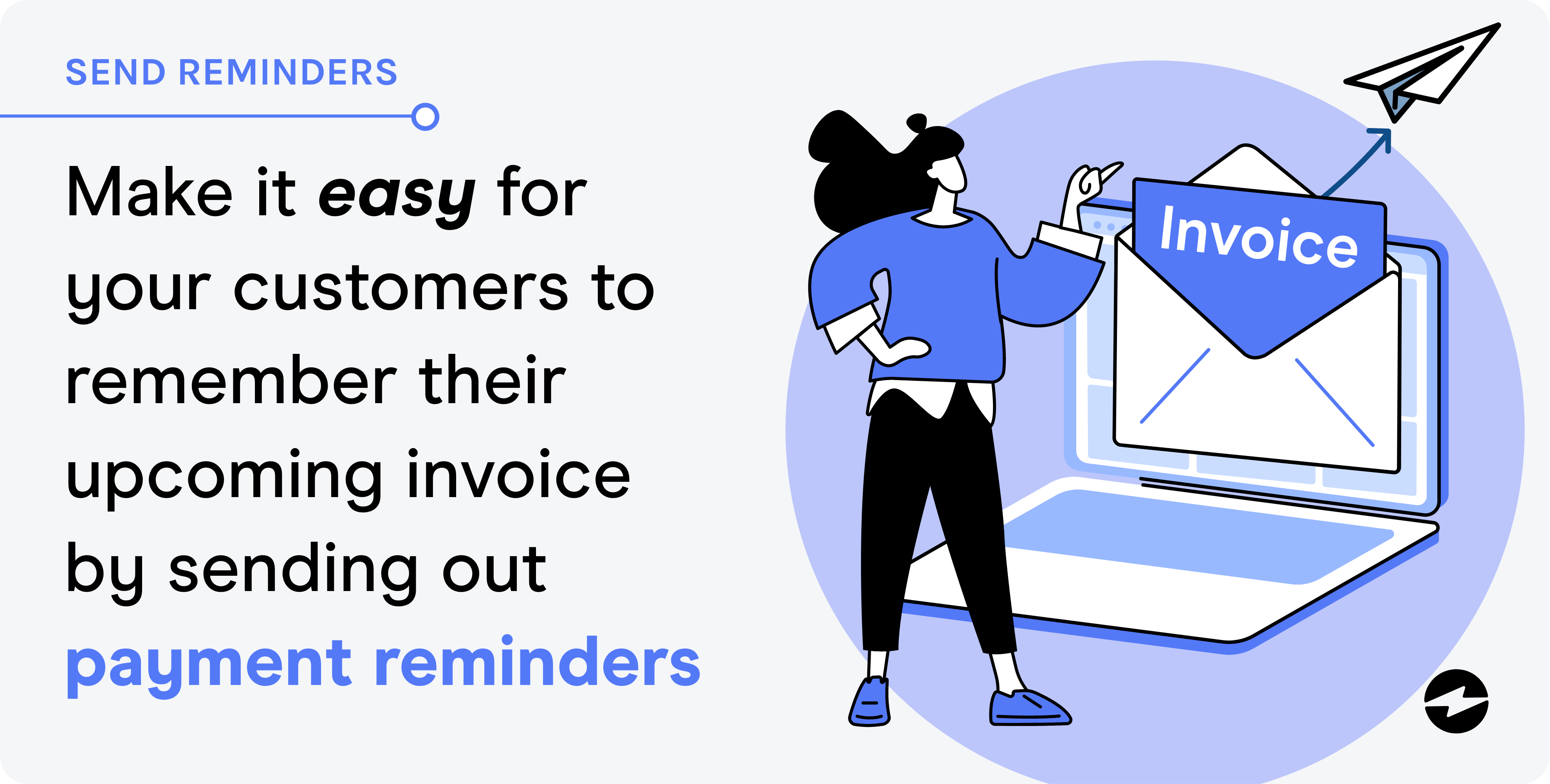 Develop Clear Procedures
If you want to excel at accounts receivable management, you have to be organized.
When you establish systems to handle all parts of the accounts receivable process, you increase efficiency and minimize mistakes.
Develop clear procedures on how to handle billing, late payments, credit approvals, and customer data maintenance. Written guidelines will make your life a lot easier, because they will provide you with a consistent, methodical approach to managing your accounts receivable.
For example, a late payment procedure could look like this:
Send an email informing your client they've breached your payment terms one day after the payment is missed.
Send a formal reminder in the mail a week after their payment was due. Follow up with a phone call.
Send a second formal reminder in the mail two weeks past payment.
Send a final demand for payment three weeks past payment. Inform your client in the letter that you will start legal proceedings to recover the payment within a week.
Follow through with your threat.
When it comes to accounts receivable, organization and consistency are key. Once you develop the proper systems and procedures, your business will run a lot more smoothly.
Easy payment systems, payment reminders, handling late payments, and developing clear procedures will help keep your accounts receivable in check.
A refined accounts receivable management system is vital to any growing business. So do the work now and reap the benefits later.