Blog > What is Omnichannel Payment Processing?
What is Omnichannel Payment Processing?
Put simply, omnichannel payment processing is an extensive solution for payment processing intended to simplify the accounting aspect of your company while making it easy for your customers to pay for your products or services. Omnichannel payment solutions is the process of utilizing multiple payment solutions, all of which are integrated into a single comprehensive payment software. When performed properly, omnichannel payments provide a personalized, intuitive experience for your customers and allow your business to get paid on time in a simplified manner. Having multi-channel payments is essential for creating a simplistic payment environment for your customers while also attracting new customers to your company. All of these ideas will be discussed in further detail in the following sections of this article.
Different channels of omnichannel payment processing
When your customers are ready to pay, businesses that utilize a merchant that uses omnichannel payment processing will offer many ways of getting paid. There are many types of channels associated with omnichannel payment processing, here is a list of some of popular channels:
Credit and debit card payments
Manual bank transfers
Direct debit payments
Mobile wallets
Email invoicing with links to a secure payment portal
Recurring billing
Point of sale (POS) systems
Text-to-pay
ACH payment processing
Merchant service providers like EBizCharge use a combination of omnichannel payment processing channels such as email pay, EMV payments, recurring billing, virtual terminals, and many others to allow businesses to easily get paid on time from their customers.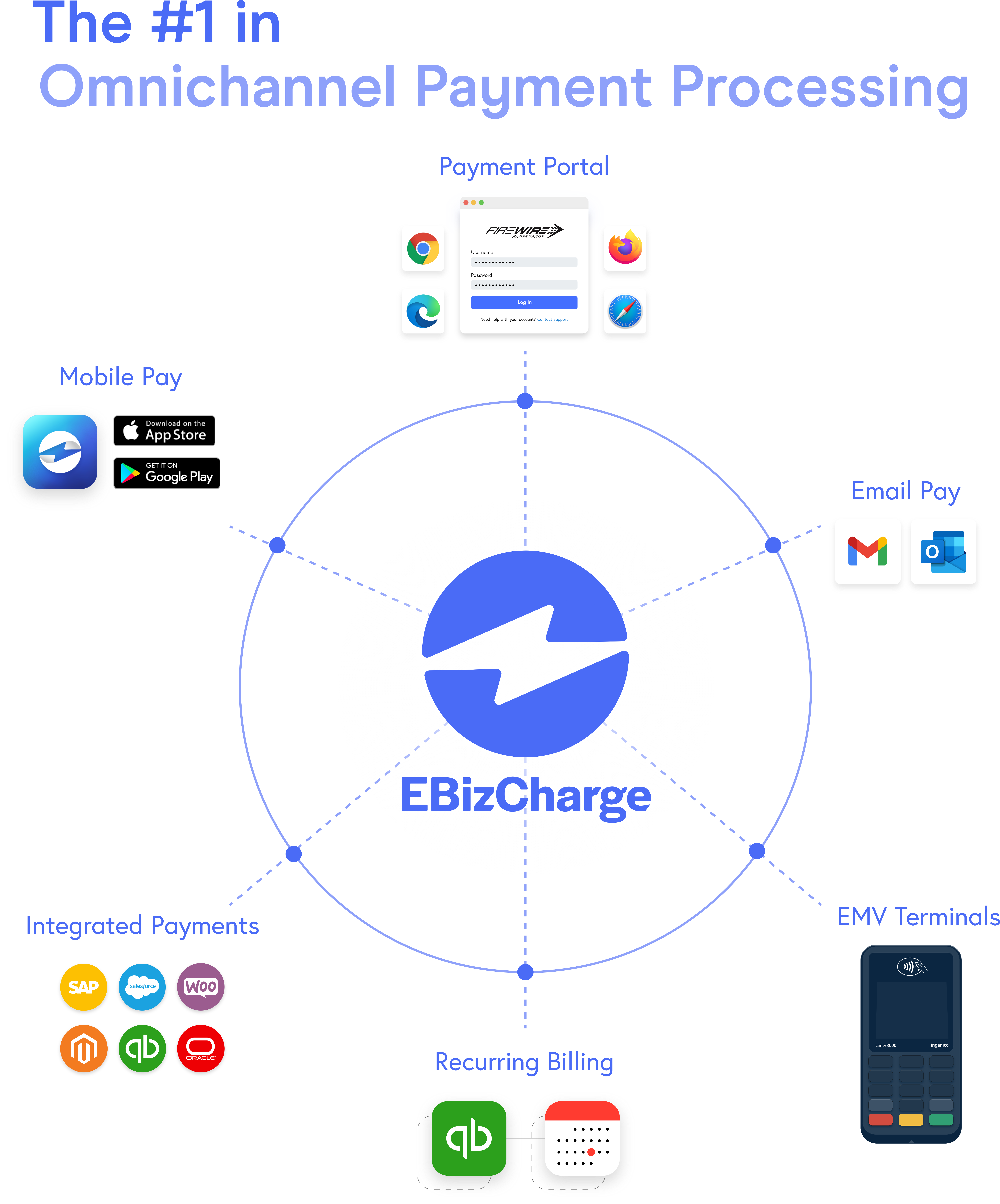 Benefits of omnichannel payment processing
Lowering DSO
The main benefits of omnichannel payment processing mostly revolve around businesses getting paid much quicker from their customers. This is crucial for businesses to reduce their Days Sales Outstanding (DSO) to lower the company's accounts receivables (AR) and increase its overall cash flow. This increase to the company's cash flow allows them to seek out other investment opportunities and establishes rapport with the organization's customers.
Builds customer loyalty
Another benefit of omnichannel payment processing is that it provides an all-in-one payment solution which makes it easy for customers to understand and pay businesses. Not only is this beneficial for the collection of payments, but it builds rapport and customer loyalty because of the simplicity that omnichannel payment processing provides.
Reduce management and maintenance time
Because of its intuitiveness, omnichannel payment processing also helps reduce management and maintenance time within the organization. Instead of managing and maintaining multiple channels for payment processing, omnichannel payment processing allows you manage all of the channels in a single place. This creates a simplistic environment for organizing maintenance and allows your team to easily manage all of the different channels in one area.
Simplified accounts reconciliation
Since omnichannel payment processing combines multiple channels of accepting payments all in one convenient place, the accounting information will also be organized in one place rather than spread out over multiple channels. With this simplified accounts reconciliation process, your company will be able to reconcile your accounts quicker and with more accuracy.
Considerations
The main area of consideration of omnichannel payment processing is the integration of data into the software your company uses. Since omnichannel payment processing uses many different channels of accepting payments, financial recording issues may occur because of the complexity of multiple channels. With this in consideration, it's critical to select an omnichannel payment processor that's fully integrated with the different aspects of your business such as accounting, CRM, and eCommerce software. This organizes your financial data into one place making it easier for your accountants to stay on top of the multiple channels of payment processing.
Omnichannel payments and security
Security is another major area of consideration when choosing to work with an omnichannel payment processing company. When choosing to work with an omnichannel payment processor, make sure that they are PCI compliant and follow the Data Security Stands (PCI DSS) set by the Payment Card Industry. Because omnichannel payment processing can be complicated, it's important to choose a payment processor that has an excellent history of security.
Conclusion
Omnichannel payment processing may sound complicated, but it's an excellent solution for companies that want to simplify their accounts reconciliation and provide an array of intuitive methods of accepting payments from their customers. There's an excellent selection of merchant service providers, such as EBizCharge, that offer omnichannel payment processing with a high level of security to ensure safe and secure transactions for your customers.