Blog > What is Click to Pay and How Does It Work?
What is Click to Pay and How Does It Work?
Consumers are constantly looking for quick and convenient ways to pay invoices, making it a necessity for businesses to deliver.
This need for more streamlined payment collections has resulted in merchants looking into offering new payment options like Click to Pay.
What is Click to Pay?
Click to Pay offers a secure way for customers to pay off invoices with a simple click of a button using different online platforms.
With Click to Pay, merchants have the ability to send secure payment links to customers who can then pay these invoices via email, online customer portal, mobile devices (SMS pay and Click pay app), and more. Click to Pay also allows for the safe storage of credit card information to be used for future payments.
Merchants that incorporate Click to Pay into their invoice collection process provide consumers with more flexibility and incentive to make payments on time.
Collect and pay invoices using several Click to Pay methods
In addition to accepting payments in person, through the mail, or over the phone, businesses can offer Click to Pay to allow customers to pay on the go using several digital channels.
Click to Pay is a flexible payment option that can be categorized into three different versions:
Email payment links
Customer payment portal
Online checkout
Let's dive into each Click to Pay version…
Email payment links
Merchants can use Click to Pay to enable their customers to pay by email via secure email payment links.
Check out how the EBizCharge email payment links works:
Email pay offers one secure method of online payment by emailing invoices to customers to pay by link using generated payment links. Once customers receive this email, they can pay by clicking this link which will redirect them to a secure page where they can enter their credit card information or select a saved card on file to complete their transaction.
Customer payment portal
Click to Pay merchants can work with payment processors that provide customer portal solutions to offer a more simplified payment experience for their customers.
Check out how the EBizCharge customer payment portal works:
Merchants that handle invoice collections (typically high-volume payments — subscriptions, recurring billing, etc.) can provide a customer payment portal, allowing customers to set up a Click to Pay account.
After completing their payment profile, users will sign into their account via the customer portal login page which will grant them access to all invoice history, saved payment methods, and more. To use Click to Pay, users can select an invoice (or multiple) and click "Pay" and select any of their saved cards or payment information to complete this transaction in a few seconds.
The ability to access a gateway customer portal enables customers to instantly click and pay off invoices and store credit and debit cards in one secure place.
Online checkout
A more widely known version of Click to Pay is an online checkout created by the major credit card networks (Visa, Mastercard, Discover, and American Express) that allows consumers to pay with a click of a button via computer, laptop, smartphone, tablet, and other digital channels. Remember, this process is meant to be simple and efficient so make sure your payment page design is effective.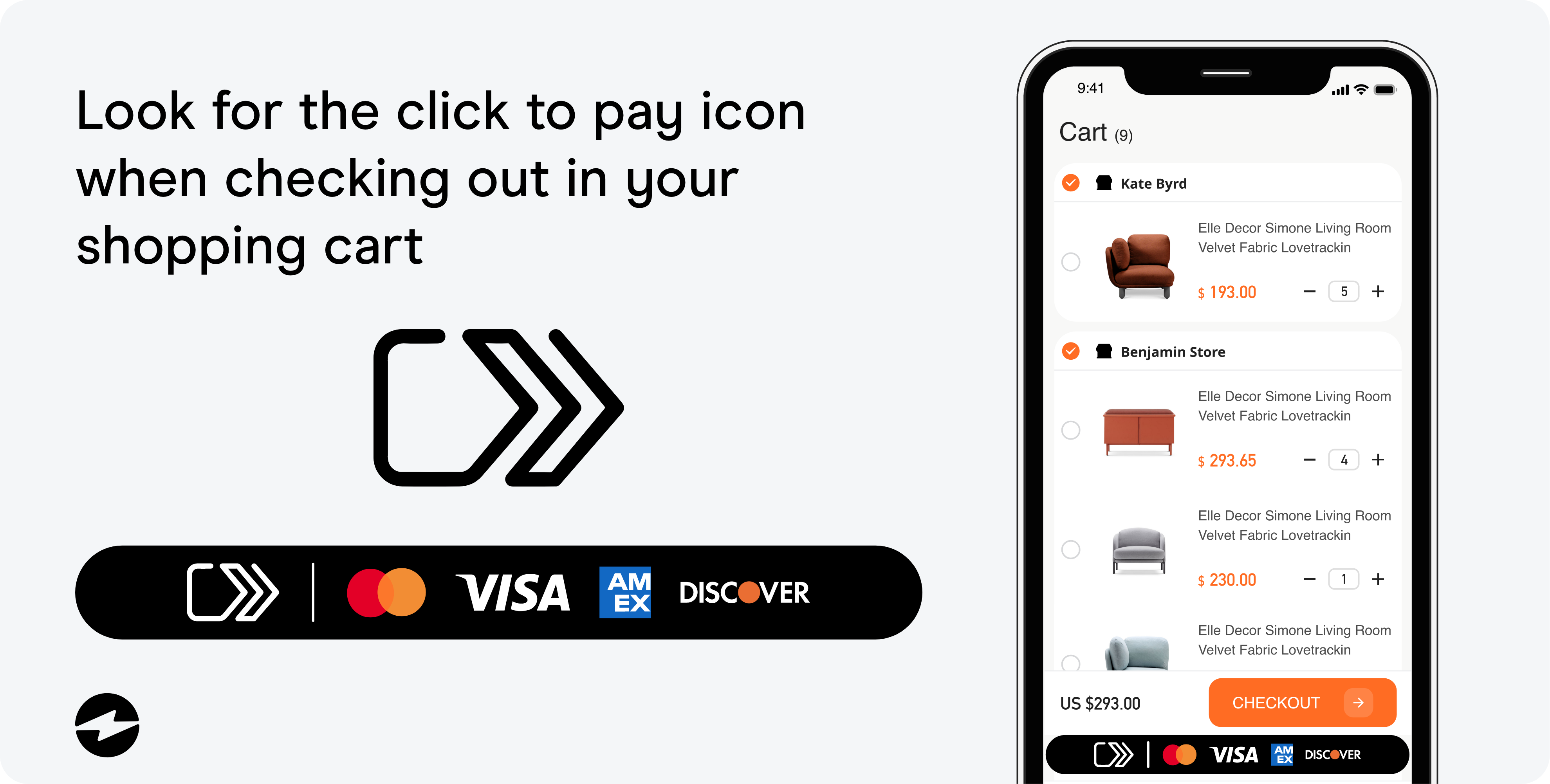 This Click to Pay method offers a safe checkout experience for customers to make secure online payments with the credit or debit card of their choice. With an all-in-one online payment icon, merchants have no need for individual payment systems from multiple card networks and checkouts that consist of multiple steps.
Is Click to Pay safe to use?
Payment security is a major concern for both merchants and consumers that want to ensure their sensitive information is protected at all times during the transaction process. Thankfully, Click to Pay offers safe payment methods with advanced security features.
Merchants can work with reliable payment providers that offer PCI-Compliant Click to Pay solutions like email pay, customer payment portals, and secure online checkouts to ensure the best payment security.
Email pay generates a secure link for payment inside merchants' accounting systems with no 3rd-party involvement. Customer payment portals, as well as online checkouts with one-click pay, offer security features that allow businesses to tokenize and encrypt their customers' sensitive payment data and safely store this data offsite.
Here are 6 benefits of using Click to Pay:
Increased payment conversions: Click to Pay helps merchants increase payment conversions by providing more convenient payment options for consumers that reduce the steps needed to complete a transaction.
Faster invoice collections: With the added convenience of email link payments, portal payments, and secure checkouts, now payments can be instantly accessed which leads to faster invoice collections for merchants.
Reduced late payments: Click to Pay reduces late payments with features like saved payment methods and invoices that are readily available for customers to pay on the go.
Improved user experience: Since Click to Pay supports a variety of payment methods and digital platforms, it simplifies the transaction process for consumers and improves the overall user experience.
Enhanced payment security: Thanks to payment processors that are PCI Compliant and provide features like encryption, tokenization, and offsite data storage, Click to Pay solutions enhance payment security for all parties involved.
Less human error: Click to Pay digitizes invoice collections, eliminating human errors related to duplicate data entries, incorrect payment information, and more.
Thanks to these benefits and many others, Click to Pay provides a simple, secure payment option that enhances and accelerates customers' payments and merchants' invoice collections.
Request a click to pay demo
Request a click to pay demo