Blog > How to Send NetSuite Email Invoices with Payment Links
How to Send NetSuite Email Invoices with Payment Links
According to ACI Worldwide and Aite Group, Americans now pay more than half of their bills online.
As that statistic continues to rise, merchants who don't offer online billing risk becoming obsolete.
So what does an online customer payment option look like for NetSuite users?
Email invoices with payment links. That's right, it's really that simple.
NetSuite email invoices with payment links, otherwise known as email pay, make online payments a breeze. Email pay is easy to set up and supplies customers with a convenient payment method.
What is a payment link?
Payment links allow customers to pay off their invoices from their email inbox. When clicked, the payment link sends the customer to a secure web form, where they can pay outstanding amounts.
Advantages of email pay
Payment links create a smooth journey for customers. Instead of finding the time to make a payment over the phone during business hours, email pay allows customers to open, click, and pay whenever they get a free moment. They can pay off their invoices during a commercial break, over the weekend, or before bed.
Payment links fit any schedule. That's why many people favor online payments.
And email pay isn't just convenient for your customers—it frees up a lot of your time, too. Consider how much time you and your staff spend taking payments over the phone. Email pay reduces the number of payments you'll take over the phone and saves you time.
Email pay also lets you accept payments 24/7, so your cash flow won't come to a halt on the days your business is closed or after the lights go out.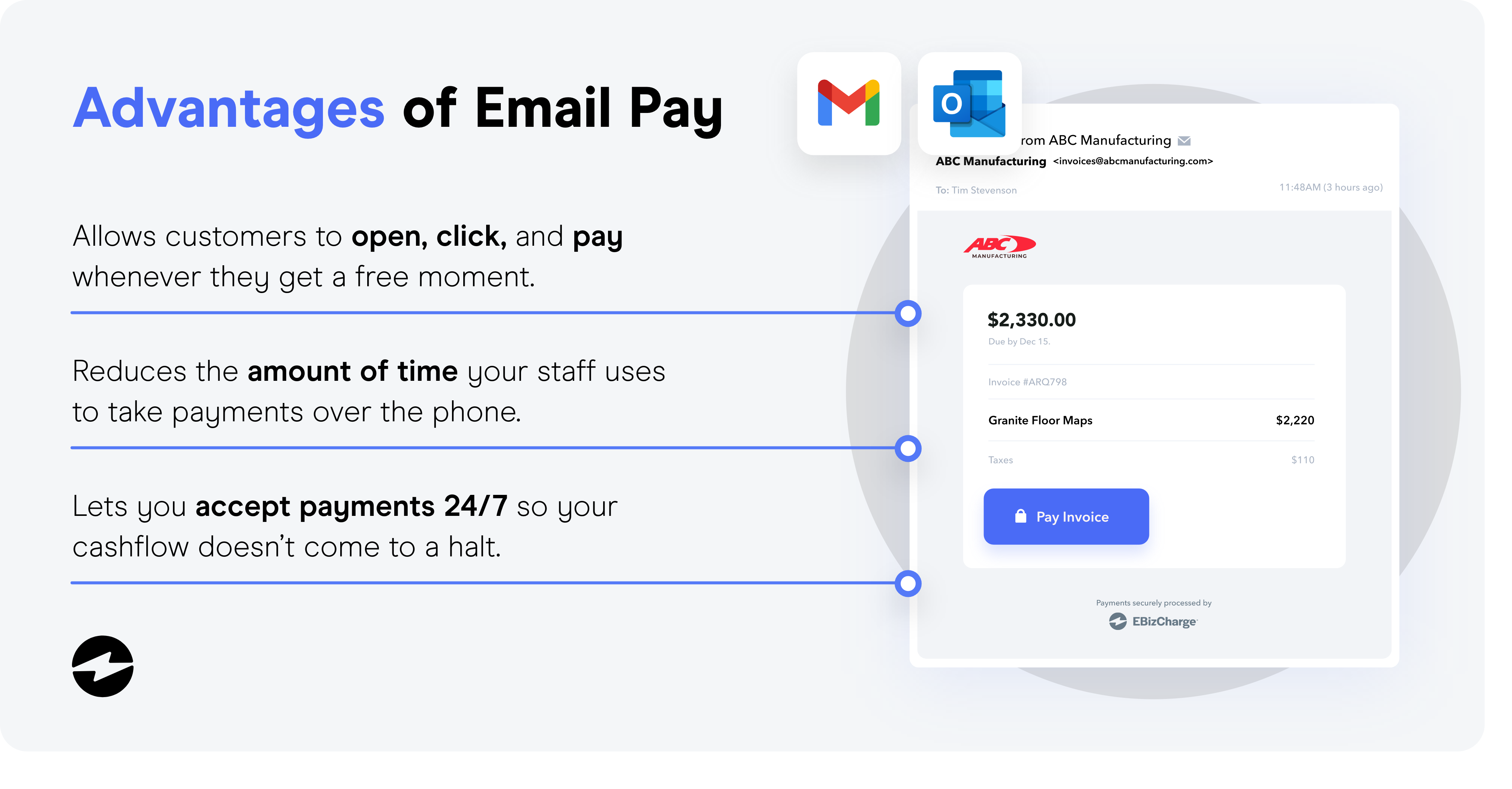 How to send NetSuite email invoices with payment links
NetSuite doesn't provide a credit card processing solution of their own. That means NetSuite users must use either a virtual or physical terminal or a payment integration if they want to accept credit cards. Of the two options, payment integrations offer merchants more benefits. Integrations allow merchants to accept credit card payments directly in their NetSuite software, store credit card data securely with tokenization technology, and lower processing costs.
Best of all, payment integrations make email pay possible. Well, at least some do.
Not every payment integration provides email pay capabilities.
EBizCharge: A NetSuite payment integration with email pay
EBizCharge is a payment solution that integrates with NetSuite. The EBizCharge payment module lets merchants send NetSuite email invoices with payment links.
Email pay isn't the only advantage of using EBizCharge. This NetSuite payment integration provides you with a plethora of convenient features that save your business time and money.
Four benefits of EBizCharge
1. Customer payment portal
Similar to email pay, a customer payment portal gives your customers a way to pay online. Customer payment portals allow your clients to sign in to a secure site where they can view and pay off their current invoices.
2. Chargeback management team
Chargeback management teams provide expert advice and help you fight chargeback disputes. Chargeback teams walk you through the best response steps and submit your response and any necessary documentation.
3. Fraud prevention modules
EBizCharge offers complimentary fraud prevention modules that protect merchants from fraudulent activity. Modules like Address Zip Code Verification, Duplicate Transaction Blocker, and Block by Country are convenient tools that can decrease the risk of fraud and don't cost merchants a dime to implement.
4. In-house customer service
From installing the EBizCharge module to providing as many training demos as you and your staff need, our free in-house customer service team works to make your life easier.
How to move forward
If you're interested in the EBizCharge NetSuite payment integration, contact us. Our in-house support team would be happy to answer any of your questions and walk you through a live demo to show you how to use the payment integration and the email pay feature.