Blog > How to Sell Merchant Services: 12 Tips and Tricks
How to Sell Merchant Services: 12 Tips and Tricks
As businesses adopt electronic payment methods and demand for merchant services grows, new selling opportunities continue to arise. Since selling merchant services requires a blend of business insight, interpersonal skills, and industry expertise, it's essential to be well-equipped.
Thankfully, this article explores how to sell merchant services and provides tips and tricks to master the art of effectively selling these services. Businesses can use these valuable insights and tools to build lasting relationships with clients, showcase the value of their services, and drive success in the competitive market.
What are merchant services?
Merchant services refer to financial services provided to a business, particularly those involved in retail or eCommerce, to enable them to accept various forms of payment from customers.
These services encompass a variety of tools that facilitate payment processing, including credit card and debit card transactions, electronic funds transfers, and other payment methods. Quality merchant services include point-of-sale (POS) systems, payment gateways, and customer support to handle financial transactions seamlessly.
Merchant services allow businesses to accept popular payment methods like credit cards, debit cards, ACH payments, and even digital wallets. With electronic payments becoming increasingly popular, accepting digital payment methods allows merchants to diversify their consumer base.
Merchant service providers are the companies and financial entities that provide these services to businesses accepting card payments.
What is a merchant services provider?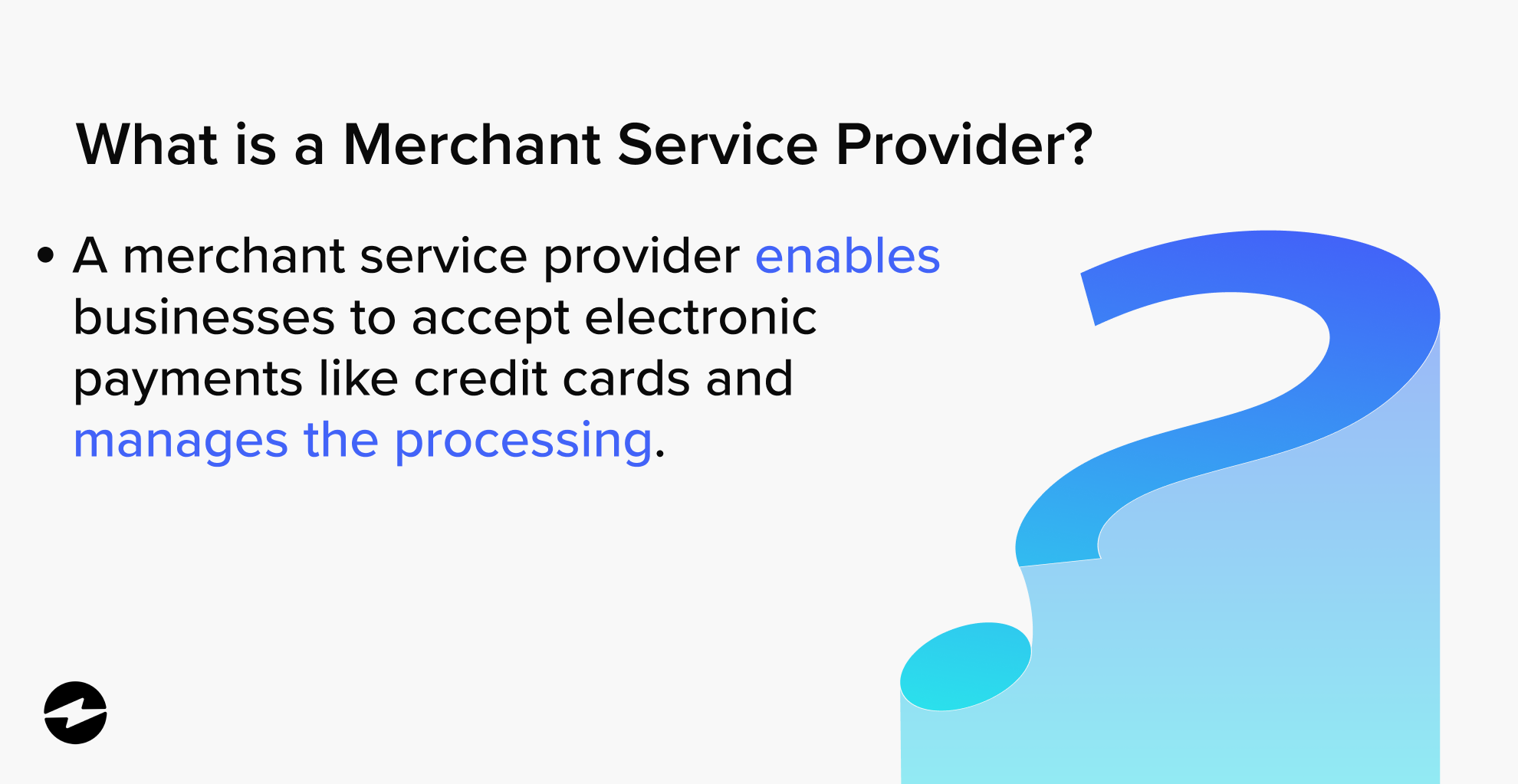 Merchant services providers (MSPs) specialize in selling credit card processing and provide the necessary software and services businesses need to accept electronic payments from their customers.
Along with more payment options for customers, merchant services providers offer transaction security, fraud prevention, chargeback management, and reporting and analytics tools. Using these reporting and analytics tools, merchants can track sales, manage inventory, and generate financial reports with insights into the business's performance and overall stability.
Since security is a significant concern, merchant services providers protect customer data by using encryption methods to safely transmit customer information, minimizing the risk of data breaches.
In addition to these features, merchant services providers provide a robust suite of other payment solutions to streamline payment collections for merchants.
Here's a list of the most prominent merchant services provided by MSPs:
Payment gateways
Mobile payment solutions
POS systems
Virtual terminals
Payment integrations
Payment gateways
Payment gateways serve as an online bridge that connects customers and businesses during digital transactions.
Payment gateways act as intermediaries safeguarding sensitive payment information as it moves between buyers and sellers over the Internet. When a customer purchases online, the payment gateway encrypts the provided payment details to ensure they're secure. It then communicates with relevant financial institutions to verify and authorize the transaction.
Once authorized, the payment gateway confirms the successful transaction to the merchant and the customer, allowing funds to transfer securely.
Mobile payment solutions
Mobile payment solutions are digital platforms enabling individuals to make financial transactions using mobile devices. They allow users to initiate payments, transfer funds, and conduct various financial activities without physical currency or traditional payment methods like credit cards.
Mobile payment solutions offer various functionalities, including peer-to-peer transfers, online purchases, bill payments, etc. These solutions provide convenience and accessibility by allowing users to manage their finances on the go and make payments with a simple tap or click.
POS systems
POS systems are technology-based solutions businesses use to manage and facilitate various aspects of their sales and transactions. These systems provide a centralized hub where customers' purchases are processed and recorded.
POS systems typically consist of hardware and software components that allow merchants to ring up sales, calculate totals, accept various payment methods, and generate receipts.
Virtual terminals
Virtual terminals enable businesses to process payments remotely without needing physical terminals or card readers. Typically accessed through a web browser, virtual terminals allow merchants to input payment information to initiate transactions manually.
Businesses use virtual terminals to receive payments over the phone or through mail orders and for eCommerce websites to accept card-not-present transactions. This technology securely transmits payment data over the internet, employing encryption to protect sensitive information during transmission.
Virtual terminals often include features like recurring billing, secure data storage, and integrations with other business tools like invoicing and accounting software.
Payment integrations
Payment integrations seamlessly sync with third-party payment services or gateways into a business's existing software or online platforms (accounting, ERP, CRM, eCommerce, etc.).
Payment integrations enable businesses to accept various forms of electronic payments, such as credit and debit cards, digital wallets, or bank transfers, directly through their own applications or websites. These integrations eliminate the need for customers to navigate to external payment portals, enhancing user experience and maintaining a consistent branding and user interface.
By integrating payment solutions, businesses can efficiently manage transactions, track payments, and provide customers with a secure and streamlined checkout process.
While these tools and services help merchants adapt to evolving payment trends, competitive markets, and industry regulations and guidelines, agents can also follow several best practices to succeed in the merchant services industry.
7 best practices for selling merchant services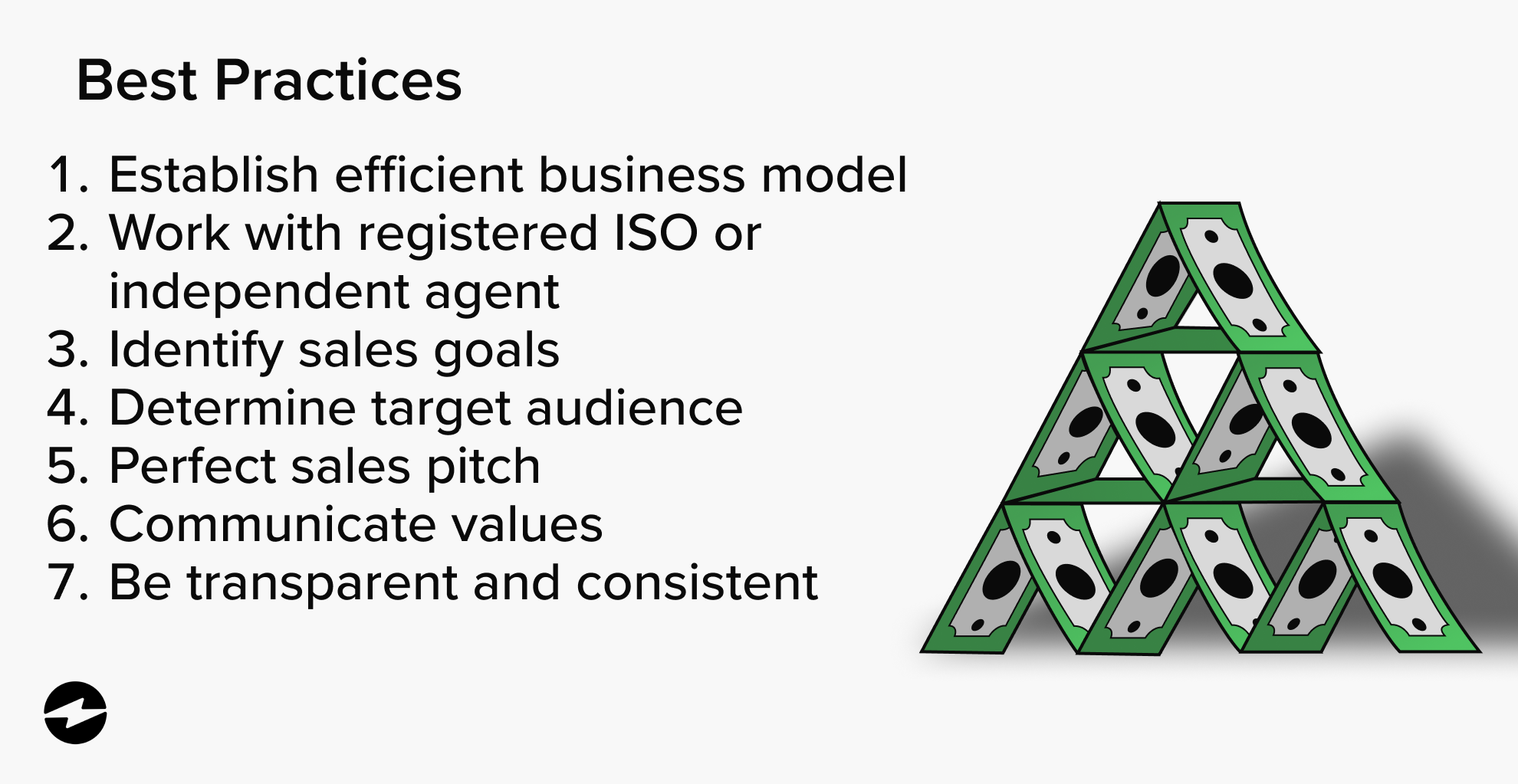 Providers that want to successfully sell merchant services must thoroughly understand the fundamentals of payment processing and customer needs and be able to navigate the industry's intricacies.
Adopting a strategic and customer-focused approach allows merchant services agents to develop effective sales tactics to improve client acquisition and customer satisfaction.
Merchant service agents can look to several best practices to develop the best strategy when selling merchant services:
Establish an efficient business model
Work with a registered ISO or independent agent
Identify your sales goals
Determine your target audience to acquire clients
Perfect your sales pitch
Communicate your values
Be transparent and consistent
Establish an efficient business model
It's essential to evaluate the market to shape your business model and identify potential opportunities, considering factors like market size, customer demand, industry trends, and competitors.
Evaluating market size is pivotal in businesses' decision-making strategies to provide a clear and quantifiable picture of your services' potential reach. Understanding the market size equips businesses with a foundational understanding of how many potential customers or clients are present, helping to set realistic expectations and goals.
Analyzing market size, customer demand, and industry and competitor trends will serve as a foundation for building your business. With this framework in place, your company can identify how best to structure its financial strategies.
Another way to establish an efficient business model is to work with an Independent Sales Organization (ISO) or an Independent Sales Agent (ISA). While ISOs and ISAs aren't strictly necessary for selling merchant services, they provide valuable benefits to efficiently distribute these services to businesses.
Work with a registered ISO or independent agent
An ISO is an organization with an established formal relationship with a payment processor or acquiring bank that allows them to resell their merchant services.
To become an ISO, businesses must be approved by payment industry regulators under specific criteria such as financial stability, industry experience, compliance with legal standards, customer support, and overall reputation.
On the other hand, ISAs are individuals or smaller entities acting as intermediaries between the merchant and the payment processor. ISAs tend to have their own client base and actively seek out merchants to offer payment processing solutions. Independent agents also typically earn commissions based on the volume of transactions processed by the merchants they work with personally.
If you're looking for a more hands-on approach, ISAs provide plenty of flexibility, allowing you to take charge and customize your solutions. Whereas ISOs offer a more templated structure and access to more resources that contribute to a wealth of knowledge and expertise, providing you with everything you need to yield a superior product and a seamless customer experience.
Identify your sales goals
Once you have assessed the market and selected your intermediary, it's time to determine your sales objectives and pursue them accordingly.
To identify your sales goals, you should look into the specifics of merchant services, understanding their unique value proposition, competitive advantages, and the target industries they cater to.
With this foundation in place, determine the volume and value of sales you aim to achieve within a defined timeframe. Consider factors such as new client acquisition, retention of existing clients, and upselling or cross-selling additional services. Set clear, measurable goals that are attainable yet ambitious, allowing room for growth without being unrealistic.
Determine your target audience to acquire clients
Build a strong network by attending industry events, trade shows, and conferences. Engage in conversations, exchange business cards, and establish relationships with potential clients. With a well-rounded network, you can create strong connections and generate leads to propel your business to new heights.
Content is another great way to generate leads, bringing in more traffic to your platform and establishing it as a source of education and valuable industry tips. Blog posts, informative videos, and webinars addressing common challenges within the industry will position you as a valuable resource and create an additional layer of trust for clients looking into your services.
Perfect your sales pitch
When constructing a sales pitch, focus on the services' benefits rather than merely listing their features. Explain how your solutions streamline payment processing operations, increase sales, enhance security, and elevate the overall customer experience.
To solidify your pitch, incorporate real-world examples and case studies that showcase your services' positive impact on businesses similar to your current potential clients.
With security being a high priority, highlight the security measures you offer to protect sensitive financial data to reassure potential clients.
Communicate your values
When selling merchant services, effectively communicating your values is paramount to building trust and fostering long-term relationships with potential clients.
Effectively conveying your values while selling merchant services entails weaving authenticity, empathy, and a client-centered approach into your communication. Begin by articulating your core values and illustrating how they contribute to your offerings. Through consistent messaging, empathy, and a focus on solutions, you can genuinely connect with potential clients, demonstrating how your values align with their goals, and fostering the trust essential for lasting partnerships.
Be transparent and consistent
Transparency and consistency are crucial for building trust in your customers. Being my providing comprehensive and easily understandable information about your services, detailing their features, benefits, and associated fees. Address any potential limitations or restrictions upfront to manage expectations.
It's also important to ensure that your pricing structure is straightforward and devoid of any hidden fees. Maintain consistent messaging across all your communication channels and provide easily accessible customer support for timely responses to inquiries. Lastly, regularly update clients on any changes, improvements, or industry trends.
By combining these practices, you can establish a reputation for reliability and transparency, fostering trust and long-lasting relationships with your customers in the merchant services arena.
In addition to these seven strategies, you can use several helpful tips and tricks to sell merchant services and establish yourself as an industry leader.
5 valuable tips on selling merchant services
It's always a good idea to look for tips and tricks within the industry for practical guidance, strategies, and insights to increase merchant service sales and long-term success.
To help with this, here are five tips on selling merchant services:
Know the industry
Provide flexible payment options
Obtain referrals from satisfied customers
Establish consistent merchant services training
Provide ongoing support
Know the industry
Before approaching potential clients, you should thoroughly understand the credit card processing industry.
Understanding the ins and outs of this industry will allow you to speak confidently about the services you offer. Be sure to keep up with industry trends, emerging technologies, and regulatory changes to differentiate your services from competitors and demonstrate your commitment to delivering the best solutions.
Provide flexible payment options
It's not uncommon for customers to have different payment method preferences, whether it be credit or debit cards, mobile wallets, eChecks, or other alternatives.
Expanding your payment options can make it easier for customers to access your services and, in turn, increase merchant service sales. Demonstrating this flexibility shows customers you understand and respect their preferred payment methods.
An optimized payment gateway can also streamline the payment process, making accepting and processing payments a breeze. Providers like EBizCharge allow merchants to accept numerous payment methods and efficiently and securely process transactions.
Obtain referrals from satisfied customers
Referrals from satisfied customers serve as endorsements for your business and your services.
With positive referrals, you demonstrate that customers trust your business and its services. This trust establishes your credibility, creating a positive brand image for your merchant services, and can lead to more potential clients and sales.
Establish consistent merchant services training
Implementing consistent sales training will help your sales team better understand the services they're selling and more effectively communicate the benefits of such services.
A well-informed sales team is better equipped to address customer inquiries, overcome discrepancies, and market their services as the best solution.
Provide ongoing support
Sustaining a successful merchant-client relationship involves a commitment to unwavering support. This commitment starts with providing consistent technical assistance, comprehensive training, and responsive customer service.
Swiftly addressing any concerns or challenges is crucial in maintaining their confidence in your services, making it imperative to maintain open lines of communication.
Beyond the initial implementation, regular follow-ups should be a staple. By periodically checking in with the client, you gather valuable feedback on their experience with the merchant services and affirm your dedication to their satisfaction. This feedback loop also unveils potential areas for enhancement, positioning you to suggest and upsell supplementary services that can further optimize their payment processing systems.
These ongoing support and follow-up endeavors nurture a strong partnership, fostering enduring client loyalty and fortifying the foundation for continuous business growth.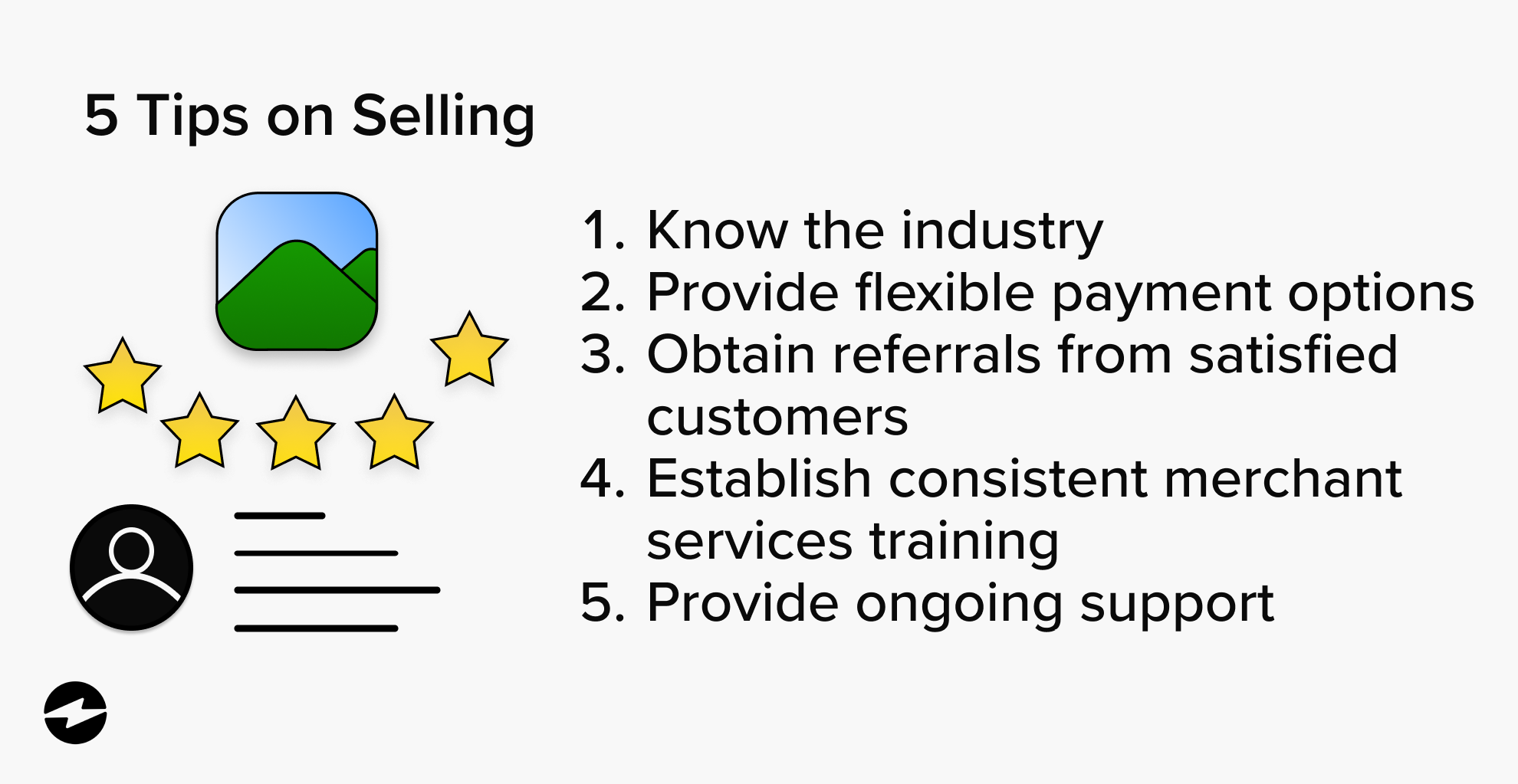 By utilizing these resources, you can foster positive client relationships, achieve better sales outcomes, and contribute to the growth and success of your organization.
Frequently asked questions regarding merchant services
Since the merchant services industry is constantly changing and evolving, it's not unusual for questions to arise.
Thankfully, this article answers five frequently asked merchant services questions related to payment security, payment methods, contracts, and more.
What payment methods do merchant services support?
Merchant services support an array of payment methods to help meet each industry's and customer's needs.
These payment methods include credit cards, debit cards, mobile payments, online payments, contactless payments, eWallets, gift cards, ACH payments, cryptocurrencies, and checks.
How secure are merchant services?
Merchant services typically apply sufficient payment security measures for merchants to process transactions safely.
While merchant services vary by provider, most will implement various security measures to protect the confidentiality and integrity of customer data during payment processing. These stringent security measures include encryption, tokenization, two-factor authentication, and regular security audits.
Do merchant services require contracts or other commitments from merchants?
Similar to payment security, contract requirements or commitments to use merchant services vary by provider and service.
In many cases, MSPs require businesses to sign a contract to establish the terms and conditions of the service. This contract typically outlines the responsibilities of both parties, fees or rates associated with the service, the duration of the agreement, and any early termination fees or penalties.
The best providers don't require a contract, as the quality of their services serves is the primary reason businesses choose them. Instead of relying on contractual obligations, top-tier providers are confident that their exceptional performance, reliability, and customer satisfaction will naturally foster long-lasting partnerships.
The no-contract approach reflects providers' commitment to transparency, trust, and delivering consistent value to garner loyalty based on merit rather than contractual constraints.
Can merchant services be customized to suit the specific needs of my business?
Companies can work with providers to customize their merchant services to suit their business model and customers' specific needs.
Reputable MSPs understand that different businesses have unique requirements and payment processing preferences. As a result, they offer a range of solutions and options that merchants can tailor to meet customer and industry demands.
MSPs can build long-lasting relationships and earn clients' trust by complying with industry regulations and providing excellent customer service. Continuous learning and adaptability are also vital in this competitive landscape. With the right tools, strategies, and a strong emphasis on delivering value, sales agents can excel in the merchant services industry.
Are there any payment compliance requirements or industry regulations to consider?
The Payment Card Industry Data Security Standards(PCI DSS), or PCI compliance, is one of the payments industry's most prominent regulations.
Under PCI standards, businesses that accept, process, store, or transmit cardholder data must comply with the security measures that PCI Standards Council enforces.
These security measures include firewalls, encrypting transmitted data, utilizing antivirus and anti-malware software, and regularly testing security systems. These measures are only a few of the stringent requirements of the Payment Card Industry Security Standards Council (PCI SSC).
With the right resources, businesses can establish a solid foundation that will allow them to thrive in the merchant services industry.
Mastering the art of selling merchant services
Successfully selling quality merchant services requires a deep understanding of the industry, personalized approaches to potential clients, and effective communication through compelling sales presentations.