Blog > How to Become a Merchant Service Provider (and ISO)? 6 Easy Steps
How to Become a Merchant Service Provider (and ISO)? 6 Easy Steps
The payment processing industry offers many opportunities for businesses to handle electronic payments and expand their customer base.
Whether you aim to be an Independent Sales Organization (ISO) or offer your own merchant services, this article provides six steps to help your business become an ISO for merchant services.
What is a merchant service provider/ISO?
Merchant service providers, or ISOs, are pivotal in facilitating electronic payment processing for businesses. ISOs act as intermediaries between merchants and financial institutions to enable seamless and secure transactions by allowing merchants to accept various types of electronic payments from customers — credit and debit cards, digital wallets, online payments, etc.
By providing the necessary infrastructure, technology, and expertise, merchant service providers empower businesses to offer convenient payment options to their customers while adhering to industry standards and compliance regulations.
ISOs help businesses enhance their revenue streams, improve customer satisfaction, and navigate the complexities of electronic payment processing by offering advanced payment technologies and integrations.
For example, consider a retail business that wants to implement an efficient omnichannel payment experience for customers. ISOs provide the necessary expertise and solutions to integrate the business's point-of-sale (POS) systems with online platforms and mobile payment options. The business can then offer a consistent and convenient payment experience across various channels for customers to purchase in-store, online, or via mobile devices. This integration enhances revenue streams by capturing sales from different channels and improves customer satisfaction by providing flexibility and convenience in the payment process.
While it's evident that merchant service providers play an important role in payment processing, becoming an ISO for the merchant services industry requires some well-thought-out effort.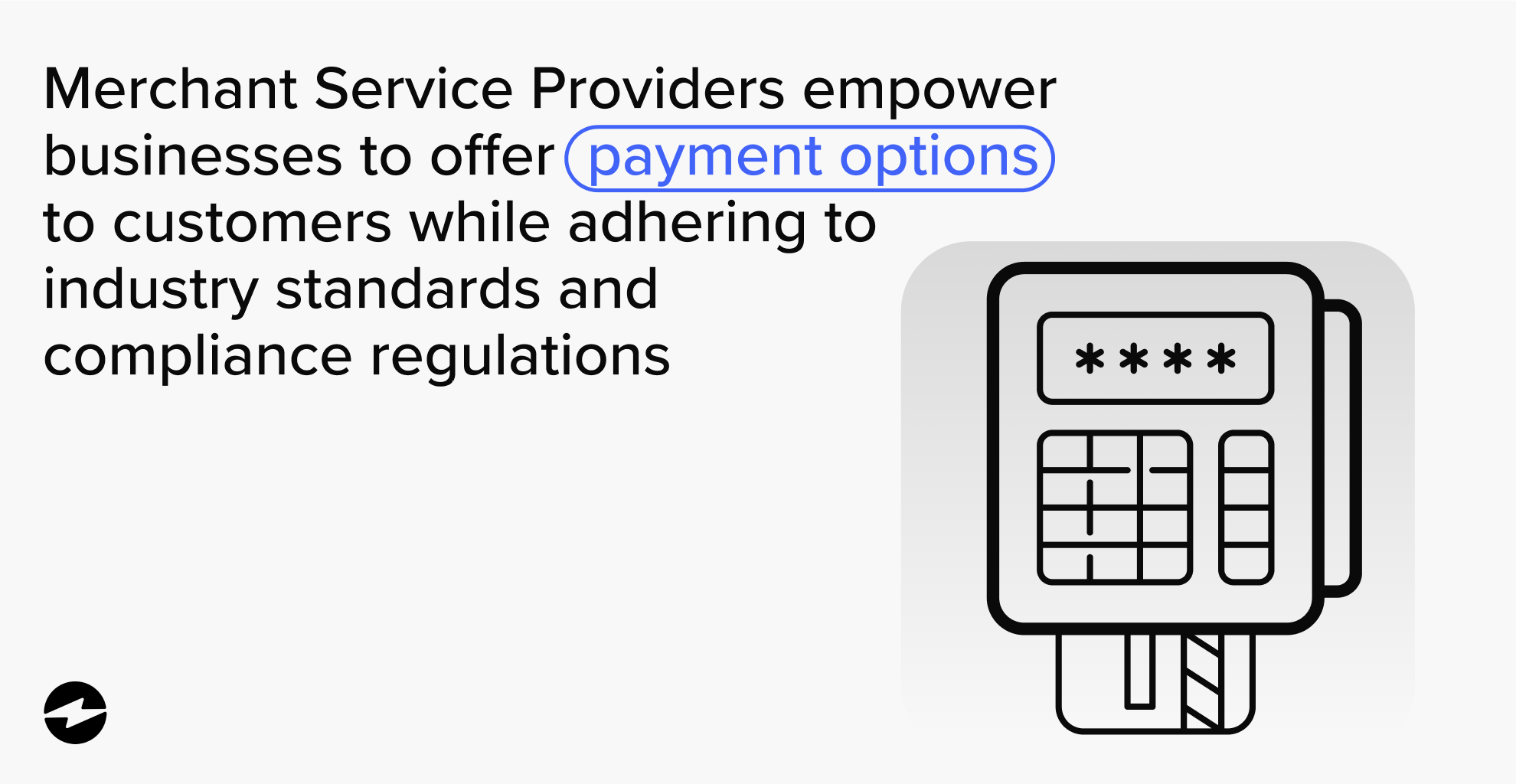 6 steps on how to become an ISO for merchant services
There's no clear formula for becoming an ISO for merchant services but some general guidelines can help excel your efforts in starting your ISO.
Becoming an ISO offers a pathway to establishing your merchant services business, so it's crucial to take the necessary steps to set up your business correctly.
Here are six essential steps to become an ISO that resells merchant services:
Obtain the necessary qualifications and skills
Draft an effective business plan
Apply for an employer identification number
Find the right payment processor
Implement effective marketing strategies to acquire clients
Understand the market
Finalize your ISO business by officially launching it
1. Obtain the necessary qualifications and skills
To excel as an ISO in the merchant services industry, having a solid foundation of qualifications and skills is crucial.
One of the first steps is to explore education and training options tailored explicitly for aspiring merchant service providers.
Education and training options for aspiring merchant service providers/ISOs
Education and training programs for merchant service providers will cover various payment processing topics, such as multiple payment methods, transaction security, and fraud prevention. These programs also familiarize you with the latest technologies and tools used in the industry, such as point-of-sale (POS) systems and mobile payment solutions.
Merchant services education and training opportunities provide valuable knowledge about the regulatory landscape of the payment processing industry. Security compliance is mandatory and governed by the Payment Card Industry Data Security Standard (PCI DSS) and is an essential component of protecting customers' payments. Therefore, understanding compliance requirements is critical to ensure merchants use reliable and secure payment processing solutions.
In addition to acquiring knowledge through education and training, developing industry skills will contribute to your success as an ISO.
Developing sales, marketing, and relationship-building skills
Sales and marketing skills are vital to promote your services and attract new merchants. By honing your sales techniques, you can effectively communicate the value and benefits of your merchant services to increase your client base.
One way to enhance sales techniques is by leveraging social proof — gathering testimonials and reviews from satisfied clients who have experienced positive results from your merchant services. Display these testimonials prominently on your website and marketing materials to build credibility and inspire confidence in potential customers.
Relationship building is another critical skill for ISOs. You can develop strong connections with merchants to build trust and brand loyalty by:
Actively listening to merchants' needs
Understanding merchants' business goals
Tailoring your services to meet merchants' specific requirements
By fulfilling these needs and establishing long-term relationships, you gain more referrals and significantly contribute to the growth of your merchant service provider/ISO business.
Once you acquire the necessary ISO qualifications and skills, you must take the time to draft a captivating business plan.
2. Draft an effective business plan
A well-crafted business plan is the cornerstone of success for any ISO, as it acts as a roadmap to define your target market, outline the services you offer, and identify your competitive differentiators.
It's also important to outline your growth strategies, pricing structure, and marketing approaches in your business plan.
When becoming an ISO for merchant services, three other significant factors are your business registration and legal considerations, payment processing infrastructure, and business name availability…
Business registration and legal considerations: Before launching an ISO business, you must register your business entity — form an LLC or corporation — to protect your personal assets and establish a separate legal identity.
Secure payment processing infrastructure: Creating a reliable and secure payment processing infrastructure is crucial. You can accomplish this by investing in robust payment processing software, hardware, and secure payment gateways that adhere to industry standards and prioritize data security.
Company name availability: Choosing a unique and memorable company name is essential for brand recognition. Before finalizing your company name, conduct a thorough search to ensure it's available — check with your local business registrar or use online platforms that provide name availability searches.
Once you've drafted a business plan, you'll need to apply for an employer identification number if you're a U.S.-based company.
3. Apply for an employer identification number
An Employer Identification Number (EIN) is a unique identifier the Internal Revenue Service (IRS) assigns businesses for tax purposes.
Obtaining an EIN allows you to open a business bank account, hire employees, and file taxes accurately. You can apply for an EIN online through the official IRS website.
Once the EIN is obtained through the IRS website, you can find a suitable payment processor for merchant services.
4. Find the right payment processor
Selecting the right payment processor can significantly impact the success of your business. With many options on the market, it's essential to conduct thorough research and carefully compare different payment processors.
There are several factors to consider to help you make an informed choice that aligns with your business goals and meets clients' needs, such as lower transaction costs, advanced security, direct support, and seamless software compatibility.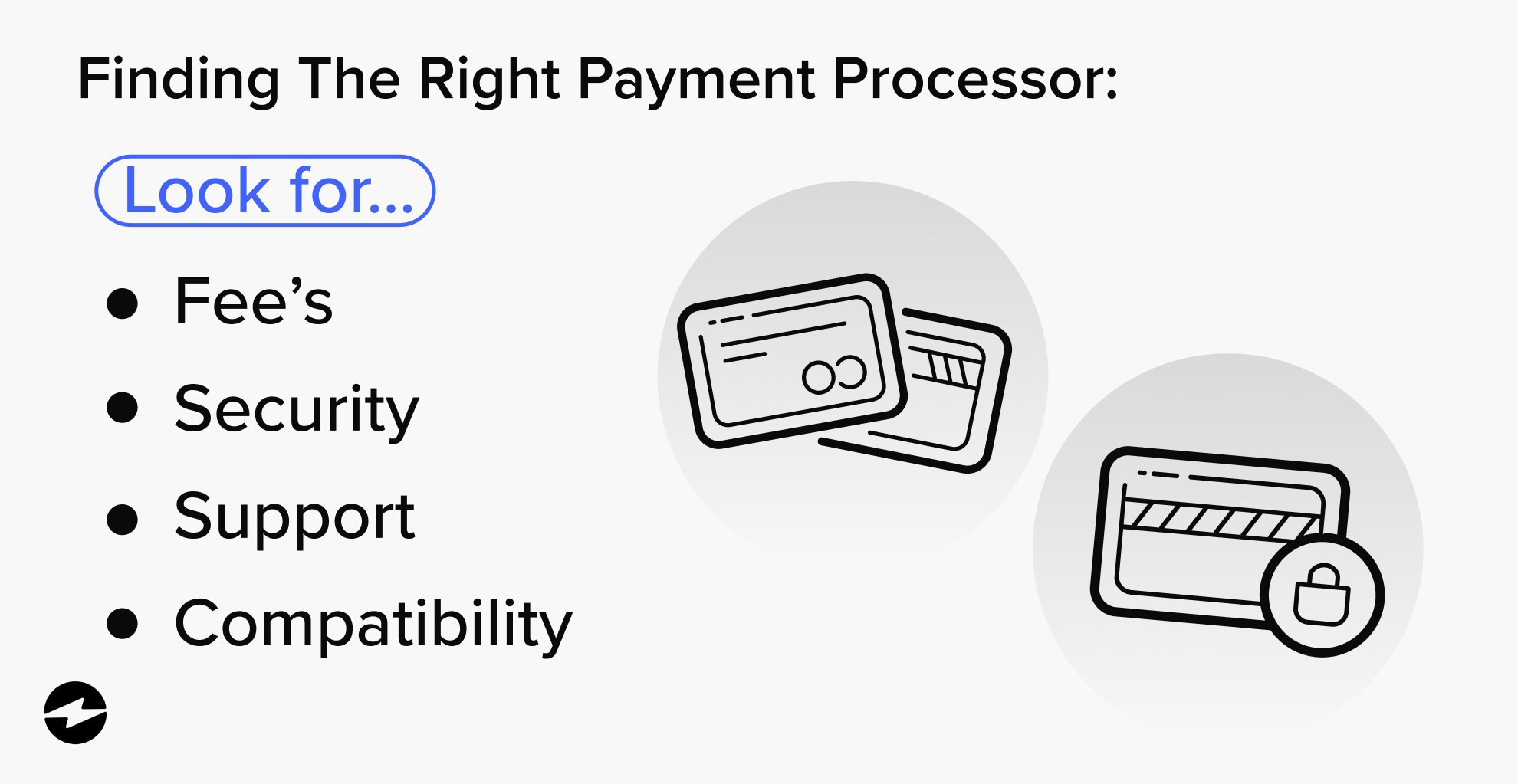 Lower transaction fees
Examine the fee structure of each payment processor to evaluate how each aligns with your business model. Look for transparent pricing, competitive rates, and fee structures that suit your transaction volume and average ticket size.
Consider whether the processor charges a flat or a percentage-based fee per transaction and assess how it will impact your profitability.
Advanced security measures
Security is paramount when handling sensitive payment data. Assess the security measures each payment processor implements to protect against fraud, data breaches, and unauthorized access.
Look for features such as encryption, tokenization, fraud detection and prevention tools, and full PCI compliance.
Direct customer support
Since direct and reliable customer support is necessary in the fast-paced world of merchant services, evaluating the responsiveness and quality of customer support offered by each payment processor is essential.
Look for providers that offer 24/7, in-house support, multiple communication channels (such as phone, email, or live chat), and dedicated account representatives. Prompt and efficient support can help address any issues or concerns that may arise and ensure smooth payment operations.
Seamless software compatibility
ISOs should assess the payment methods each processor supports to ensure they cater to your target market.
If the processor offers accounting, ERP, CRM, or eCommerce integrations, it may be compatible with your current software to help you better manage payments and other internal operations.
Finding a payment processor can be time-consuming and stressful, but focusing on these four factors can help you determine the best provider for your business.
5. Implement effective marketing strategies to acquire clients
Effective marketing strategies are vital to promoting your merchant services and acquiring clients.
ISOs can develop a comprehensive marketing plan encompassing online and offline channels to reach their target audience. Leveraging digital marketing techniques like search engine optimization (SEO), social media marketing, content marketing, and email campaigns can also be beneficial.
Businesses can also participate in industry events, network with local businesses, and offer incentives to attract new clients.
Implementing effective marketing strategies is integral to launching a merchant service provider business, but knowing your target market is also crucial.
6. Understand the market
Understanding the market is essential when launching an ISO in the merchant services industry since it allows you to gain valuable insights into the dynamics of the industry, including customer preferences, emerging trends, and competitive landscape.
By understanding the market, you can identify merchants' specific needs and pain points, enabling you to tailor your services and solutions accordingly. This helps you position your ISO strategically, stand out from competitors, and offer unique value propositions that resonate with potential clients.
7. Finalize your ISO business by officially launching it
Now, you can launch your ISO business to build your client base and provide merchants with the right merchant services software for their business model.
Building and growing your business and customer base is an ongoing endeavor. It requires dedication, adaptability, and continuous efforts to stay ahead in the competitive merchant services industry.
While it's challenging to grow your business and customer base, instilling a solid foundation using these steps and other effective strategies will promote long-term stability for your company and success in the industry. These strategies may include:
Nurturing client relationships through exceptional customer service
Staying up to date on industry trends and technological advancements
Actively seeking opportunities for expansion and diversification
The merchant services industry is always evolving, so it's essential to adapt and innovate to continue to meet the needs of merchants.
Explore the benefits that ISO provides your organization
Becoming a merchant service provider/ISO can yield many benefits for your organization. By partnering with established payment processors, you can take advantage of enhanced payment solutions, advanced security measures, and dedicated support teams.
Merchant services providers also enjoy revenue-sharing opportunities, allowing you to earn income from the transactions processed through your services. ISOs can also tailor their offerings, expand their service portfolios, and scale their businesses.
Partner with EBizCharge to help your ISO business journey
To become a prosperous merchant services provider and launch your ISO business confidently, you can follow these steps and partner with a trusted payment solution provider like EBizCharge to leverage their personalized support and customer service, comprehensive payment processing tools, and cutting-edge technology.
With EBizCharge, ISOs can streamline operations, drive more growth, and gain access to secure payment gateways and advanced reporting capabilities, to make a significant impact in the world of merchant services and contribute to the success of businesses across industries.