Blog > How to Find the Best ISO Agent Program
How to Find the Best ISO Agent Program
If you want to build an independently operated business with outstanding long-term income potential, you may be interested in finding the best ISO agent program.
An ISO agent program maximizes revenue by offering generous revenue sharing through residual pay plans and SPIFF programs. If you find a great company to work with, you can gain access to frictionless payment solutions that your merchants can quickly implement.
What is an ISO agent program?
Joining an ISO agent program provides comprehensive payment processing training for aspiring business professionals.
Independent Sales Organization (ISO) agent programs are structured arrangements offered by merchant service providers or acquiring banks to individuals or companies interested in becoming ISO agents. These programs provide training, tools, and support for agents to succeed in the highly competitive payments industry.
With the support of experienced mentors, you can navigate the competitive industry, refine your skills, and become part of a vibrant community of like-minded professionals. As an ISO agent with proficient knowledge, you can provide seamless payment processing solutions to merchants more effectively and forge strong partnerships.
The best ISO programs will also provide helpful features to encourage the most success.
4 essential features of an ISO program
Now that you know what ISO agent programs entail, there are critical features your business should be aware of before choosing a program.
Here are four main features to look for when searching for the best ISO agent program: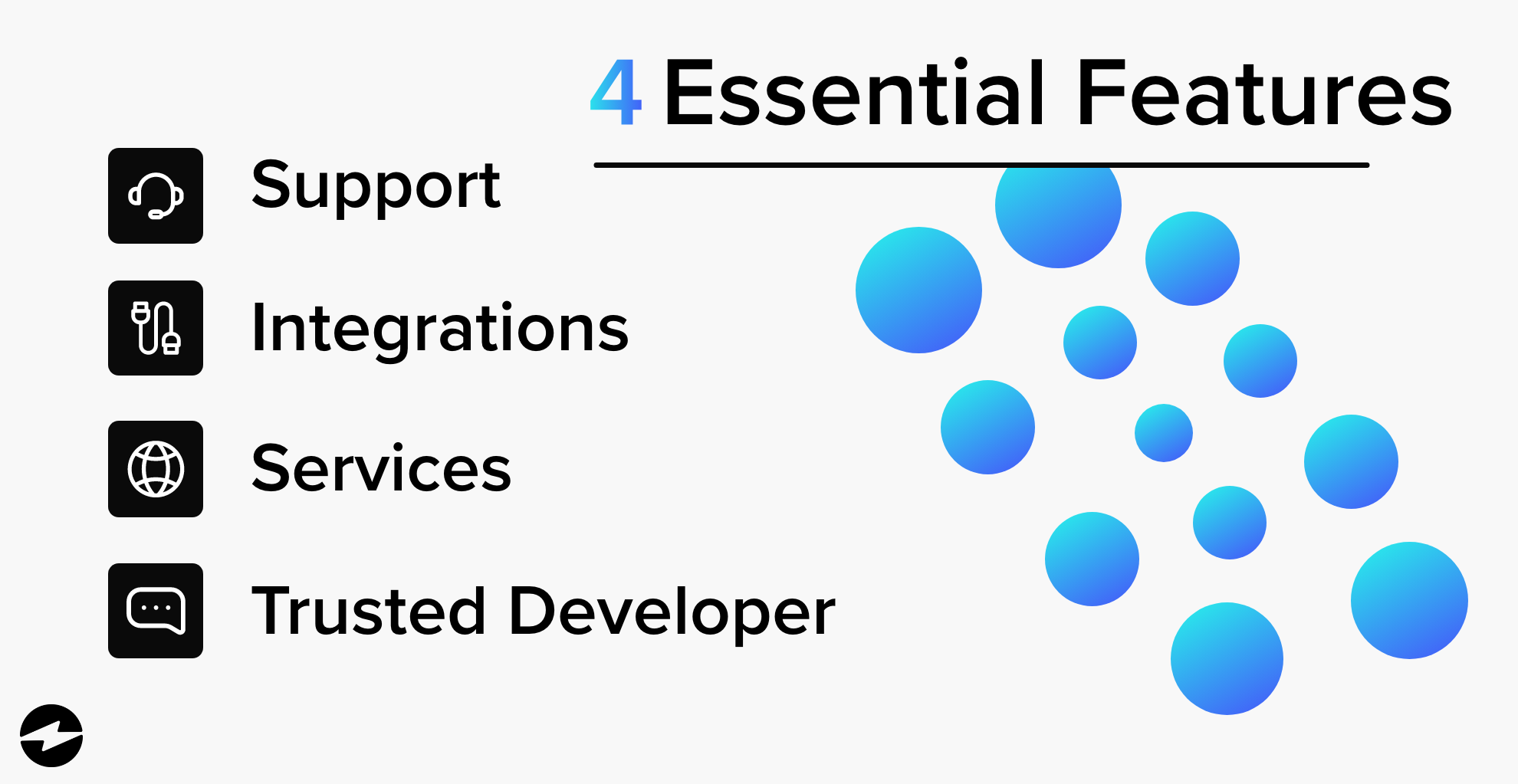 Support
Integrations
Services
Trusted developer
1. Dedicated agent support team
An in-house agent support team guarantees access to a live person in the U.S. whenever you need help, providing on-demand, comprehensive support so you can focus on sales instead of troubleshooting.
Around-the-clock credit card processing support is also essential for your merchants. A great support team will offer 24/7, in-house support so your customers can get assistance anytime. The processor should have no call centers, no long wait times, and no cheesy hold music — just the support your customer needs, right when they need it.
Chargebacks are inevitable in the world of payment processing and can be devastating for small to medium-sized businesses. With a solid chargeback management team on standby, you can tackle any dispute.
With in-house chargeback management teams, you can monitor your customers' transactions and notify them when a chargeback is filed. A chargeback team can also guide merchants through the PCI compliance self-assessment questionnaire and answer PCI-related questions to help secure their business.
2. Integrated payment solutions
Integrated payment solutions allow your merchants to automate their accounting workflow and accept payments directly in their ERP, accounting system, CRM software, and eCommerce shopping cart.
Integrations automatically post payments to invoices, so there's no need for merchants to go back into their program at the end of the day to reconcile invoices or balance the general ledger. Plus, integrations lower credit card costs with every transaction and reduce overall processing fees.
Integrated payments can also help strengthen security. A cloud-based payment gateway that maintains full PCI compliance like EBizCharge will help protect credit card information during data breaches and securely store data on off-site servers, so your customers don't have to worry about system administration costs or server failures.
3. Powerful value-added services
The best ISO agent programs provide agents with value-adding services that benefit merchants, such as an online customer payment portal, email payment links, mobile payments, and more.
Online customer payment portals simplify the collections process for your merchants by providing customers with a convenient, secure way to view and pay off their invoices. The portal should integrate seamlessly with leading ERP and accounting software, including QuickBooks, Microsoft Dynamics, SAP Business One, Sage, and Acumatica.
Customer payment portals eliminate the need to manually enter payment information into accounting software by automatically posting payments to accounts receivable and the general ledger and marking invoices as paid when transactions are approved.
Email payments give merchants the ability to email invoices to customers in the form of secure webpage links. Paid invoices are then seamlessly applied to accounts receivable within their ERP or accounting system.
In addition, mobile payments allow your customers to manage payments and get paid on the go. A great mobile solution should integrate with your customers' accounting software, allowing them to move seamlessly between the app and their desktop software. Transactions should be synced back to accounting software so there's no manual reconciliation.
4. A trusted developer
The best ISO agent program will develop in-house solutions to provide your merchants with the most up-to-date integrations.
The software should be built to make payment processing more straightforward, more efficient, and less expensive.
Bonus tip: Top-paying residual compensation plan
Be sure to choose an ISO agent program that offers generous revenue sharing through residual pay plans and SPIFF programs. Also, the program should provide guaranteed lifetime residuals, monthly performance bonuses, and timely residual checks.
Follow these tips to find the best ISO agent program, which will give you access to a full range of payment processing benefits, such as mobile payments, email payments, and an online customer payment portal. If you partner with the right program, you'll gain guaranteed lifetime residuals, build a revenue stream, and grow your own profitable business.
6 ISO agent programs to look into in 2023
While ISO agent programs all serve a similar purpose, they differ in what they offer. Therefore, finding the right ISO program for your business requires thorough research to determine which best fits your needs.
Here are six top providers to help you select the best ISO program for your business:
EBizCharge
BankCard USA
MBNCARD, Inc.
Worldpay
Leap Payments, Inc.
Total Systems Services, Inc.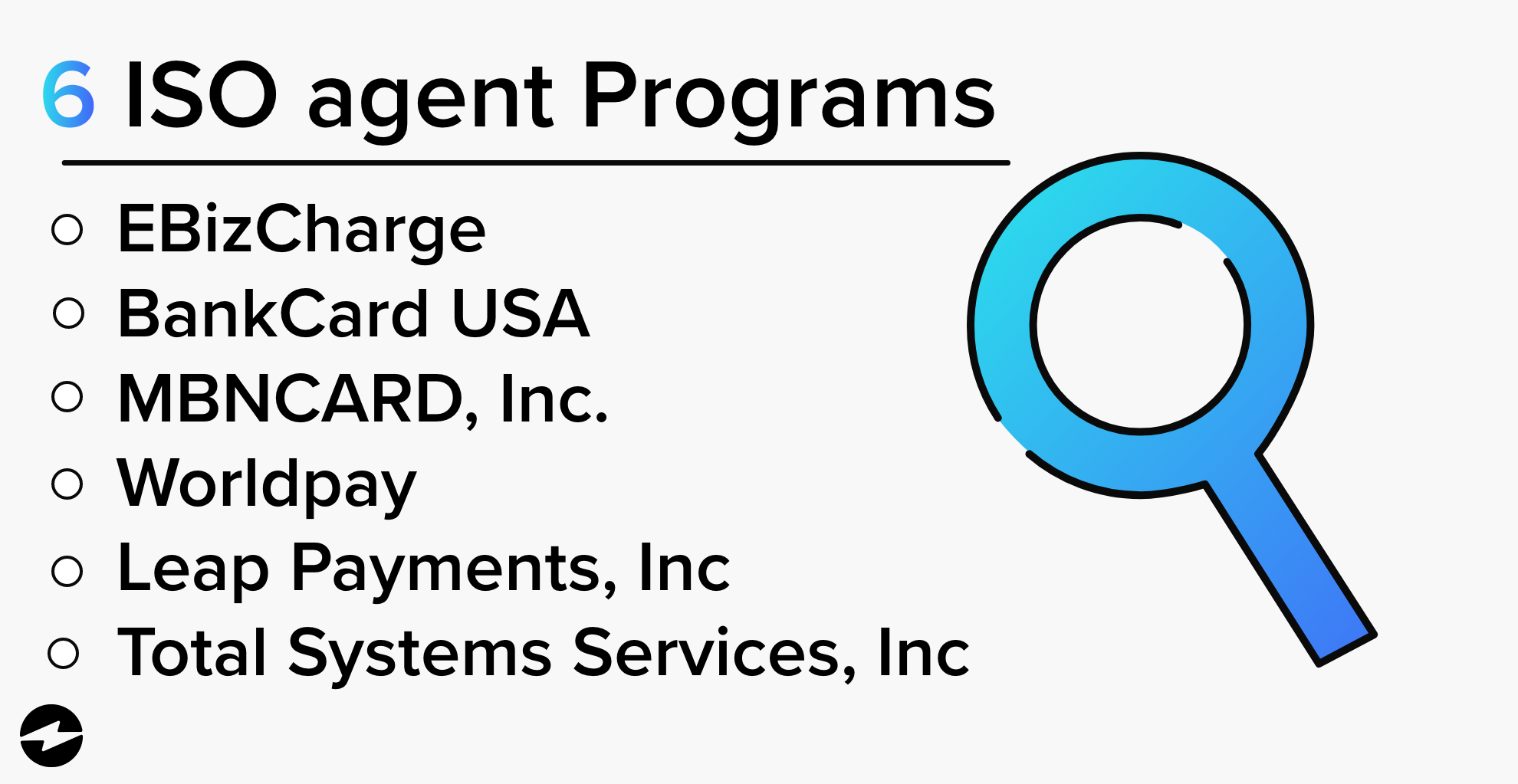 EBizCharge
The EBizCharge ISO program is highly regarded for its exceptional features and valuable services that promote agent success in the payments industry.
EBizCharge offers comprehensive training to equip agents with exemptional knowledge and skills to navigate the complexities of payment processing. Alongside training, the program boasts a robust support system to ensure agents have the assistance they need at every step of their journey. This support system acts as a guiding hand, enabling agents to overcome challenges and seize opportunities effectively.
Another notable feature of EBizCharge's ISO program is its utilization of advanced payment collection tools. These tools help companies streamline accounting processes, enhance efficiency, and facilitate smooth transactions for merchants. By leveraging these cutting-edge technologies, agents can provide clients with top-notch payment processing solutions aligned with the latest industry standards.
As mentioned previously, EBizCharge offers many payment collection tools, such as a customer payment portal, email pay, mobile payments, and recurring billing, for more instant payments and to avoid late invoices. EBizCharge also integrates into over 100 accounting, ERP, eCommerce, and CRM software, allowing merchants to accept payments directly inside this software.
With its impressive support, training, and extensive features and integrations, EBizCharge's ISO program may be the perfect fit for your business.
BankCard USA
BankCard USA's ISO program is widely recognized for its industry expertise, solidifying its reputation as a trusted choice. With an extensive network of acquiring banks, agents have access to a broad range of resources and opportunities, enabling them to meet the diverse needs of merchants effectively.
BankCard USA focuses primarily on providing its merchants with the necessary tools to allow them to simplistically accept payments from their customers in person. They offer a multitude of POS terminals and eCommerce solutions, targeting mainly retail companies with their products and services.
BankCard USA's tailored solutions equip agents with the necessary knowledge and tools to navigate the competitive payments landscape. Its ISO program stands out as a valuable platform for agents seeking to thrive in the dynamic world of payment processing.
MBNCARD, Inc.
MBNCARD, Inc. is a prominent player in the ISO program landscape, known for its innovation, personalized support, and attractive compensation structures.
MBNCARD, Inc.'s tailored approach and lucrative compensation provide solid incentives for agents to excel, fostering a collaborative partnership and enabling them to achieve business objectives. Thanks to its forward-thinking mindset, comprehensive resources, and unwavering support in the payments industry, it's a go-to ISO program for agents seeking growth and prosperity.
Worldpay
Worldpay's ISO program is a top choice because of its commitment to agent success and merchant satisfaction. Worldpay gives agents access to a comprehensive suite of payment solutions to meet diverse merchant needs and is supported by industry experience and robust infrastructure. These payment solutions include services like integrated banking, cash flow management, enhanced trading and investing, and data-driven insights.
By offering tailored payment options and guidance, Worldpay helps agents excel in the competitive payments space, establish trusted relationships, and is a trusted partner for those in the payment processing agent industry.
Leap Payments, Inc.
Leap Payments, Inc. excels in the ISO industry by prioritizing agent development and comprehensive support. Their hands-on training equips agents with the skills and expertise needed to excel in the payments industry.
Alongside training, Leap Payments, Inc. offers customized marketing support, empowering agents to attract merchants effectively. They ensure agents have the tools and knowledge to recommend tailored solutions by focusing on agent development.
Leap Payments, Inc. emphasizes building long-term and provides ongoing support, enabling agents to address merchant concerns and maintain high customer satisfaction.
Total System Services, Inc.
Total System Services, Inc. (TSYS) has established itself as a trusted leader in the ISO agency space with its extensive global presence and commitment to innovation.
TSYS offers comprehensive resources and ongoing support for agents to deliver exceptional payment processing solutions to merchants. TSYS provides innovative technology solutions and services to stay ahead in the rapidly evolving payments industry, such as a cloud-native platform, payment processing, data and portfolio analytics, and digital onboarding, making it a top choice for ISO agents.
Whether it's credit cards, debit cards, prepaid cards, or electronic checks, TSYS enables businesses to seamlessly process transactions while ensuring the highest level of security and reliability.
Finding the best ISO agent program to empower your clients & optimize your business
Finding the best ISO agent program is crucial for those looking to build a profitable business in the payments industry. It's vital to prioritize programs that offer generous revenue sharing, frictionless payment solutions, and comprehensive training. Providers with robust integrations, valuable service add-ons, and trusted developers can help elevate your offerings.
By partnering with a reputable ISO program like EBizCharge, agents can establish lasting merchant partnerships and achieve long-term success.