Blog > BigCommerce for B2B: Meeting the Unique Needs of Business Customers
BigCommerce for B2B: Meeting the Unique Needs of Business Customers
As the B2B eCommerce industry evolves, businesses face new challenges, as many need help to meet growing demand.
According to a Forrester report, B2B eCommerce will account for 17% of B2B sales in the U.S. in 2023 and amass a total of $1.8 trillion.
With these sales continuing to grow substantially, businesses must use the latest technology and software to stay ahead of the competition. Thankfully, BigCommerce offers an answer for this ever-changing B2B market.
What is BigCommerce for B2B?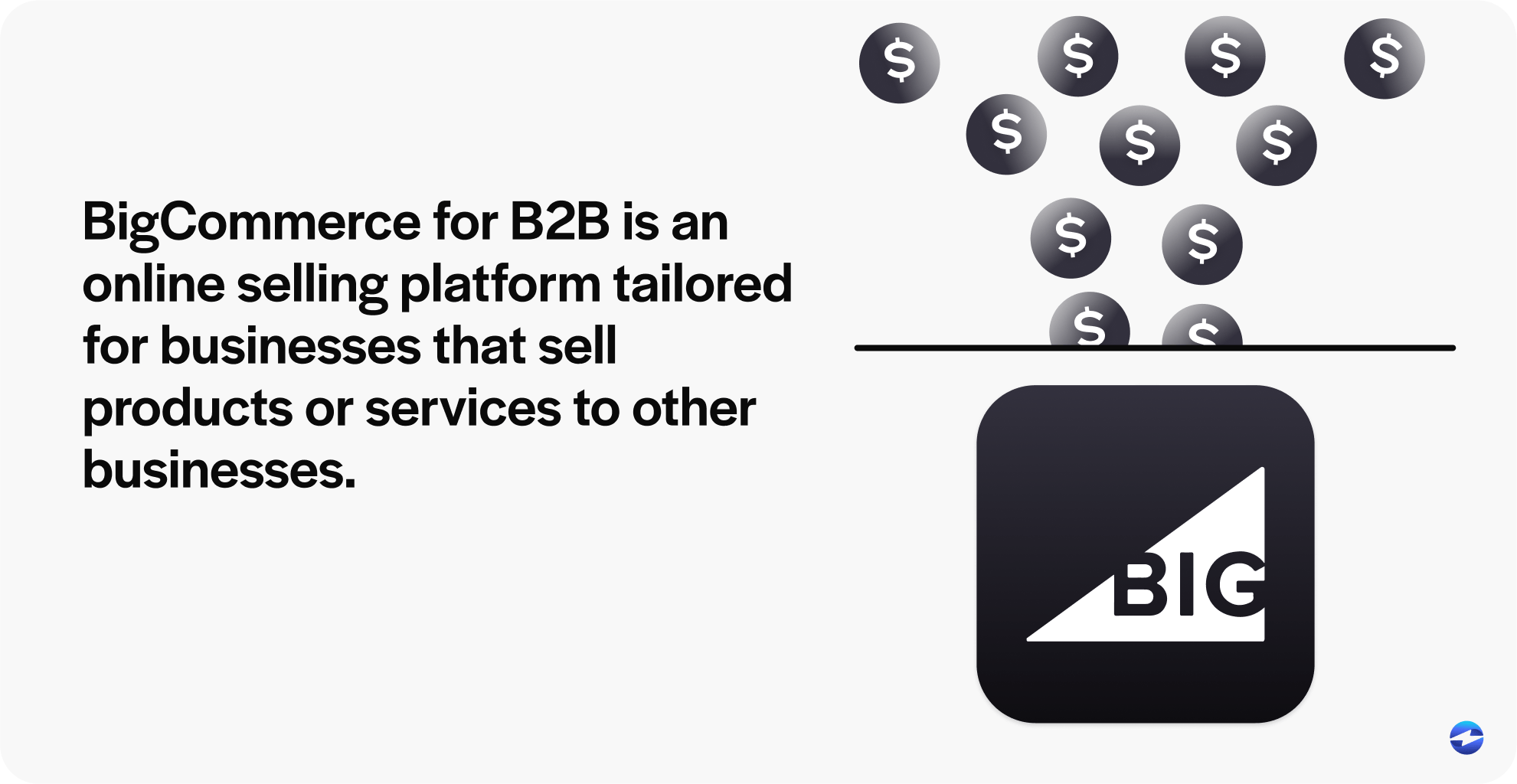 BigCommerce for B2B is an eCommerce platform designed specifically to meet the unique needs of online B2B sellers. It offers a range of powerful tools and features that enable businesses to create seamless, efficient, and personalized customer experiences.
A critical component and feature of BigCommerce is its focus on cross-business purchasing for the B2B industry.
BigCommerce for B2B allows businesses to establish customer accounts and provides flexible payment options, such as price lists and custom pricing, to cater to the needs of different buyer tiers. It also supports complex purchasing workflows, multiple payment methods, and credit card processing, ensuring the sales process is streamlined and hassle-free.
Plus, BigCommerce for B2B offers robust custom shipping capabilities, so businesses can easily set up and manage different shipping methods, rates, and rules and accommodate their customers' diverse shipping needs.
Data synchronization is another crucial feature of BigCommerce, as it seamlessly integrates with various business systems like ERP and CRM software. This ensures customer data, orders, and inventory are synchronized across platforms and enhances efficiency and accuracy in managing online transactions and inventory management.
With BigCommerce, online B2B sellers can effectively meet the expectations and demands of their customers, providing a seamless and tailored shopping experience.
5 features BigCommerce for B2B provides
BigCommerce offers a comprehensive set of features designed to meet the unique needs of businesses.
Here are five main features of BigCommerce for B2B:
Seamless integrations: As previously mentioned, BigCommerce seamlessly integrates with existing business systems that include ERP and CRM software, such as NetSuite, Acumatica, and Brightpearl.
Customized shipping rates: BigCommerce for B2B allows businesses to quickly set up and manage different shipping methods, rates, and rules. This flexibility accommodates the diverse shipping needs of their customers and provides a tailored and cost-effective shipping experience.
Prebuilt tools: BigCommerce offers prebuilt tools for ordering and quoting, streamlining the sales process, and making it more efficient. With these tools, businesses can easily generate accurate quotes and enable their sales teams to process orders seamlessly.
Shared shopping lists: BigCommerce for B2B allows customers to create and share shopping lists, facilitating collaboration and making ordering easier for teams or departments within a company.
Corporate account management: BigCommerce enables businesses to establish and manage customer accounts, providing them with a centralized and efficient way to handle their corporate clients' needs.
BigCommerce for B2B is perfect for businesses wanting to streamline operations and improve the customer purchasing experience. While there are many benefits associated with BigCommerce, who can benefit the most from this platform?
Which businesses benefit from BigCommerce for B2B?
BigCommerce is an innovative and robust eCommerce platform that caters to a diverse range of businesses. However, its B2B edition is specifically designed for industries and online retailers with complex setups and wholesale operations.
While BigCommerce for B2B offers a range of tools and features tailored to meet the unique needs of B2B businesses, this platform is ideal for small, mid-size, and large online retailers serving B2B customers. This platform provides tools to effectively manage wholesale operations, streamline order processing, and deliver a seamless shopping experience to B2B buyers.
Moreover, BigCommerce's robust capabilities make it suitable for businesses with complex setups and specific requirements by offering customized shipping rates, customer account management, and prebuilt tools for ordering and quoting. These features empower B2B companies to optimize operations and provide exceptional customer service.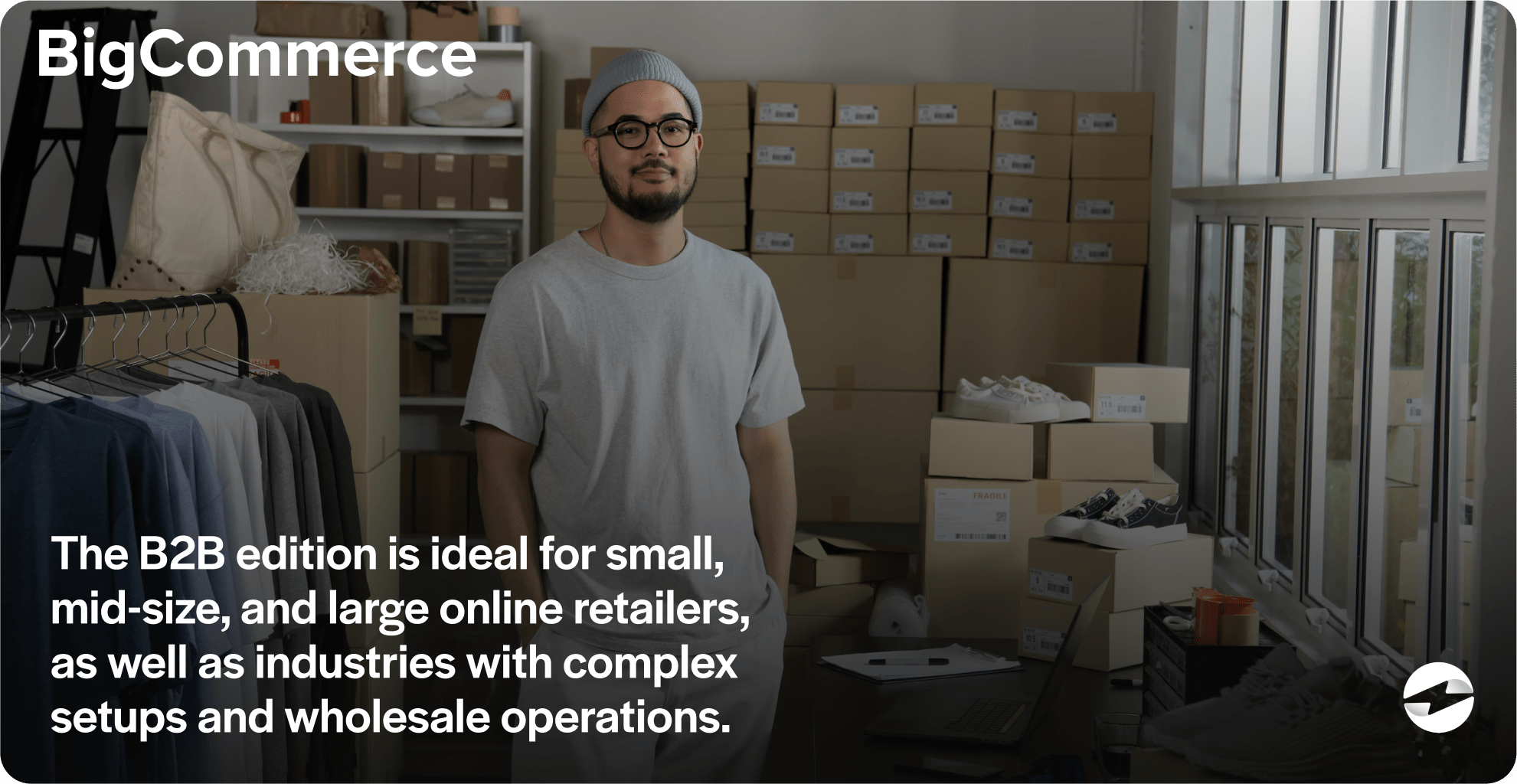 While there are many eCommerce platforms for businesses to select from, there are several reasons why BigCommerce for B2B may be the best choice for your company.
11 reasons why BigCommerce is a top B2B eCommerce solution
BigCommerce for B2B is an excellent solution for businesses looking for all-in-one software, thanks its many features and benefits.
Here are the top 11 reasons why BigCommerce may be the most suitable B2B eCommerce solution for your business:
Scalability to support rapidly growing businesses
Advanced customization options for a fully personalized online experience
Exceptional customer support for a smooth user experience
Streamlined order management
Seamless integration with essential business tools
Mobile optimization for on-the-go shoppers
Built-in SEO capabilities to enhance visibility
Enhanced checkout experience to increase conversions
Advanced analytics and reporting to understand your performance
Robust payment security features for a secure shopping experience
Multi-channel selling for better reach
1. Scalability to support rapidly growing businesses
Scalability is a crucial factor for any growing business, and BigCommerce for B2B offers the scalability needed to support your business's expansion. With unlimited bandwidth and storage, BigCommerce ensures that your eCommerce platform can handle increasing traffic and product offerings without limitations.
BigCommerce's cloud-based platform allows flexible scaling, ensuring your website can handle high traffic volumes without experiencing slowdowns or performance issues. As your customer base grows, your website will continue to provide a seamless shopping experience.
BigCommerce for B2B also allows you to set up automatic upgrades, which helps scale your business and ensures your eCommerce operations are current. These automatic upgrades save you time and effort, so you don't have to manually implement new features or functionality.
2. Advanced customization options for a fully personalized online experience
BigCommerce for B2B offers advanced customization options that allow businesses to create a unique and personalized online store.
When searching for online suppliers, roughly half of B2B buyers looked for personalization when deciding which supplier to do business with. With BigCommerce's template customization feature, companies can choose from various professionally designed templates and customize them to align with their brand identity and meet their specific requirements.
In addition to template customization, BigCommerce provides custom B2B features tailored specifically for businesses. These features include pricing tiers, bulk ordering, and customer-specific pricing. Companies can create customer groups and set up permission-based access to products and pricing, ensuring a more personalized and secure customer experience.
BigCommerce offers flexible APIs and webhooks to further enhance customization and allow businesses to integrate their online store with other software and systems for seamless data transfer, automated processes, and improved operational efficiency.
3. Exceptional customer support for a smooth user experience
BigCommerce for B2B goes above and beyond to provide exceptional customer support, ensuring businesses have a smooth user experience with their platform.
With round-the-clock support, companies can contact BigCommerce for assistance at any time, regardless of timezone or operating hours.
BigCommerce for B2B offers multiple support channels, including live chat, email, and phone support, for businesses to choose the most convenient method for quick and efficient communication and problem resolution.
To further enhance the support experience, BigCommerce assigns dedicated account managers to each business. These knowledgeable professionals answer questions, provide guidance, and offer personalized assistance to support companies and best meet their needs.
Additionally, BigCommerce for B2B provides a comprehensive knowledge base filled with helpful articles, guides, and video tutorials for businesses to find answers to common questions and learn more about the platform's features and functionalities.
4. Streamlined order management
BigCommerce's streamlined order management system for B2B eCommerce offers a centralized system that simplifies and accelerates order processing.
With automation capabilities, businesses can efficiently manage large volumes of orders, reducing manual tasks and errors. Real-time inventory updates ensure accurate stock information, allowing companies to manage demand effectively and avoid stockouts.
Additionally, BigCommerce's enhanced reporting and analytics provide valuable insights into sales performance, customer behavior, and inventory management, allowing businesses to make more data-driven decisions.
5. Seamless integration with essential business tools
BigCommerce B2B also seamlessly integrates with accounting software and other essential business tools.
The BigCommerce platform connects with various systems, including ERP, CRM, accounting software, PIM/DAM (Product Information Management/Digital Asset Management) systems, shipping carriers, and payment processors.
Integrating BigCommerce with your current ERP, accounting, or CRM systems will allow your business to improve efficiency and streamline its workflow.
ERP integrations allow for a more efficient stream of information and accurate inventory management and order fulfillment. CRM integrations enable businesses to easily access customer data, track interactions, and provide personalized experiences. Accounting software integrations automate financial operations and simplify tasks such as bookkeeping, invoicing, and tax calculations.
Overall, BigCommerce's integrations with business tools provide more efficiency, cost savings, and automated updates for businesses to manage their eCommerce operations and meet customer needs.
6. Mobile optimization for on-the-go shoppers
Roughly 79% of smartphone users used their mobile devices to make online purchases in the past six months, so mobile optimization is crucial for B2B eCommerce.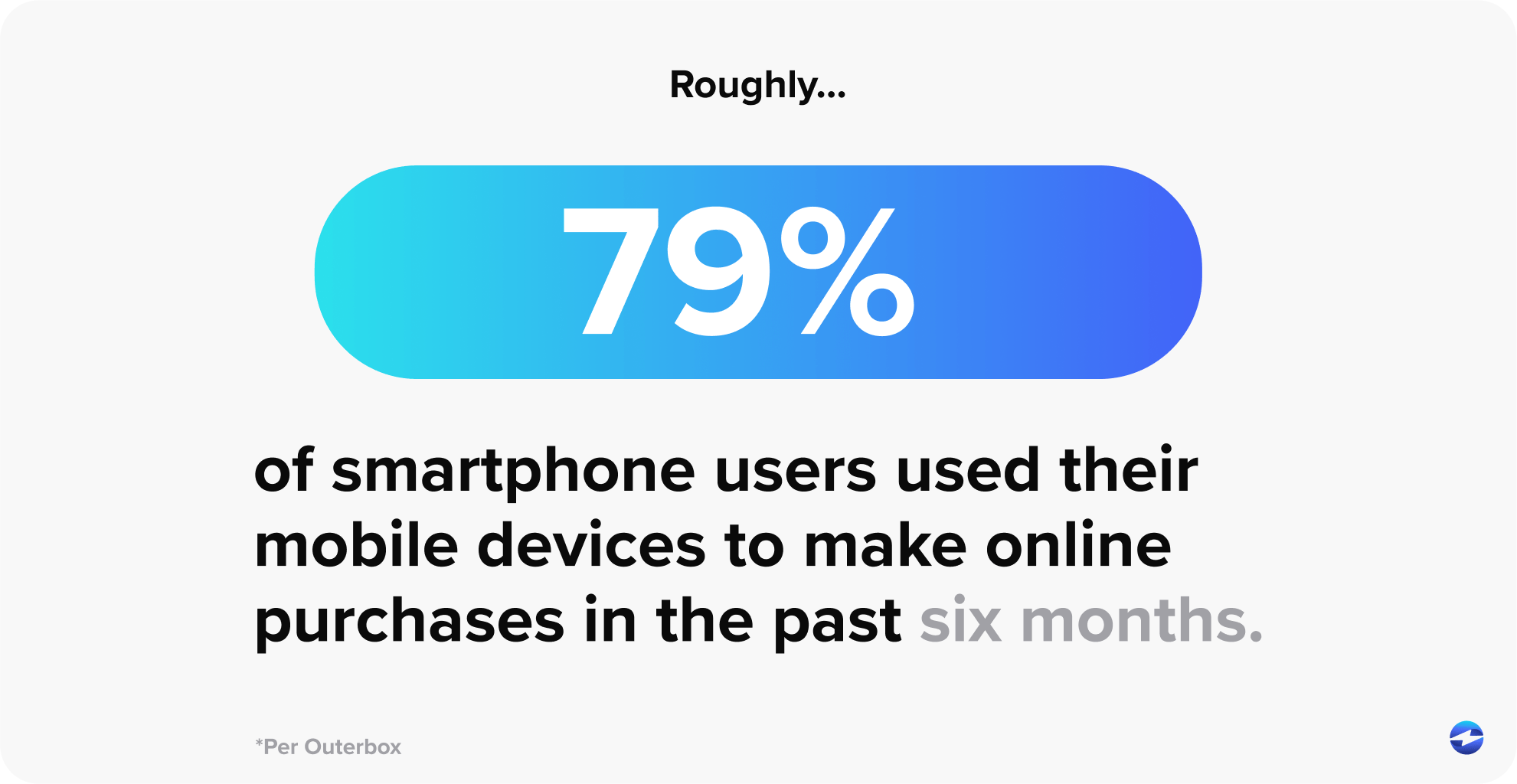 Thankfully, BigCommerce understands the significance of mobile optimization and offers businesses the tools to encourage a more user-friendly experience for on-the-go shoppers.
With its responsive design capabilities, BigCommerce allows businesses to create online stores that adjust to fit any screen size, ensuring a seamless shopping experience across all devices, including smartphones.
7. Built-in SEO capabilities to enhance visibility
Since visibility is key in B2B eCommerce, BigCommerce offers robust built-in search engine optimization (SEO) capabilities to help businesses reach target audiences and increase online visibility.
With BigCommerce, B2B businesses have the tools to optimize their online stores for search engines. The platform offers optimized site structure, SEO-friendly URLs, and metadata management to ensure search engines can easily index and rank every page.
BigCommerce for B2B also integrates schema markup to help search engines understand the content and context of a webpage and improve the visibility of product listings and other important information in search results.
Additionally, BigCommerce for B2B users can optimize images for SEO by automatically generating alt tags and optimizing image file size for faster loading times. This helps improve overall website performance and user experience.
With BigCommerce's built-in s