Blog > 4 Ways to Give Your Customers the Payment Experience They Want
4 Ways to Give Your Customers the Payment Experience They Want
A seamless payment process will keep your customers coming back.
Even if a customer has already decided to purchase from your business, a difficult payment experience could easily send them away.
According to a Walker study, "customer experience will overtake price and product as the key brand differentiator by 2020." The study found that 86% of buyers would be willing to pay more for a better customer experience.
With a strong payment experience, maintaining your customers becomes much easier.
The White House Office of Consumer Affairs found that "it is 6-7 times costlier to attract a new customer than it is to retain an existing customer."
With this is mind, securing a positive payment experience is incredibly important for your business.
Here are 4 ways to give your customers the payment experiences they want.
Provide multiple payment options
The payment landscape is changing and your customers desire payment flexibility. To meet this demand, consider providing multiple payment options across all sales channels and devices.
Let's consider an example. A hypothetical restaurant has a brick-and-mortar restaurant, online ordering, and large-scale catering orders. Each of these different options requires its own individual payment experience. If the restaurant is catering a large party, it would be inconvenient to make the customer go to the physical restaurant to pay off an invoice when it would be easier to pay online.
Expanding your payment processing capabilities across multiple platforms is a great way to adapt to the needs of your customers.
Keep in mind that the payment experience should remain consistent across all verticals.
According to Crowdspring, "90% of consumers expect their experience with a brand to be similar across all platforms and devices."
Whether it be online, mobile, telephone, ACH, or point of sale, it's important to offer a variety of different payment platforms to give your customers the type of payment experience they desire.
Maximize payment security
According to ACI Worldwide, 46% of Americans have been victims of credit card fraud in the past 5 years.
When customers provide you with their payment information, they are trusting that you will keep their sensitive data safe. Fortunately, there are measures you can take to help protect your customers from fraud.
Use credit card tokenization on all transactions. Tokenization is an advanced data security method that protects sensitive credit card data at each stage of the transaction process. Tokenization replaces credit card information with an indecipherable code that keeps data safe from fraud.
Check out our video below to learn about a key component of payment security: tokenization.
Make sure to use a payment gateway that stores sensitive credit card information off-site on PCI-compliant servers. This eliminates security risks and liabilities for your business and ensures that customer information is being protected at all times.
Additionally, it's important to utilize a payment gateway that submits line-item details to the point of sale when processing credit cards. This extra layer of information helps better identify a customer's identity, significantly reducing liability if fraud occurs.
Brand everything
Make sure your logo and brand elements are present throughout the entire payment process. This helps create a sense of trust and security with your brand.
Consumers form a first impression of a brand's logo within 10 seconds, but "it takes 5-7 impressions for consumers to recognize the logo," according to Action Card.
The more a customer sees your logo or recognizes your brand, the more likely they will be to purchase from you again in the future.
For example, if your company offers online invoicing, you wouldn't want your customer to be redirected to a page that isn't branded with your company logo to pay off their invoices. Instead, your online invoicing portal should be branded to look exactly like your company website.
When your customers recognize and trust your brand, they'll keep coming back for future purchases.
Integrate your payments
Your customers expect a seamless and secure payment experience. A payment integration can give your business more ways to enhance the customer experience and ensure that payments are processed quickly and securely.
With a payment integration, you can process payments directly within existing ERP/accounting software, CRM systems, eCommerce shopping carts, or mobile solutions.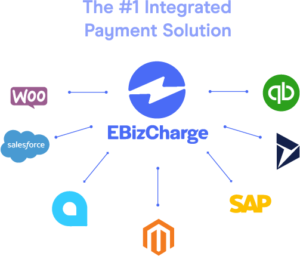 If you sell products or services online, for example, a payment integration allows you to accept payments directly through your online shopping cart. This makes it easy for your customers to complete their purchase, instead of forcing them to move to a third-party website that accepts payments for your business.
Without a payment integration, your customers can easily lose trust in your business. If they have to navigate to a separate site to pay, they may question the security of the payment experience or they may get frustrated and leave your site altogether.
Integrating your payments can keep your customers happy with a seamless payment experience from start to finish.
Maximizing your customer payment experience will help bring in new clients and retain existing customers. If your payment experience is easy, customers will remember your business for future purchases. Ensuring that your payment process is focused on providing an excellent customer experience will help foster trust and build confidence in your brand.