Blog > When to Fight Chargebacks: 4 Questions to Guide Your Decision to Fight or Fall Back
When to Fight Chargebacks: 4 Questions to Guide Your Decision to Fight or Fall Back
Should you always fight chargebacks?
When a chargeback pops up, your knee-jerk reaction might be emotional. You may feel angry or upset and want to fight back. Unfortunately, chargebacks are ultimately designed to favor cardholders, not merchants, and there are some cases when putting time and money toward overturning a chargeback will be a losing battle.
Before we get to it… here's a quick video explaining what chargebacks are:
Here's everything you need to know about fighting chargebacks the smart way: when to square up and when to step down, and how to protect your business in the long run.
4 questions to help you decide when to fight chargebacks
1. Is it true fraud?
The first step in evaluating when to fight chargebacks is to determine the source of the chargeback. This process isn't always easy, since industry standards can change, customers can lie, and reason codes can be difficult to untangle. In general, there are three types of chargebacks: legitimate, true fraud, and friendly fraud.
Legitimate
A legitimate chargeback occurs when a cardholder has a valid reason to file the chargeback. Some examples include:
The product never arrived, it arrived damaged, etc.
The customer was accidentally charged twice (duplicate transaction)
The customer is charged for a recurring transaction after they've cancelled their service or subscription
If you believe a chargeback is legitimate, then there's no reason to fight it.
True fraud
The chargeback system was originally created to protect cardholders from true fraud. True fraud occurs when a criminal uses a cardholder's information without their knowledge. Chargebacks help victims of true fraud recoup their lost money.
If true fraud occurs, then don't waste your time or money fighting the chargeback.
Friendly fraud
According to Global Risk Technologies, a whopping 86% of chargebacks are friendly fraud. These are the chargebacks you can fight. They occur when a cardholder maliciously or accidentally files a chargeback without cause. For example:
A customer regrets a purchase and doesn't want to go through the typical return/exchange process
A customer intentionally files a false chargeback to avoid paying for the product or service they've acquired
A customer sees a strange charge on their bank statement and disputes it
As you can see, not all friendly fraud is caused by deliberately malicious actors, and in many cases, businesses can prevent chargebacks by addressing the issues that lead to friendly fraud.
Once you determine that the chargeback is indeed friendly fraud, you can move on to assessing what's at stake if you don't fight it.
2. Is there enough at stake to fight?
A significant amount of time and money is dedicated to disputing chargebacks. By 2023, the average cost of a chargeback is predicted to be $191. And for every dollar merchants lose to true fraud, they'll pay (on average) nearly four times that amount in costs.
All of these statistics mean that you have to weigh the true costs of fighting chargebacks. Is the transaction amount enough to warrant all the time and energy you'll pour into getting it back?
Another factor to consider is reputation. Businesses with too many chargebacks can get dropped by their credit card processors, effectively ending their ability to process credit card payments. And businesses with too many chargebacks often have negative reviews or customer sentiment, which can hurt sales and current customer relationships. If the dollar amount of the transaction in question is low, but you feel your reputation needs some repair or your merchant account is in jeopardy, then it may be worth it to fight chargebacks.
3. Does the cardholder have a strong case? Do you?
When submitting a chargeback, cardholders are required to include documentation to show their claim is valid. Likewise, if you want to challenge a chargeback, you'll need to provide compelling evidence that proves your side of the story.
Before fighting a chargeback, ask yourself: do you have enough evidence to convince a third party that you're right and the cardholder is wrong? Keep in mind that, unlike the justice system, merchants are guilty until proven innocent. The burden is placed on you to prove that the cardholder is wrong, not the other way around.
Examples of compelling evidence include delivery confirmation receipts, sales receipts, photos, contracts, and signed orders.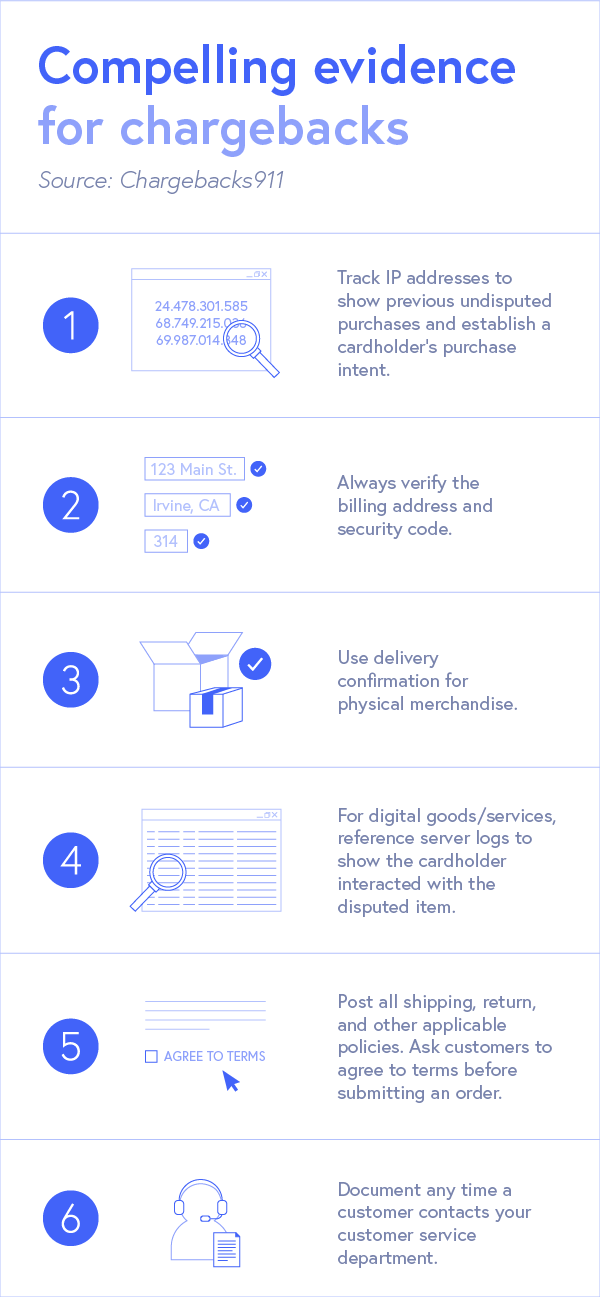 If you plan on fighting chargebacks often, then keep careful records of each transaction. Do everything you can to get firm evidence of the validity of each transaction. Then, if a cardholder attempts friendly fraud, you can fight chargebacks with confidence knowing you have the evidence to back you up.
4. Are you able to settle the dispute a different way?
A customer may initiate a chargeback if they never received the product, if it arrived damaged, or if something unsatisfactory happened. Merchants have ten days to get in touch with customers after a chargeback is filed. You can use these ten days to work with the customer and find an alternative solution. Most often, customers will be satisfied with an exchange or refund. You could also provide them with additional discounts. If you can settle the matter and reverse the chargeback, then you can win the battle before it even begins.
Know when to fight chargebacks
While chargebacks are frustrating, it's not always worth it to fight them. You have to weigh the pros and cons of disputing a chargeback. Is it friendly fraud? Are you likely to win your case? Will you spend too much time and energy fighting it? Is your reputation, money, or merchant account at stake? Can you settle the issue another way? With these questions, you'll be able to determine when to fight chargebacks.