Blog > What is Straight Through Processing (STP)?
What is Straight Through Processing (STP)?
So, what does STP stand for? STP stands for straight-through processing and is a system that processes financial payments electronically. These transfers are observed mostly in the payment processing industry because of its high-level of security. Any company interested in using STP will need to have a proficient level of technical networking in place to maintain STP efficiently. This article will further discuss the definition of STP and its benefits for the accounts receivable aspect of a business.
What is STP?
STP is a system that takes AR automation to the next level by processing financial transactions fully electronically. These financial transactions, which are generally recorded in the accounts receivables manually, can be processed by streamlining data sharing across multiple departments automatically with STP. The STP solution for AR automation reduces the repetitive errors made by human labor and replaces it with an automated system with significantly less mistakes.
In general, B2B businesses benefit the most from integrating an STP process into their business model, considering they rely heavily on paper-based payment processes and paper invoices. Utilizing payment processing software that comes packed with STP capabilities, B2B companies can reduce their DSO and increase their overall cash inflow. This provides companies with more liquidable assets that can be used for other investments to benefit companies.
With AR automation and STP, the accounting team can spend their time focusing on higher priority tasks instead of basic bookkeeping. This article will talk further on the major benefits of STP and how it works.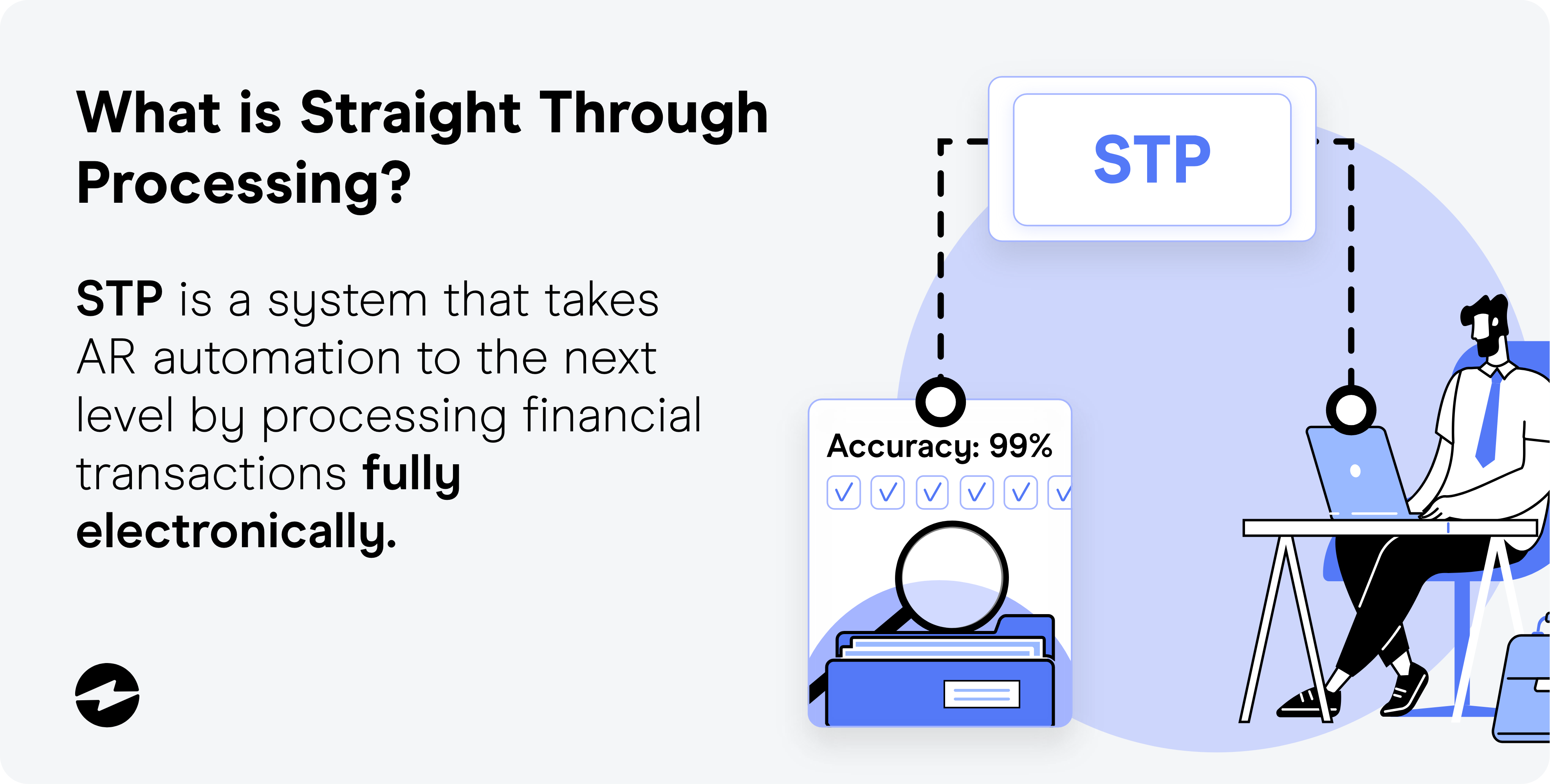 Which businesses benefit the most from STP?
As mentioned previously, B2B companies will gain the most from the use of STP for their heavy reliance on paper-based activities and manual accounting practices. Businesses that are looking to move away from paper-based accounts receivables will benefit the most from STP. Moving away from paper-based accounting practices and replacing it with remote-friendly systems makes it cheaper and simpler to manage for a company's accounting team.
Businesses will also go to the extent of creating their own solutions (CRMs, eCommerce platforms, marketplaces, and other software platforms), such as payment portals, email payment links, physical POS, or prepaid cards. However, going to this length to create a new solution is costly to develop and maintain and companies would benefit from selecting a third-party solution for electronic payments and an STP software.
Benefits of straight-through processing
The benefits of straight-through processing can be seen clearly in businesses with high-volume transactions. With STP, these businesses found different unique methods of improving their accounting processes to save time and increase efficiency.
In the accounts receivable aspect of accounting, there are generally multiple steps involved when the payment is received by payment by the customer. These steps include receiving confirmation of the payment via telephone, preparing all departments for the transfer, and waiting multiple days before the funds can be received and processed through the receiver's bank. The tedious steps of the AR process are simplified with the implementation of straight-through processing.
A good STP solution will synchronize with a company's accounting ERP system and track transactions automatically. These STP solutions will provide the company with a multitude of payment features that will allow customers to select which payment feature suits their needs. Once the customer pays the invoice using one of the payment features, the invoice will automatically be updated in the accounting ERP software. This makes the accounts receivables aspect of the business significantly easier for all parties involved.
To simplify the benefits of straight-through processing, here are some of the top advantages of implementing STP:
Less human error from manual data entry and processing errors
Better data reliability and accuracy
Greater accounts receivables productivity
Better transaction processing speed
Increase in AR staff productivity
STP greatly increases your company's accounting efficiency but there are a few reasons why every business doesn't adopt STP for their business.
Main reasons why businesses haven't adopted STP
There could be a handful of reasons why some companies fail to incorporate STP into their accounts receivables practices or throughout the entire company.
1. A reluctance to store payment information on file
STP is utilized most productively when clients' payments are automatically processed when the invoices are due or sent out. The company sending out the invoices will provide the customer with an abundance of payment options (e.g., customer payment portal, email pay, text-to-pay, etc.) that are synced with the STP software.
Many clients still are untrustworthy to have a business hold all their confidential banking and credit card information. Because of this, businesses are unable to adopt STP into their business model and will need to continue the manual process of accepting paper payments. While the world is rapidly evolving to a fully automated environment, some clients are reluctant to make the switch with their payment information.
2. The business's accounting ERP software doesn't have the capability to handle STP
Some businesses are stuck with accounting ERP, CRM, and payment processing software that are underqualified to handle the technology that STP requires. Many of these outdated software fail to meet the PCI requirements and are at risk of leaking confidential customer and business information. With credit card processing, it's crucial to have a software that is PCI compliant and is up-to-date to protect companies against all the largest security risks.
3. Company is still using paper checks
While the popularity of payment by paper check continues to decline as the years go on, many individuals are still determined to pay invoices with a paper check. In fact, paper checks still contribute to around half of all business-to-business transactions. This is due to the fact that many businesses remittance documents are sent out to the customer and asked to be returned for the payment to be processed and the company to receive the funds. Automating payments and AR simplifies this process and saves the client and business tons of time.
How to get started with STP
Choosing a straight-through processing software that integrates with your company's current software is crucial. EBizCharge is an excellent option for processing payments in a timely and secure manner. The software integrates into over 100 different accounting ERP, CRM, and shopping cart programs and automates the accounts receivable function of the company.
EBizCharge provides your company with the ability to process echeck, credit, and debit payments. Your company will have its invoices paid off in a timely manner while also making the payment process convenient for your customers.