Blog > How Sage Users Can Simplify their Billing Using EBizCharge
How Sage Users Can Simplify their Billing Using EBizCharge
Maintaining efficient billing operations is vital for any business, so having the right invoicing tools can significantly simplify this process. Luckily, companies that invoice in Sage can use providers like EBizCharge for a comprehensive payment processing solution that seamlessly integrates with this software.
This article explores the benefits EBizCharge provides for Sage users and how it works to streamline payment processing.
What is Sage?
A well-structured billing process is the cornerstone of business operations and a major contributing factor to success. Sage understands this and has developed software to make this function significantly more efficient for companies worldwide.
Sage is a powerful, widely acclaimed software suite that helps businesses manage accounting, payroll, inventory, billing, and other operations. Renowned for its robust features and user-friendly interface, Sage has earned its place as a trusted solution across diverse industries.
Sage's extensive financial features and intuitive infrastructure allow businesses to easily manage and track their finances.
With its versatile capabilities, Sage ensures a smooth billing process and seamless financial transactions for merchants. These functions include invoice creation, payment tracking, customer account management, and more.
While Sage delivers standard billing functionalities, the real potential for businesses lies in leveraging the EBizCharge integration, which introduces a host of additional benefits and features to enhance and transform the invoicing experience.
What is EBizCharge?
EBizCharge is a transformative payment processing solution that helps enterprises navigate the world of payment collections. The main purpose of EBizCharge is to help businesses collect payments faster by automating their accounts receivables and maintaining a high level of security while accomplishing that goal.
EBizCharge offers many payment features that give companies more flexibility when charging their customers. Here are a few of its payment features:
Email pay
EMV terminal
Virtual terminal
Customer payment portal
Recurring billing
Integrated payments
These features not only benefit the business receiving the payments but also benefit customers who have a busy schedule and need to pay their invoices as effortlessly as possible.
EBizCharge's advantages go further than just the features it offers. When coupled with other software, EBizCharge significantly helps streamline companies' billing processes.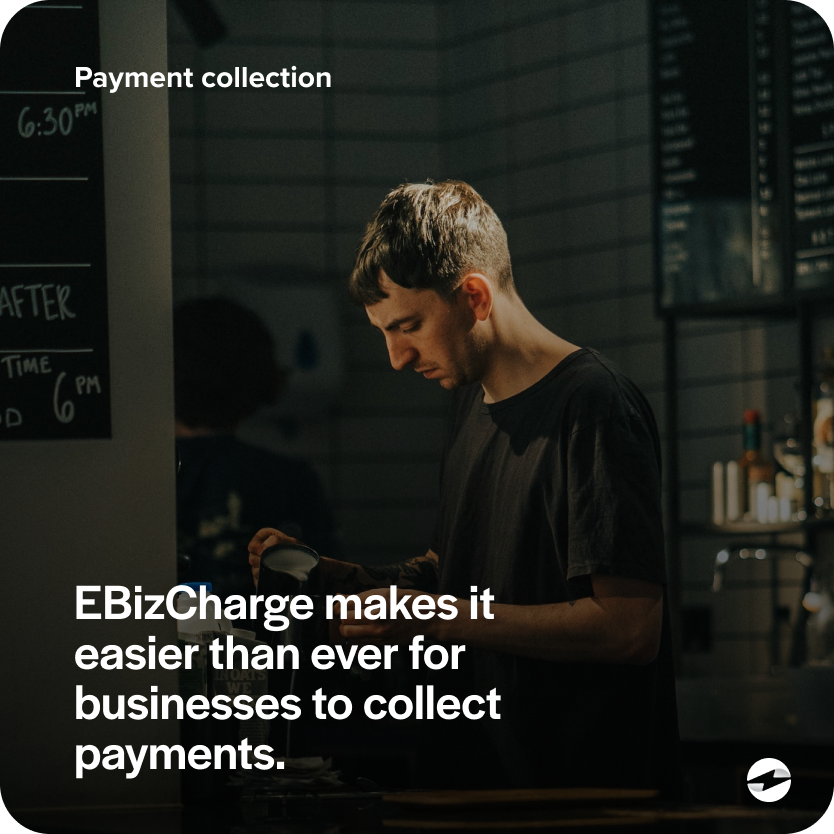 How does EBizCharge work?
EBizCharge integrates into over 100 accounting, ERP, eCommerce, CRM, and POS software to allow businesses to accept payments directly in the system they're using.
EBizCharge's integrations include the most prominent accounting and ERP software like Sage, QuickBooks, Acumatica, NetSuite, and Microsoft Dynamics. While these systems are designed to help companies take control of their billing process, EBizCharge significantly boosts the abilities of this software to allow a steady flow of payment processing to be automatically displayed.
When paired with Sage, EBizCharge is an excellent tool that strengthens and enhances payment processing operations for businesses.
How does EBizCharge simplify the Sage billing process?
EBizCharge seamlessly integrates with Sage to streamline the billing process and enhance efficiency, allowing businesses to focus on growth and customer satisfaction.
EBizCharge allows Sage users to easily and confidently navigate their financial operations by accelerating and automating payment collections and gives them access to more secure transactions and efficient customer support.
EBizCharge streamlines payment processing in Sage
The EBizCharge integration helps businesses streamline their payment processing by allowing companies to send out and accept payments directly inside the Sage ERP software.
With EBizCharge, Sage users can:
Run transactions directly inside of Sage.
Utilize the Email Pay feature to send out one-time payments to customers directly inside Sage.
Access a fully customizable Customer Payment Portal to give customers a self-service portal to view and pay off invoices.
Take advantage of an Auto Pay feature to automatically collect variable payment amounts during a pay period.
Provide Recurring Billing to bill a fixed amount during a given time frame and on a recurring schedule to make it easier for customers to make payments more consistently over a long period.
The EBizCharge integration for Sage goes beyond streamlining payment processing by increasing payment security for companies accepting credit cards and providing top-notch customer service.
EBizCharge enhances payment security and customer support
Managing your payments in Sage with EBizCharge also adds a layer of payment security for your business.
EBizCharge comes fully equipped with a level 3 PCI-compliant payment gateway, securing payments for both businesses and customers in Sage. This means EBizCharge went through an abundance of rigorous tests to meet PCI Security Standards, which deemed EBizCharge as a reliable payment gateway for processing payments. Therefore, merchants accepting payments inside of Sage can feel secure using EBizCharge to manage their payments.
In addition to the high level of security EBizCharge offers, it also comes with a 24/7, in-house customer support team, giving businesses the comfort of knowing there's always a specialist ready to help if necessary.
By automating billing tasks and simplifying the payment process, EBizCharge frees up valuable time and resources for businesses to focus on core activities. The efficiency EBizCharge adds to the Sage billing process can significantly boost businesses' financial operations and management.
Optimize your payment process in Sage with EBizCharge
Syncing EBizCharge with your Sage system provides the perfect duo to transform your payment processing operations.
Sage's robust capabilities lay the foundation for a solid billing process and financial management system. Then, EBizCharge integrates seamlessly with Sage to enhance efficiency, automate payments, and provide advanced security. This collaboration signifies a practical path toward streamlined and secure billing practices.
If you're looking to optimize how you accept payments within Sage, EBizCharge is an excellent payment solution that revolutionizes the billing process for thousands of merchants.