Blog > Choosing an Adobe Commerce Payment Gateway: 9 Things to Consider
Choosing an Adobe Commerce Payment Gateway: 9 Things to Consider
For merchants using Adobe Commerce, finding the right eCommerce payment gateway is essential to producing the best customer payment experience and accounts receivable process.
Adobe Commerce, formerly Magento Commerce, is an end-to-end eCommerce platform that allows both B2B and B2C merchants to accept online payments, with the ability to manage multiple sales channels and plug-in native integrations and tools.
Adobe Commerce payment gateways are the connecting software that process Adobe payments from your online storefront.
Once a customer inputs a payment, the funds are sent to the eCommerce gateway to then confirm and get approval from the necessary financial institutions. After the payment is approved, the customer is charged and funds are sent to the Adobe Commerce merchant.
While this process may sound straightforward, each Adobe Commerce payment gateway is not a one-size-fits-all solution. Choosing the wrong eCommerce gateway can have negatively impacted your payment security, processing costs, website functionality, and more.
To choose the right Adobe Commerce payment gateway to integrate into your website, there are several factors that should be assessed before making a decision.
Here are 9 things to consider before choosing an Adobe Commerce payment gateway…
Adobe Commerce default vs. third-party integration
Overall costs
PCI Compliance
Fraud prevention and security measures
Recurring payments capabilities
Payment method options
Customizable user experience
Confirmation emails
Unlimited support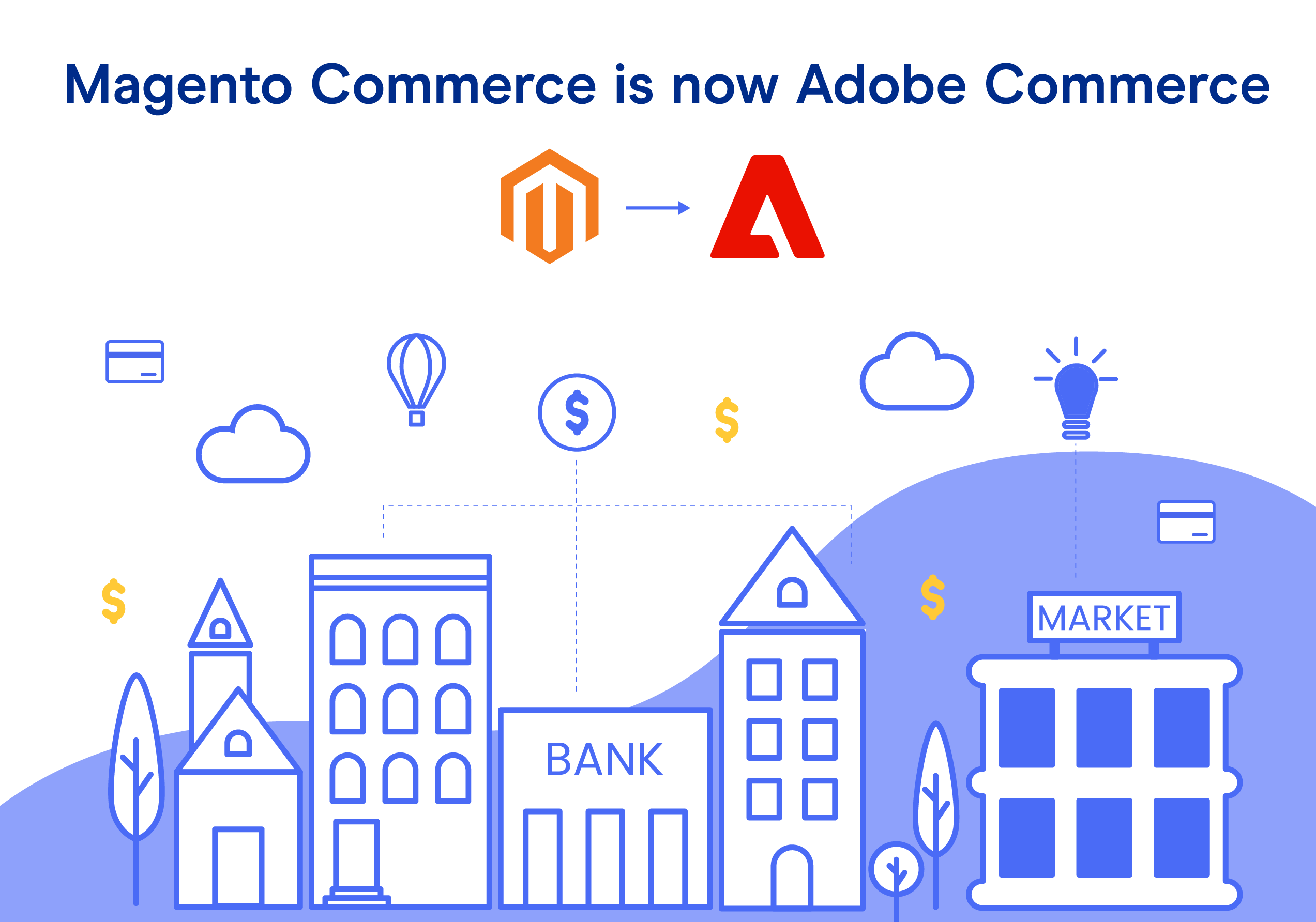 Adobe Commerce default vs. third-party integration
There are many Adobe Commerce payment gateways that will sync with your eCommerce website but some are more beneficial over others.
While the standard version of Adobe Commerce allows for default integrations to Authorize.Net, PayPal, and Braintree, merchants can also tap into prebuilt plugins like EBizCharge without altering their code or checkout process.
For merchants selling products and services using an eCommerce store and physical storefront, an Adobe Commerce payment gateway that processes payments through an online gateway and Point of Sale (POS) systems will likely be the most efficient.
Alongside a seamless configuration and payment process, merchants should look for eCommerce gateways that enhance their online operations without breaking the bank.
Overall costs
Costs are typically one of the main deciding factors for merchants implementing an Adobe Commerce payment gateway into their online store.
Some of the most common costs associated with eCommerce payment gateways include:
Monthly account/usage fees: Some Adobe Commerce payment gateways charge merchants a flat monthly fee to use their service.
Processing fees: Any merchant accepting credit card payments online should expect to pay processing fees to their eCommerce payment gateway. Adobe Commerce payment gateway providers can structure these costs into flat fees, tiered pricing, or customized rates based on your transaction volumes and the cards you accept.
Initial setup/contract fees: Some Adobe Commerce payment gateway providers charge a one-time setup fee or contract fee when they onboard you as a client.
Chargeback fees: Merchants may get hit with individual fees for each chargeback that's incurred. These charges can vary depending on your Adobe Commerce payment gateway. Some of the best providers will not charge merchants for chargebacks.
Now that you're aware of the various costs associated with processing online payments, you can evaluate each Adobe Commerce payment gateway to see which provider offers the best services at the most reasonable price.
After pinpointing a few affordable options, you can look into important features like advanced payment security.
PCI compliance
PCI Compliance is essential for any Adobe Commerce payment gateway to provide reliable payment security for its eCommerce merchants.
By achieving PCI Compliance, your eCommerce gateway is solidifying that it has implemented the necessary security protocols to protect your payment data, as well your customers. These security protocols include encryption, tokenization, firewalls, and more.
Although Adobe Commerce payment gateways are not required to meet PCI standards, they may be subject to costly fines and even be blacklisted by certain card providers if they fail to meet these requirements.
As an online merchant, it's important to ensure your eCommerce gateway meets all PCI requirements to protect customers' financial information.
Fraud prevention and security measures
In addition to PCI compliance, there are many fraud prevention and security measures to look for when deciding which Adobe Commerce payment gateway is best for your eCommerce store.
Without the right security tools, your eCommerce gateway may expose your business to costly fines, cyber threats, fraud and/or ransomware, and more.
While a lack of prevention and security measures can impact your infrastructure, it can also significantly hurt your customer relations and sales. When consumers lose trust in an online store, they're less inclined to purchase with them.
To help you prevent fraudulent activity and other threats, here are some payment security tools and measures to look for when choosing an Adobe Commerce payment gateway:
Address Verification Service (AVS): AVS verifies the billing address and ZIP code provided by the customer with the information his/her card-issuing bank has on file before approving a transaction.
Card Verification Value (CVV) filters: CVV filters require customers to enter the 3- or 4-digit code on the back of their credit cards for added security when purchasing online.
Device identification: Device ID inspects the device, internet connection, browser, and operating system being used to see if they were previously linked to fraudulent activity. Device ID then determines if the transaction is approved, flagged, and/or declined.
Large transaction flags: Your Adobe Commerce payment gateway can flag and limit large transactions to a predefined value and failed transactions to a number of attempts. This helps eCommerce merchants mitigate chargebacks and fraudulent activity.
With the right fraud prevention and security measures, your Adobe Commerce payment gateway can enhance your overall payment security and encourage more customer loyalty and trust.
Recurring payments capabilities
Nowadays, it's become more of an expectation for eCommerce merchants to offer recurring payments for customers who purchase their products and services on a regular basis.
To set up recurring payments, consumers enter their credit or debit card or banking information one time. From there, this payment method is securely stored to be deducted on an agreed-upon date and payment cycle (weekly, monthly, etc.).
Recurring payments can be fixed payments where the same amount is charged each payment cycle or variable payments where the amount varies from payment to payment depending on a number of factors.
Some of the most common uses for recurring payments include:
Subscription-based services
Membership plans
Services (typically high-priced) that offer payment plans
Government or municipal services
An eCommerce gateway that supports recurring payments provides both merchants and their consumers with a convenient and time-efficient way to make payments on time.
Payment method options
Similar to recurring payments, consumers have come to expect eCommerce merchants to offer several payment method options. To meet this demand, most Adobe Commerce payment gateways accept all major credit and debit cards and ACH payments.
If you're looking for payment methods other than credit cards and ACH payments, some gateways offer buy now, pay later (BNPL) and instant payment options like Venmo.
For merchants planning to sell to countries outside the U.S. and Canada, there are also specific eCommerce gateways that accept international payments.
Customizable user experience
With millions of eCommerce storefronts, it can be difficult for merchants to stand out from other retailers. Therefore, finding an Adobe Commerce payment gateway that allows you to provide a more customized user experience can be very beneficial for your business.
For a more customizable approach, you can use an eCommerce gateway that offers features that aim to tailor the online checkout process to your unique business. Some of the easiest ways to achieve this are to include popular payment features, common payment methods, and relevant currencies that are customized to your customers.
Confirmation emails
Alongside customization, you can look for an Adobe Commerce payment gateway that has the ability to automatically generate confirmation emails each time a payment is received.
Confirmation emails serve as a helpful tool to keep track of received payments and to maintain an ongoing record of payment history. These emails also allow customers to double-check that their payment information and billing and shipping details are accurate.
Unlimited support
As an eCommerce merchant, it's crucial to not only provide great support for your customers but to also receive it from software providers and other businesses you work with.
The top Adobe Commerce payment gateways offer unlimited, direct support to guarantee the software and services they provide are meeting your needs. With 24/7 support, eCommerce merchants can quickly resolve technical issues that arise to provide a more enhanced payment experience for their users.
Choose wisely before integrating an Adobe Commerce payment gateway into your eCommerce store
Before you integrate a gateway into your eCommerce website, it's important to weigh the pros and cons to ensure you've chosen the best software for your business and its customers.
Whether it be processing costs, PCI compliance, payment method options, or any other feature, your Adobe Commerce payment gateway should provide a seamless experience that enhances the way you accept and process online payments.