Blog > Choosing a Payment Processor for Your Restaurant: What You Need to Know
Choosing a Payment Processor for Your Restaurant: What You Need to Know
Restaurant credit card processing plays a crucial role in the industry since it allows customers to pay for their meals using credit or debit cards for faster and more convenient transactions. However, it can come with various fees and security risks that can affect a restaurant's profitability and reputation.
Luckily, restaurant owners can reference this article for 10 tips to optimize their credit card processing operations, reduce financial risks, and improve their bottom line.
10 things to know before choosing a payment processor for your restaurant
Choosing a suitable payment processor for your restaurant is crucial to ensure smooth and secure payment transactions for your customers.
With the increasing popularity of card payments and the growth of online and mobile ordering, a reliable payment processing system is more important than ever. With so many options on the market, it can take time to decide. So the question is, how to choose a payment processor?
To help choose the best merchant service for you, here are 10 features to look for in a restaurant payment processor:
Contactless payments
Tipping options
Bill splits
POS integrations
Gift card processing
Loyalty programs
EMV devices to enhance security
Unlimited support
Advanced reporting
Online ordering and delivery integrations
1. Contactless Payments
With the rise of mobile payments, choosing a payment processor that offers contactless payment options is essential to enhance the customer encounter and improve efficiency.
Contactless payments include NFC technology and other touchless payment preferences that allow customers to pay without handling cash or cards. The benefits of contactless payments include easy convenient transactions that deepen the customer experience.
2. Tipping options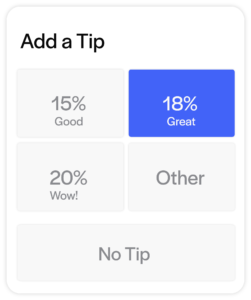 Tipping can significantly impact a restaurant's revenue and expenses since processing companies charge a fee on each transaction, including the tip amount.
To balance the cost of processing fees with the benefits of tipping, some processors offer flexible options for restaurants, such as percentage-based, flat fees, and suggested tip amounts. By finding a processor that provides these tipping options, restaurants can encourage customers to tip more without increasing fees significantly, boosting revenue and incentivizing excellent service.
3. Bill splits
Bill splitting allows restaurants to provide a more convenient experience for their customers, especially when dining in large groups. If your payment processor doesn't provide the functionality to split checks, it can be inconvenient and frustrating for guests.
By choosing a payment processor that offers a convenient and efficient bill-splitting process, restaurants can increase repeat customers and large gatherings, higher transaction volumes, and potentially increase revenue.
4. POS integrations
Integrating your payment processor with your point-of-sale (POS) system and accounting software can significantly benefit restaurants since this technology can automatically update these systems with transaction details when a customer makes a payment.
This eliminates the need for manual data entry, which can be time-consuming and prone to errors, and accurately records all transactions to provide a clear picture of your financial performance. You can track your revenue/expenses, generate financial reports, and reconcile your accounts in one place, to make better business decisions and stay on top of your finances.
5. Gift card processing
For restaurants, gift cards can help increase revenue by encouraging customers to visit more frequently or to spend more money per visit. Additionally, gift cards can be a valuable marketing tool to reach new customers and generate interest.
However, managing gift cards can be challenging without a suitable payment processor to create, track, and redeem these payments. Some restaurants may also offer stored value options on their gift cards, which allow customers to add value to the card and use it like a prepaid card. This requires a payment processor that can handle these transactions to ensure the card balances are updated and accurate for each transaction.
6. Loyalty programs
Finding a payment processor for your restaurant that supports loyalty programs can help you easily manage and track customer rewards. Loyalty program integrations can help you automate reward redemption, provide real-time updates on reward balances, and track customer behavior to personalize rewards and incentives.
A loyalty program can also help you increase sales since customers spend more to earn rewards and are more likely to return to your restaurant to redeem them. You can also identify trends and make data-driven decisions to improve your menu, service, and overall customer experience by tracking customer behavior and preferences.
7. EMV devices to enhance security
Restaurants, especially those with higher processing volumes, need EMV-compliant devices to safely process card-present transactions and protect against fraud and chargebacks.
EMV devices provide a higher level of security than traditional magstripe cards, making them a critical component of any secure payment processing system.
8. Unlimited Support
Unlimited support is essential for any payment processing service, especially for restaurants that rely heavily on their POS systems to process transactions.
A payment processor that offers 24/7 support can help you quickly resolve any technical issues, such as hardware malfunctions, software glitches, or connectivity problems, that can disrupt your business operations.
9. Advanced Reporting
Advanced reporting can provide valuable insights and analytics on transaction data for your restaurant, which can help you make more informed, data-driven decisions about your business.
Advanced reports can include sales trends, peak transaction times, top-performing menu items, and more.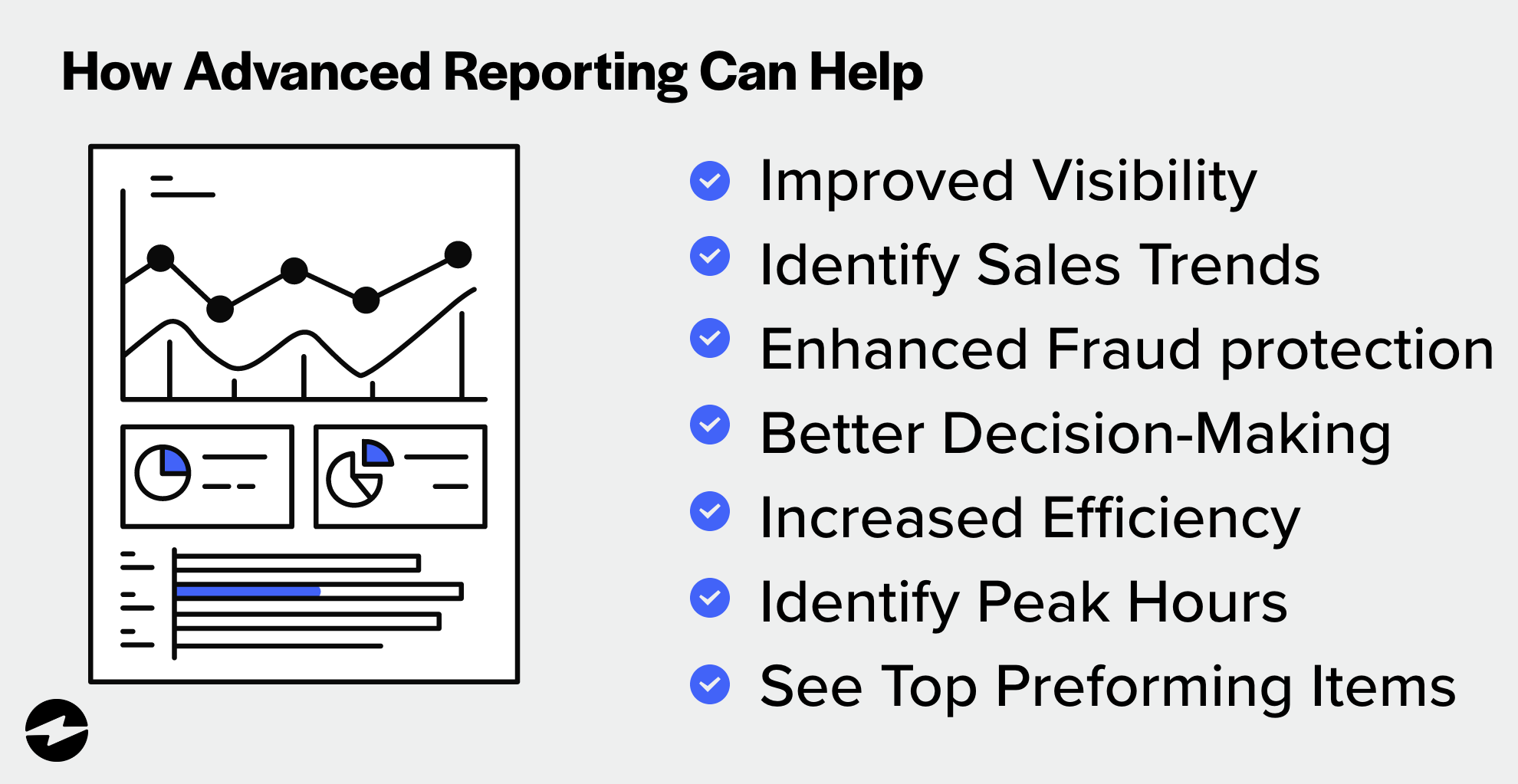 10. Online ordering and delivery integrations
As online ordering and delivery become more popular, restaurants must have an easy and efficient way to accept payments from these platforms.
Using a payment processor that integrates with popular online ordering and delivery services, such as Grubhub or Uber Eats, simplifies the payment process and reduces the risk of errors. This integration can also help you track and reconcile your online and in-store sales for a more accurate revenue view.
Payment processing fees: Which pricing model is best for your restaurant?
As a restaurant owner or manager, it's important to understand the various costs associated with credit card processing.
Credit card processing fees can add up quickly and impact your bottom line, so it's crucial to know the different cost structures to select a processor that offers fair and transparent pricing.
Payment processing is generally categorized in three pricing models: interchange plus, flat rate, or tiered pricing.
Interchange plus pricing
Interchange pricing refers to the fees that credit card companies charge for processing transactions. Interchange plus pricing is a pricing model that separates the interchange fees from the processing fees.
This pricing model is ideal for high-volume and large-ticket transactions, allowing for greater transparency and lower costs. However, smaller businesses or businesses with lower transaction volumes may have more cost-effective options.
Flat rate pricing
The flat rate pricing model charges a fixed percentage for every transaction, regardless of the card type or transaction amount. This pricing model is ideal for small businesses with lower transaction volumes and smaller average ticket sizes.
Since these fees are flat, it's easier for businesses to budget and forecast costs. However, it may not be the most cost-effective pricing model for companies with high transaction volumes or larger ticket sizes, as they may pay more fees. Restaurants must assess their transaction volume and average ticket size to determine if a flat-rate pricing model suits their business.
Tiered pricing
Some payment processors offer tiered pricing, which categorizes different card types into tiers based on their rewards or risk level.
Tiered pricing models typically feature three tiers:
Qualified: includes standard credit and debit cards with low interchange rates.
Mid-qualified: includes rewards cards with higher interchange rates.
Non-qualified: includes high-risk cards such as corporate or international cards with the highest interchange rates.
Tiered pricing can offer lower rates for lower-risk cards and higher rates for higher-risk cards. However, understanding the rates for each tier can be confusing. Some processors may manipulate these tiers or charge hidden fees, making it vital for restaurant owners to thoroughly research and compare pricing models.
Additional payment processing costs to consider
In addition to processing fees, there are several other fees that restaurants need to consider when selecting a credit card processor. These fees are associated with security measures to protect sensitive customer information, equipment costs, and other expenses that can impact a restaurant's bottom line.
By being aware of these additional fees, restaurants can make more informed decisions about which payment processor to choose and ensure they understand all costs associated with processing payments.
Chargeback fees
If a customer disputes a transaction and requests a chargeback, the processor may charge a fee to handle the dispute.
Depending on the processor, chargeback fees typically range from $10 to $100 but may sometimes be more.
PCI non-compliance fees
Suppose your restaurant is not compliant with the Payment Card Industry Data Security Standard (PCI DSS), which outlines security requirements for handling cardholder data. In this case, you may face a PCI non-compliance fee.
Depending on the processor, PCI non-compliance fees are charged monthly, ranging from $20 to $100 and, in some cases, more.
Monthly and annual fees for equipment
Payment processors may charge monthly or annual fees for equipment, such as card readers or terminals. These fees may vary from a few dollars per month to hundreds per year, depending on the type of equipment and the payment processor. It's essential to consider the cost of equipment fees and whether they fit your budget.
These fees for equipment may become more expensive as technology advances and becomes more sophisticated. As new systems are developed, the cost to produce and maintain them may increase, leading to higher fees for businesses to use and access these technologies.
4 industry trends that will affect restaurant payments
As technology advances, the restaurant payment processing landscape must adapt. In addition to equipment fees, there are various other factors to consider when choosing a payment processor for your restaurant.
Staying up-to-date with the latest trends can help you make informed decisions to benefit your business and provide your customers with the best possible experience.
To help with this, here are four trends in restaurant payment processing that you should be aware of to stay competitive:
Cash to card industry revolution
Labor shortages
Digital guest experience
Omnichannel capabilities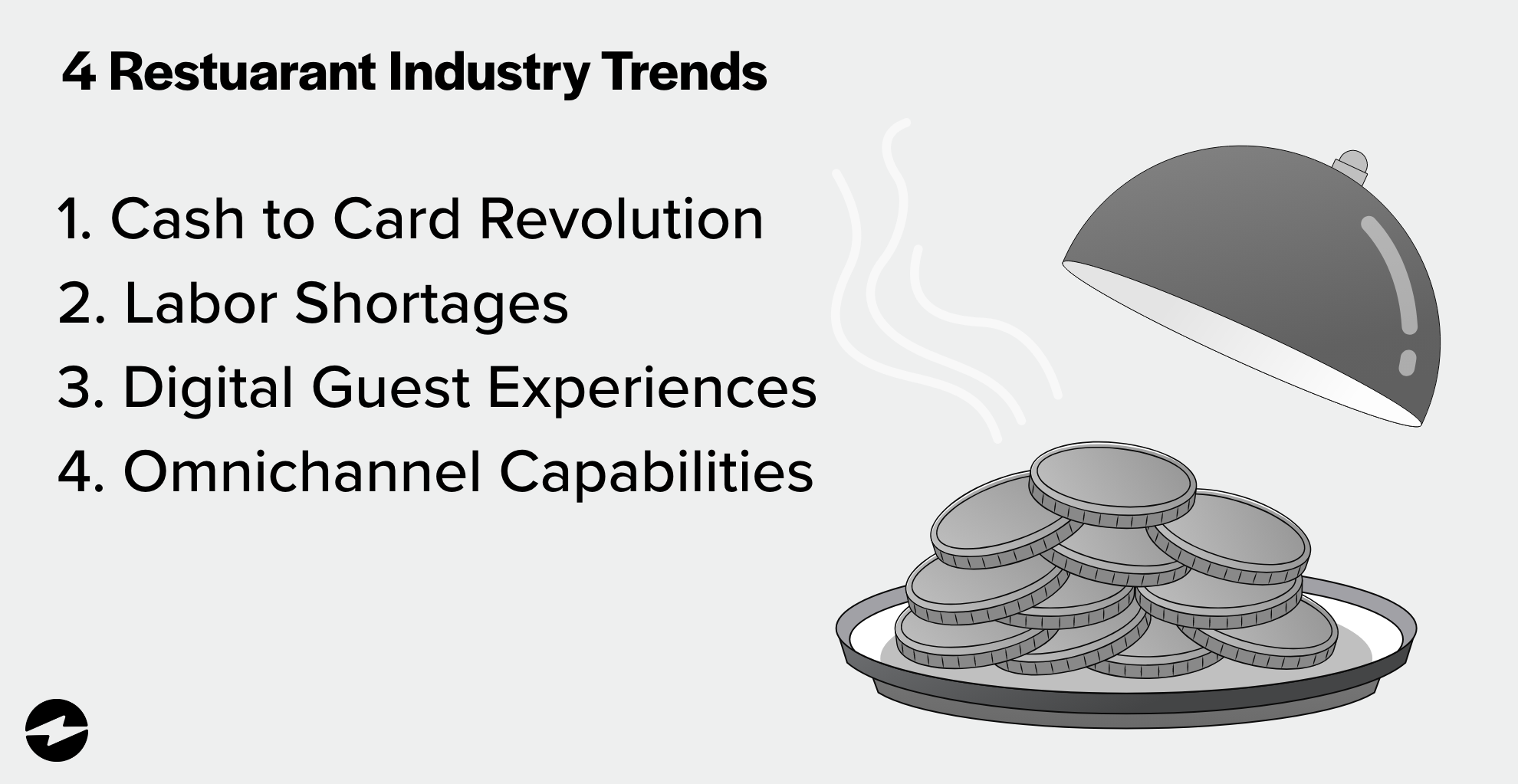 Payment shifts from cash to card
The restaurant industry's shift from cash to card payments has revolutionized business operations. Many restaurants now accept multiple forms of electronic payment, including credit/debit cards, mobile payments, and digital wallets. Having a credit card machine to collect payments from customers is essential. A credit card machine (also known as a POS) allows businesses to collect payments from customers who wish to pay by credit or debit card.
This shift has made payment processing faster, more efficient, and more secure by reducing the risk of fraud and human error. Additionally, cashless payments can streamline accounting and reconciliation, making it easier for restaurant owners to manage their finances.
Labor Shortage
At the start of 2023, staffing in the restaurant industry was 3.6% below pre-pandemic levels as most managers struggled to accommodate demand.
Therefore, ongoing labor shortages have forced restaurants to embrace new technol