Blog > How to Boost Your Business With Subscription Payment Processing
How to Boost Your Business With Subscription Payment Processing
Businesses are exploring innovative ways to enhance customer experiences and ensure sustainable revenue streams. Subscription-based models have emerged as a powerful solution, offering companies a steady source of income and customers a hassle-free, personalized experience. Behind the scenes, subscription payment processing is pivotal in making recurring transactions seamless and secure.
This article will define subscription payment processing, relevant key terms and benefits, and teach you how to charge monthly subscriptions.
What are subscription payments?
Subscriptions are essentially an agreement between a merchant and their customer that the merchant will provide their product or service on a recurring basis for as long as the customer is willing to pay for it.
With subscriptions, users pay a recurring weekly, bi-weekly, monthly, or annual fee for as long as the product or service is used.
One of the most common uses for this payment model is streaming services. When customers sign up for a streaming service to watch their favorite shows and movies, they must make recurring payments to continue using this service over increments of time. The time between these payments is known as a billing cycle.
Merchants that want to incorporate recurring billing models into their infrastructure must find a subscription payment processor that supports this service.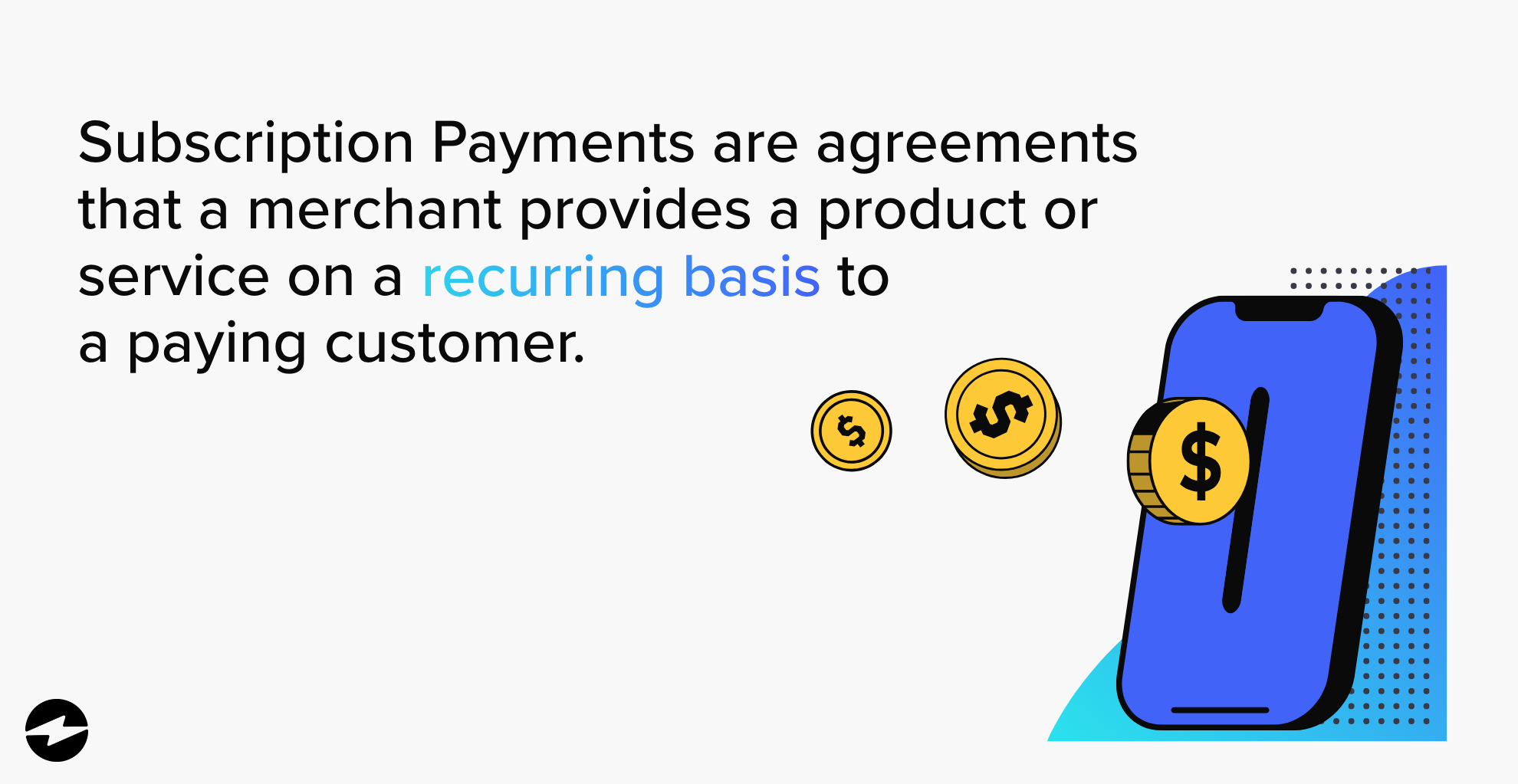 What is a subscription payment processor?
A subscription payment processor is a financial service provider that collects, processes, and manages recurring payments for subscription-based businesses.
These service providers manage payment authorization and security to protect customer payment data by complying with updated security standards and financial regulations.
Subscription payment processors work to simplify the payment process for businesses and their customers to enable smooth and efficient handling of recurring payments.
How does subscription payment processing work?
Whether it's a subscription-based software service, a membership program, or a monthly product delivery, understanding how subscription payment processing works is crucial for companies looking to implement it in their business.
This relatively simple process involves five steps:
Customers input their payment information: The first step of this process involves inputting the customer's payment information during the initial enrollment. This information is then stored for future recurring payments.
Authorization: Once the payment information has been received, the payment processor verifies it and authorizes it for future recurring payments.
Setting up recurring billing: Subscriptions often vary by billing cycle (weekly, bi-weekly, monthly, annually), so customers can choose the best payment option for their schedule. At the scheduled intervals, the payment processor automatically charges the customer's payment method for the specified amount.
Collecting the payment: Once the billing cycle has been established, the payment processor automatically deducts the subscription fee from customers' saved payment methods. The funds are then pulled from customers' accounts and transferred to the service provider's account.
Payment notification: Once the transfer is complete, the payment processor notifies the customer that the funds have been successfully transferred. This notification often includes a receipt for the transaction.
Despite this straightforward process, payments can fail for several reasons, such as insufficient funds or an expired card on file. In this case, the payment processor notifies the customer of the failed payment and requests an updated payment method.
Now that you understand how subscription processing works, you can learn which businesses will benefit the most from implementing this payment structure.
Businesses that use subscription billing
Many business models and industries continue to incorporate subscription billing into their infrastructures.
Typically, companies that offer new products on a regular basis or ongoing services over time can take advantage of subscriptions to streamline payment collections.
Here are a few examples of subscription-based businesses:
Software as a service (SaaS) providers
Media-streaming platforms
Membership-based websites
Subscription boxes
Publications and news outlets
Fitness and wellness groups
Utility services
These businesses and many others can use subscription payment processing to improve their internal and external operations.
4 benefits of subscription processing
Subscription payment services yield several valuable advantages that improve businesses' cash flow and the overall customer payment experience.
Four main benefits of subscription payment processing include:
Predictable revenue
Customer retention
Operational efficiency
Data insights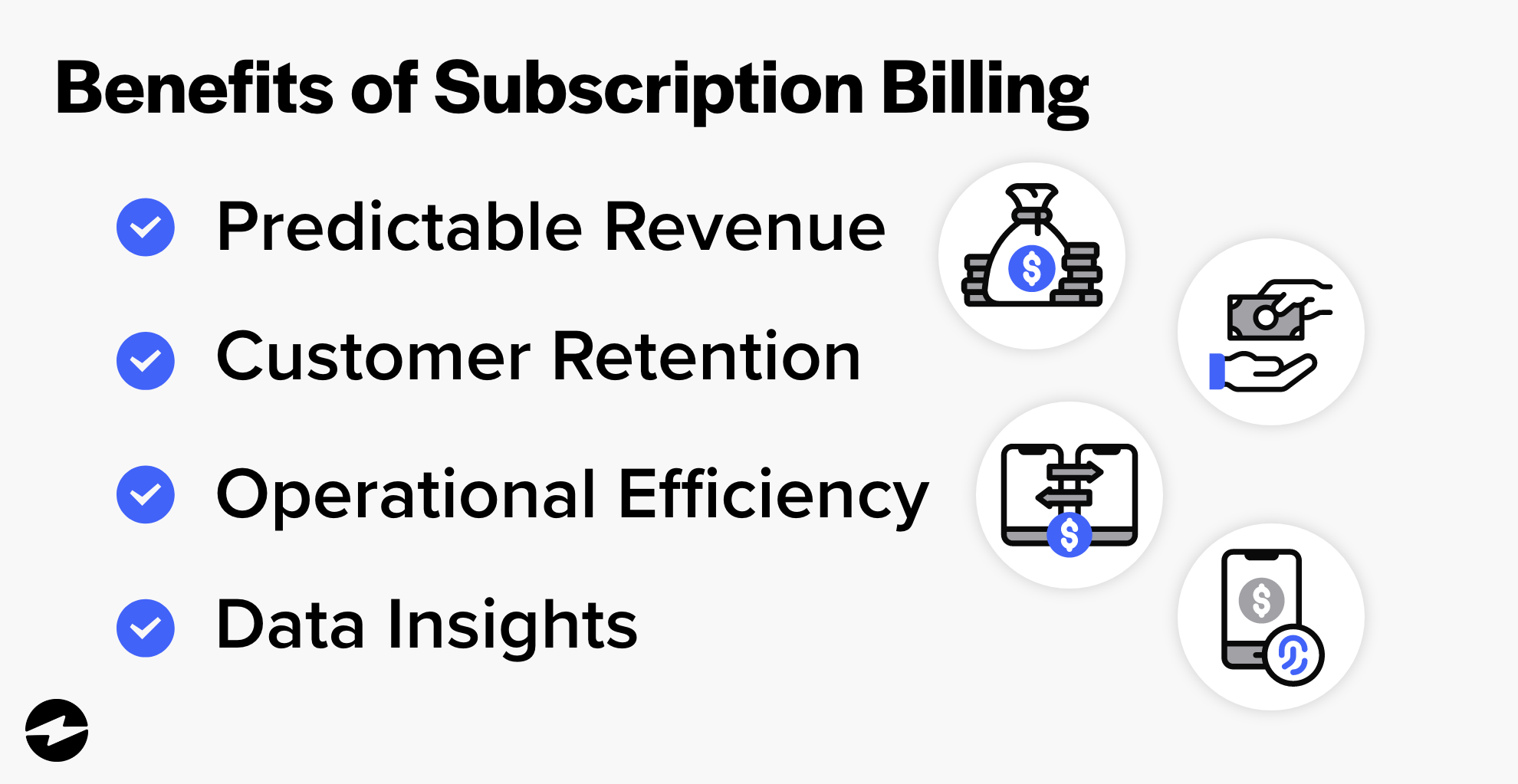 Predictable revenue
Since subscription billing works on recurring payments, merchants can generate a more reliable and predictable revenue stream to produce accurate revenue forecasting.
With more predictable revenue, businesses can improve their financial planning and overall stability and growth in the market.
Customer retention
Subscription billing promotes transparency and predictability by offering a clear pricing structure, a predetermined billing frequency, and a billing history that allows customers to track their payments. This allows merchants to build trust with their customers and establish a sense of reliability.
By implementing the subscription payment model, businesses can enhance customer relationships and elevate the overall customer experience.
Operational efficiency
Since many businesses struggle with collecting invoices, subscription billing works to reduce late or missed payments by automating this process.
Automation enables merchants to eliminate tedious tasks and streamline the payment process by automating payment reminders, payment tracking, and providing self-service portals where customers can manage their own billing information. By automating administrative tasks, merchants can improve operational efficiency and focus on more pressing matters.
Data insights
Subscription payment processing provides businesses with reporting and analytic tools to better understand customer usage patterns and preferences.
Businesses can use this information to make more informed decisions on industry practices like personalized offerings and targeted marketing.
Now that you know the benefits of subscription payment processing, your business can learn how to charge monthly subscriptions.
How to set up subscription payment processing
While setting up subscription payment services may seem daunting, you can ensure a seamless setup process with the help of the right resources.
Here's a quick checklist on how to set up subscription payments in your infrastructure:
Do your research. Before making any decisions, you should conduct extensive research to understand the full scope of subscription payment processing. There are multiple models to choose from, so you should assess your business's goals before deciding which one is right for you.
Choose your payment processor. When choosing a payment processor, you should look for processors with robust management tools. With comprehensive subscription management capabilities like flexible pricing plans, billing cycles, and automated notifications, your business can have the proper tools to function smoothly and efficiently.
Determine your subscription settings. Once you've chosen your payment processor, you can set up pricing plans and determine which billing cycles suit your business model. You'll need to clearly define the terms of your subscription model, including trial periods, discounts, and renewal options, so customers know exactly what they're signing up for. You should also configure automated notifications to update customers about their subscriptions — upcoming renewals, payment failures, etc.
Set up an integrated payment gateway. Payment processors can provide subscription payment gateways to integrate into your business, so you'll need to connect your platform to the processor's application programming interface (API). You should also ensure this integration supports the subscription features you need to provide a seamless user experience.
Install a customer account management system. A customer account management system allows customers to manage their subscriptions, update payment details, and view their billing history.
Adhere to payment security and PCI compliance standards. Merchants should regularly check their compliance with payment security standards and the Payment Card Industry Data Security Standard (PCI-DSS). PCI compliance will help businesses mitigate security risks and secure their customers' data.
Test and launch your subscription system. Conduct a few tests before launching your subscription payment system to fix any potential bugs and ensure it's functioning correctly before making it available to customers. Once it's running smoothly, you can launch your subscription system.
It's important to note that supported payment types, security measures, and costs and fees will vary by the payment processor.
Businesses should look for processors that offer the most common payment methods to accommodate their customers and prioritize providers with the most robust security features, such as encryption and fraud detection measures. Lastly, consider the associated costs and fees to determine if they're worth the value of these services.
Since many factors influence the reliability and efficiency of your subscription payment service, there are a few important questions to ask providers before making a decision.
10 questions to ask your subscription payment provider
When setting up subscription payment processing, it's essential to ask your service provider questions about the functionality of the service, the pricing and fees involved, and other questions to ensure you fully understand the terms of use.
Here are 10 questions to ask subscription payment service providers:
What payment methods are supported?
What are the fees and pricing structure?
Is the payment processor secure and compliant?
What integration options are available?
How does the billing and subscription management work?
What level of customer support is provided?
Can the payment processor handle international transactions?
What reporting and analytic capabilities are available?
How does the onboarding and setup process work?
What are the contract terms and cancellation policies?
Asking these questions will help you clarify uncertainties and ensure you're signing up for a service that best meets your requirements and needs.
Simplifying the payment process
Subscription payment processing is vital in modern business, providing convenience and flexibility for businesses and consumers. Using a reliable payment processor like EBizCharge will help to make managing subscription billing a seamless process.
With streamlined payment collections, automated billing cycles, and efficient management tools, subscription payment processing can transform your business.