EBizCharge Recognized as a High Performer, Momentum Leader, Easiest to Do Business With, and More in the Fall 2023 G2 Report
EBizCharge Recognized as a High Performer, Momentum Leader, Easiest to Do Business With, and More in the Fall 2023 G2 Report
EBizCharge is recognized as a High Performer, Momentum Leader, Easiest to Do Business With, Users Most Likely to Recommend, and more in the Fall 2023 G2 report, ranking competitively among top payment gateways and payment processors in the industry.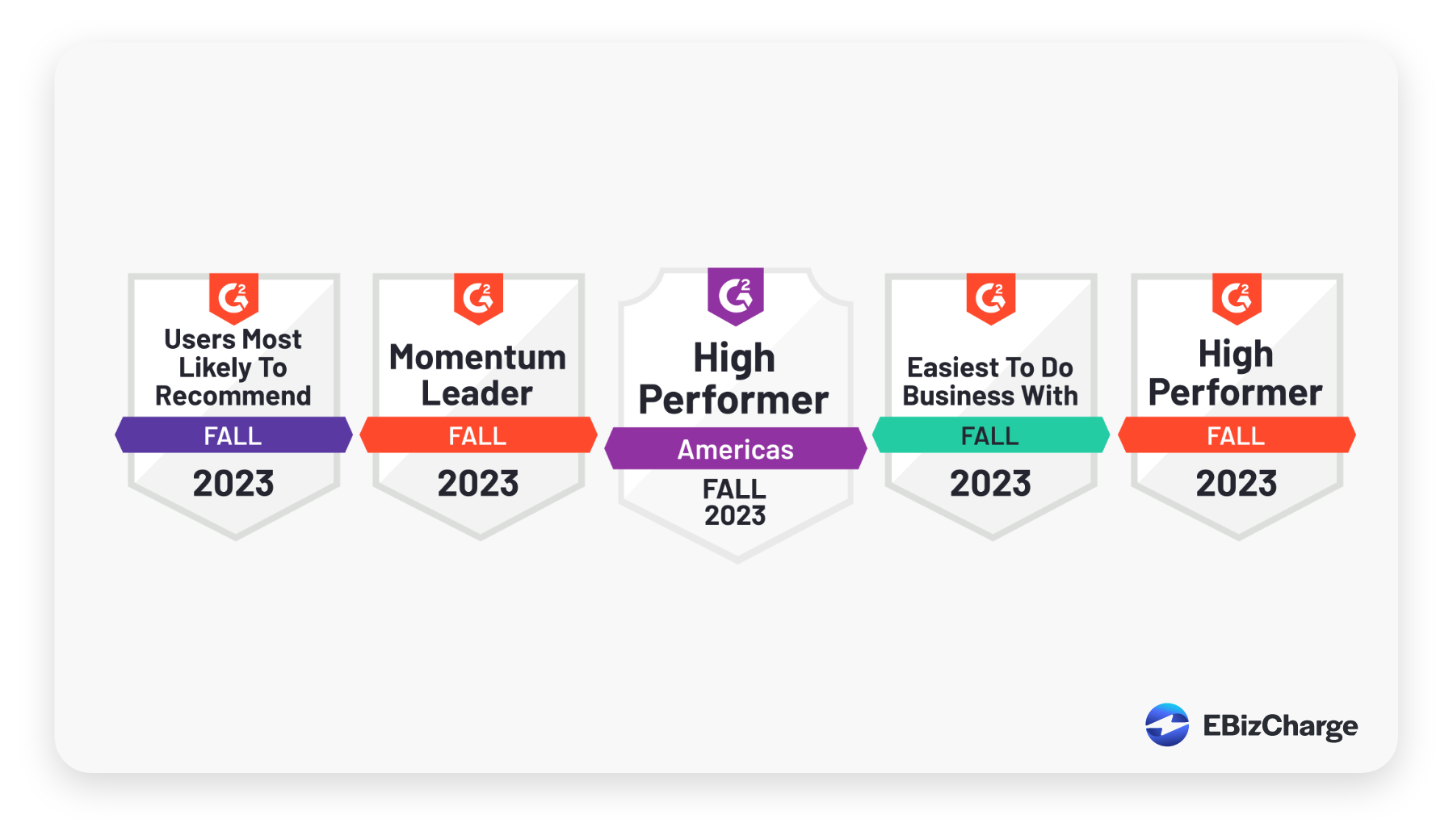 EBizCharge is a leading all-in-one payment platform that offers a payment gateway, merchant services, and over 100 payment integrations. EBizCharge was recognized this quarter as a High Performer, Momentum Leader, Easiest to Do Business With, and Users Most Likely to Recommend across multiple reports and awarded honors in several categories by G2, a popular business solutions reviewing site. EBizCharge has consistently earned high scores on G2 and continues to solidify its status as a provider of high-quality service and solutions in the payment gateway and payment processing space.
G2 High Performers score top marks in customer satisfaction. Results from the Fall 2023 reports reflect users' high satisfaction with EBizCharge, making it a High Performer in the Payment Gateway, Accounts Receivable, and Payment Processing spaces.
EBizCharge was rated between 4 and 5 stars by 100% of its users and was honored with top rankings for the Most Likely To Recommend and Easiest to Use for its payment gateway, Ease of Doing Business With for accounts receivable, and Best Meets Requirements for payment processing:
EBizCharge ranked #3 on the Results Index for Payment Gateways, with 96% of users saying they're Likely to Recommend EBizCharge.
EBizCharge ranked #4 on the Small-Business Usability Index for Payment Gateways, with 96% of users saying EBizCharge is Easiest to Use.
EBizCharge ranked #7 on the Small-Business Relationship Index for Accounts Receivable, with 100% of users commending Ease of Doing Business With EBizCharge.
EBizCharge ranked #11 on the Small-Business Results Index for Payment Processing, with 98% of users saying EBizCharge Best Meets Requirements.
EBizCharge has also earned top ratings for its notable features and services, including credit card processing (96%), PCI Regulation Compliance (97%), and quality of support (98%).
The all-in-one EBizCharge payment platform transforms payment processing by providing cost-efficient, secure payment software that streamlines payment collections for merchants and their customers. EBizCharge combines merchant services, a payment gateway, 100+ integrated payment applications, payment collection tools, an eCommerce bridge, point-of-sale solutions, and a mobile app into one powerful suite.
G2's Fall 2023 reports solidify the impact EBizCharge has made as an innovative provider of award-winning payment processing solutions. You can see EBizCharge's full G2 listing here: https://www.g2.com/products/ebizcharge/reviews
About EBizCharge:
EBizCharge reinvents how companies accept credit card payments with its all-in-one payment solutions. EBizCharge is one of the top payment gateway alternatives to its more expensive and inefficient counterparts and is specifically designed to reduce payment processing costs and enhance the overall payment collection process. EBizCharge integrates seamlessly with 100+ accounting, ERP, CRM, and shopping cart systems, including QuickBooks, Sage, SAP B1, Microsoft Dynamics, Epicor, Magento, Zoho, and WooCommerce. EBizCharge is partnered and certified with Microsoft Dynamics, Acumatica, SAP, Oracle, QuickBooks, WooCommerce, Magento, and many more. For more information, visit http://ebizcharge.com.