Blog > Close Deals Faster With EBizCharge for Salesforce
Close Deals Faster With EBizCharge for Salesforce
While Salesforce is an effective customer relationship management (CRM) platform, there's an alternative payment software that can further streamline your sales process to help your business close deals faster.
EBizCharge is a game-changing payment solution that can bridge the gap between sales and payments, enhance the customer payment experience, and strengthen your Salesforce process.
This comprehensive guide explains how the EBizCharge payment integration can seamlessly sync with your Salesforce system to help your business transform operations.
What is EBizCharge for Salesforce?
EBizCharge is a powerful payment software that integrates into Salesforce without a third-party login, allowing users to efficiently process payments directly inside this system and its features.
While Salesforce is already an extensive and intuitive CRM software, EBizCharge offers a robust payment processing solution that integrates into Salesforce to further its capabilities.
At its core, EBizCharge is a payment processor, but it offers businesses so much more than just being able to accept payments. EBizCharge provides various features that revolutionize how you handle payments and sales within Salesforce.
Here are five EBizCharge features merchants can access directly inside Salesforce:
Email pay: Merchants can send personalized invoices to customers from Salesforce using secure email payment links.
Customer payment portal: Businesses can provide a branded online payment portal for repeat customers to instantly view and pay invoices.
EMV terminals: EMV terminals allow companies to accept in-person payments on a physical terminal.
Mobile pay: EBizCharge provides a mobile-friendly chip reader with a robust payment application, perfect for merchants accepting payments on the go.
Recurring billing: Recurring billing optimizes operations by syncing payments into your invoicing software to set up a consistent cash flow from repeat customers.
With these features and many others, EBizCharge for Salesforce is one of 100+ payment software integrations businesses can use to improve and accelerate payment collections.
Accept payments directly inside Salesforce
The EBizCharge integration offers the convenience of payment processing directly inside your Salesforce system.
EBizCharge offers a seamless add-on of Salesforce to ensure your workflow is not interrupted. As soon as deals close, businesses can accept customer payments without needing to navigate away from the Salesforce environment.
In addition to speeding up the invoicing process in Salesforce, EBizCharge reduces manual data entry to minimize human error and ensures all transaction details are accurately recorded.
This data can be utilized for more accurate reporting and analytics, providing valuable insights into your sales performance.
Collect payments on any Salesforce object
EBizCharge doesn't limit your payment collection to a specific area. You can collect payments on any Salesforce object, making it incredibly versatile. Whether you're closing deals related to opportunities, leads, or cases, EBizCharge covers each aspect.
While EBizCharge has many valuable features that allow businesses to accept payments in Salesforce, how can sales teams benefit from EBizCharge?
EBizCharge allows businesses to instantly process payments on sales calls in Salesforce
Imagine you're on a crucial sales call where time is paramount. The longer you're on the call, the more likely you'll lose the customer's patience and business. Thankfully, the EBizCharge integration for Salesforce will eliminate this stress by allowing merchants to send invoices or collect payments directly on sales calls.
This EBizCharge feature provides a smoother payment experience by eliminating the need for customers to make separate payments. By allowing your sales team to accept payments on calls, you can increase conversion rates and improve overall customer satisfaction.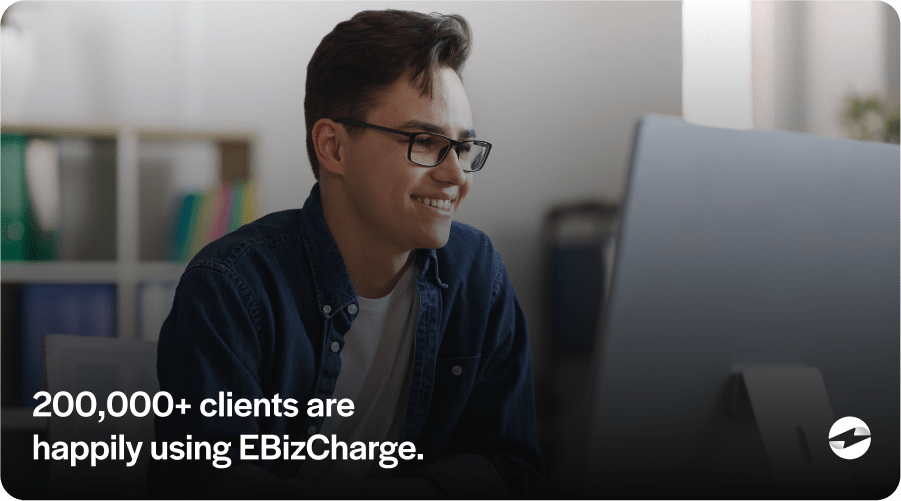 While the EBizCharge for Salesforce integration benefits sales, it can also yield many benefits on the accounting side.
EBizCharge bridges the gap between sales and accounting
EBizCharge bridges the gap between sales and accounting departments within Salesforce by offering a streamlined workflow and automating routine tasks.
For example, when sales finish a transaction and the payment is received, EBizCharge automatically syncs transaction data, marks invoices as paid, and notifies accounting teams.
EBizCharge ensures all payment information is accurately and promptly recorded in accounting software so businesses can maintain the integrity of their financial records and streamline the reconciliation process.
After improving your internal business model, EBizCharge can enhance your customers' payment experience.
EBizCharge provides an efficient and secure customer checkout process
One of the most crucial aspects of closing deals is providing customers with a seamless and positive experience during checkout. With EBizCharge, you can impress your customers with a fast, convenient, and secure checkout process in Salesforce that will leave a lasting impression.
Additionally, EBizCharge provides secure payment processing to protect sensitive customer payment data. With advanced security measures like tokenization and encryption, EBizCharge can give your customers peace of mind, knowing their payment information is protected during checkout. This instills trust in your customers and encourages more confidence in your business.
With the smooth checkout experience that EBizCharge provides inside Salesforce, businesses can enhance customer satisfaction, increase customer retention and brand loyalty, and encourage more positive word-of-mouth recommendations.
Streamline your operations in Salesforce with EBizCharge
With EBizCharge, businesses can easily close deals and streamline their operations in Salesforce.
EBizCharge optimizes payments in Salesforce by empowering businesses and their sales teams to seamlessly accept payments, accelerate and improve customer checkouts, and bridge the gap between sales and accounting.
With EBizCharge, closing deals fast in Salesforce becomes second nature.