Blog > 10 Notable Accounting Blogs
10 Notable Accounting Blogs
If you're new to the wonderful world of accounting you may be wondering, what is accounting anyway?
Accounting is a system of measuring, processing, and sharing financial data for businesses and corporations. Accountants are proficient in several skills, including accounts receivable and payable, payroll, inventory management, budgeting, reports and financial statements, legal compliance and financial control, and record keeping. In short, the role of the accountant is to keep track of the money that comes in and out of a business.
The accounting field is constantly changing which means accountants need to stay up to date on changes that drastically affect the industry. Technological innovation and an increasingly competitive environment are only some of the many ways this industry is evolving, so consistently reading up on the latest news and trends will give accountants an insightful advantage over their competitors.
If you're looking for public accounting blogs with a variety of informative articles, podcasts, special reports, and more, then we've got you covered!
Here are 10 of the best accounting blogs to stay up to date on the latest news stories and trends surrounding the industry today:
Accounting Today
From practice management to tech advancements, Accounting Today is one of the most insightful blogs for accountants to stay updated on the news regarding the world of accounting!
Accounting Today engages with the latest in the industry by actively interacting on social media, comment forums, research panels, and an authoritative network of contributors.
Going Concern
The Going Concern blog is a fantastic outlet with valuable information that every accountant should know. If you're looking for the latest news, analyses, and commentaries surrounding the industry, then Going Concern is the accounting blog for you!
Browse through a variety of articles that dive into the most important industry topics, as well as news on the Big 4: Deloitte, Ernst & Young (EY), KPMG, and PricewaterhouseCoopers (PwC).
CPA Practice Advisor
The accounting industry is constantly evolving which can make it hard to keep up! Luckily, CPA Practice Advisor provides a wide range of informative articles, eBooks, podcasts, webinars, and more.
Get access to insightful advice, guidelines, tools, and solutions that can help accounting professionals shape their firms to be more client-focused and profitable.
Insightful Accountant
Insightful Accountant is an independent news source that offers keen perspectives from industry professionals and insightful information for small businesses.
This accountant blog provides the most recent news and insight such as the latest in tech advancements, special reports, sales tax & compliance reports, ebooks, and more, to help advisors better serve their clients.
Insightful Accountant also helps you stay informed on the latest news surrounding accounting technology including Intuit, Xero, Sage, and hundreds of other products used in small businesses.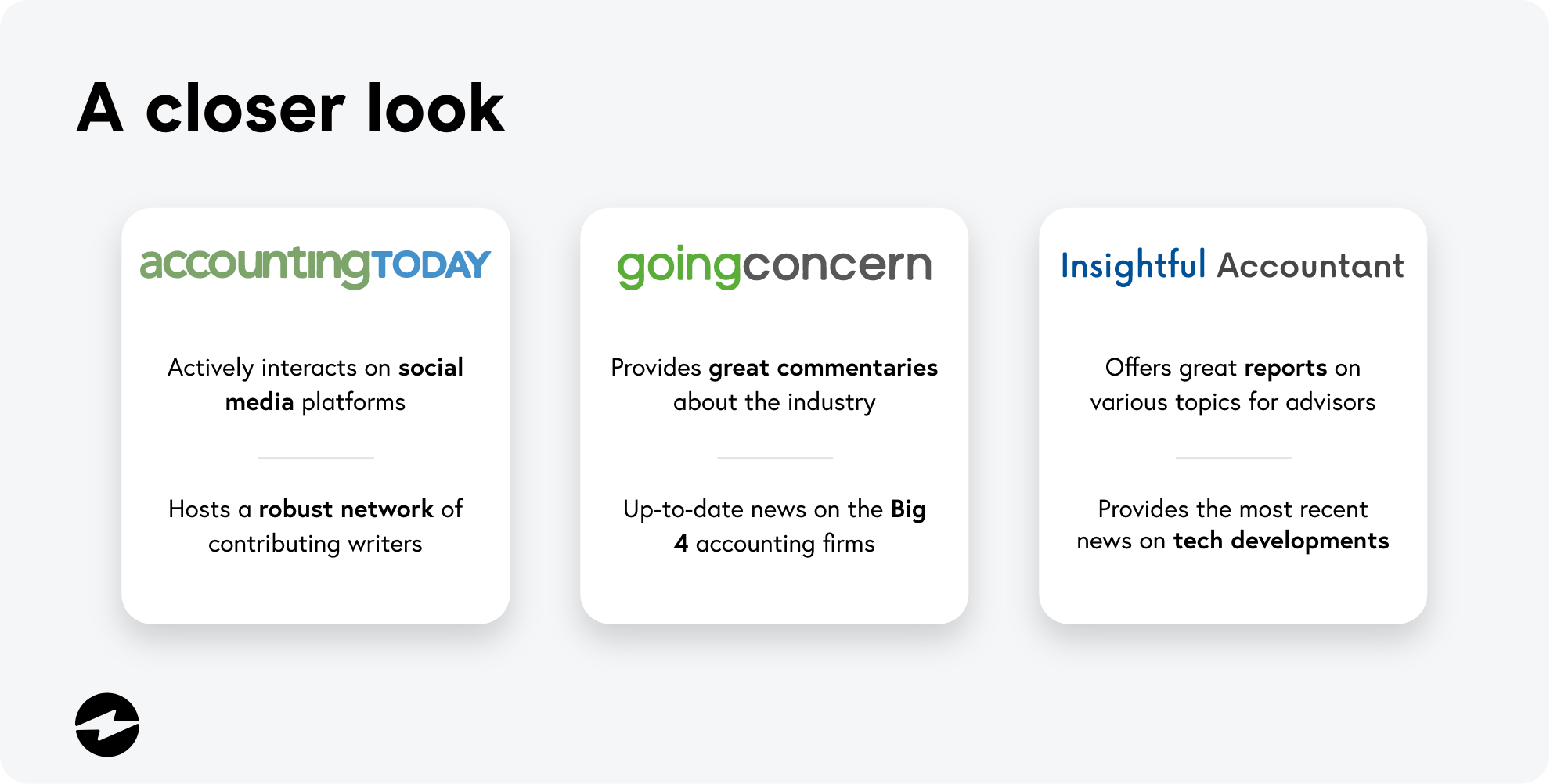 Blake Oliver
Blake Oliver is a CPA (Certified Public Accountant) specializing in accounting technology. In this podcast, finance and accounting experts discuss current events in their fields, using personal experiences to help listeners navigate relevant accounting challenges in the industry.
AccountingWEB
AccountingWEB is an accountancy blog comprised of a digital community of accounting and finance professionals that encourages online engagement between its members.
With an extensive collection of resources that includes articles, eBooks, and podcasts, AccountingWEB is the perfect account blogspot for any accountant!
Progressive Accountant
www.theprogressiveaccountant.com
Whether you're new to the industry or a seasoned veteran, Progressive Accountant is an insightful resource with a multitude of informative outlets such as articles, eBooks, special reports, and even training opportunities!
This ad-driven online ezine is a great resource for accounting professionals to improve and refine their existing practices. From tips and tricks on running a firm to interviews with industry professionals, Progressive Accountant provides a comprehensive array of material that's sure to keep any accountant up to speed on the latest in the industry.
MineralTree P3 Blog
In the P3 blog, accounting professionals can explore the latest news and trends surrounding accounts payable (AP), as well as payment automation.
Looking for something in particular? Explore an extensive list of blog types filtered by topic and industry to find exactly what you're interested in! No matter what industry you occupy, questions are sure to arise regarding various topics such as improving efficiency and increasing cash flow. MineralTree makes finding answers to these important questions quick and easy, so you focus on optimizing your workflow.
Angry Accountants
While most accountant blogs tend to discuss what's happening on the business end of the industry, Angry Accountants provides an online forum for disgruntled accountants to share and vent about what takes place behind the scenes at accounting firms.
On this platform, accountants blog about frustrations they've experienced while working in the industry such as lawsuits regarding a lack of overtime pay, salary cuts, short-term deadlines, and more. From satirical videos to personal stories, take a look at the accounting issues outlined by everyday professionals in the field.
The Lighter Side of Accountancy and Tax
Accounting bloggers tend to take the informational route by sharing the latest trends and industry news with their readers. Whereas, The Lighter Side of Accountancy and Tax takes a different approach by posting jokes, stories, anecdotes, links and quotes that provide an outlet for accountants to poke fun.
From The Accountant's Survival Kit to 10 Ways Accountants Could Become More Like Characters from Star Trek, this funny accounting blog is sure to brighten up your day!
Looking for more information? Check out EBizCharge for great tips and articles about the world of accounting like Accounting Cybersecurity in 2022: How to Keep your Financial Data Safe.